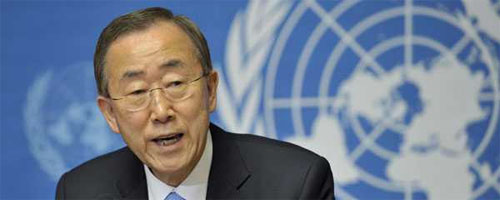 The head of the United Nations opened peace talks on Yemen on June 15 with a call for a humanitarian ceasefire, saying the country was on the verge of a collapse that the Middle East could not withstand.
Ban Ki-moon said the truce, called to mark the start of the holy month of Ramadan, should last for at least two weeks to allow life-saving supplies into the country.
"Today Yemen's very existence hangs in the balance. While the parties bicker, Yemen burns," Ban told reporters.
The fighting had killed more than 2,600 people, half of them civilians, he said, citing figures from health facilities that the World Health Organization (WHO) says are an under-estimate.
A Reuters witness said warplanes from a Saudi-led coalition had bombarded the capital Sanaa, which the dominant Houthi faction in the country's civil war has taken over.
Ban said the delegation representing the Houthis had yet arrived in Geneva but he expected them later in the day.
"The full complement of participants in the consultations should be here in the coming hours," he said.