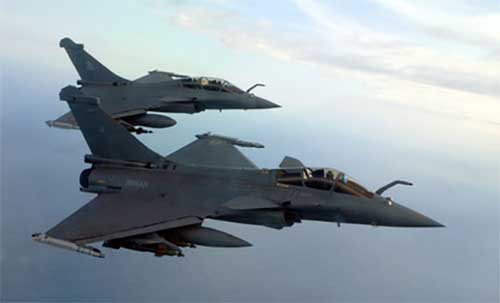 French defence minister Jean-Yves Le Drian said Wednesday that talks with India over the purchase of 36 Rafale fighter jets were progressing well and would be finalised within "two to three months".
"The discussions with the Indian authorities are progressing very well," he said at the Paris Air Show where he met Rao Inderjit Singh, India's minister of state for defence, ahead of formal talks on Thursday.
"I will travel to India very soon to see how it is all evolving but I don't have a single worry," added Mr Le Drian, who was also in India last month for negotiations on the Rafale contract.
Asked how long until a final deal would be concluded, he said "in the order of two or three months", mirroring a recent estimate by his Indian counterpart Manohar Parrikar.
Prime Minister Narendra Modi announced his decision to buy 36 Rafale fighter jets during a visit to France in April — a deal worth an estimated 5 billion euros ($5.6 billion).