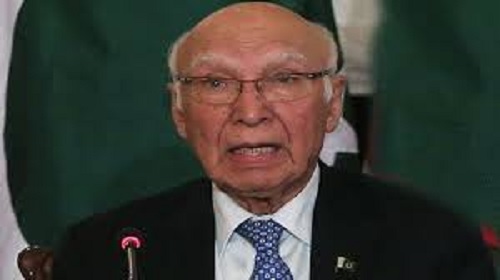 Pakistan Advisor to Prime Minister on Foreign Affairs Sartaj Aziz Sunday reiterated that Pakistan wanted peaceful relations with all its neighbours including India.
Addressing a joint press conference with Chinese Foreign Minister Wang Yi, the advisor said Pakistan has consistently emphasised that peace and stability in Afghanistan was in its interest and a stable Afghanistan would help promote shared agenda of economic development and regional connectivity. Towards this end, Pakistan, Afghanistan and China agreed to strengthen mutual cooperation and coordination in dealing with the common challenges to peace and security, he added.
He also informed the Chinese foreign minister about Pakistan's efforts to strengthen cooperation with the Afghan government in counter-terrorism, border management and voluntary and sustainable return of Afghan refugees. Sartaj also emphasised on the need for two countries to pursue their abiding commitment to not let their respective soils be used against each other.
'We agreed on the need for strategic balance in South Asia', he told media about his meeting with Chinese FM. Sartaj said he also briefed Foreign Minister Wang Yi about recent developments in bilateral relations with Afghanistan, including meeting between Afghan President Ashraf Ghani and the Pakistan Prime Minister Nawaz Sharif in Astana.
He said as a result of in-depth discussions with Foreign Minister Wang Yi in Kabul and Islamabad, Pakistan, Afghanistan and China have agreed to establish following two important mechanisms: China-Afghanistan-Pakistan foreign ministers dialogue to discuss all aspects of Afghanistan-Pakistan relations with special focus on economic cooperation, a bilateral crisis management mechanism between Afghanistan and Pakistan that would enable the two sides to maintain timely and effective communications in case of any emergencies, including terrorist attacks, with a view to seeking proper solution through dialogue and consultation.