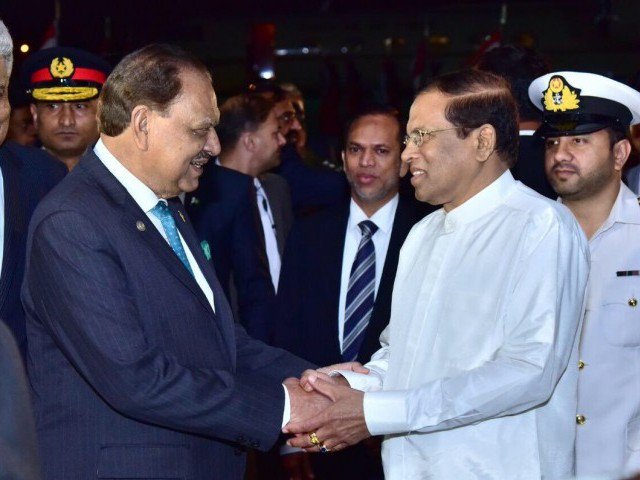 President of Sri Lanka Maithripala Sirisena left for home on Saturday vowing to work with Pakistan for regional peace and development.
Concluding his three-day visit to Pakistan, the Sri Lankan president was seen off by President Mamnoon Hussain at the Nur Khan Airbase, Radio Pakistan reported.
Before leaving, the two sides discussed the entire gamut of bilateral relations and also agreed to further bolster their trade relations in a meeting between President Mamnoon and his Sri Lankan counterpart Maithripala Sirisena.
The two sides discussed bilateral relations and agreed to further bolster their trade relations. During the meeting, they also agreed to make the South Asian Association for Regional Cooperation (SAARC) more effective.
In his remarks, President Mamnoon Hussain emphasised the need for greater people to people contacts between the two countries. The Sri Lankan president thanked the Pakistani side for awarding scholarships to Sri Lankan students and officers.
On Friday, Pakistan and Sri Lanka had signed three memorandums of understanding (MoUs) to enhance the bilateral cooperation in the fields of youth development and training of diplomats as well as civil servants.
The MoUs were signed at the Prime Minister's House during the Sri Lankan President Maithripala Sirisena's visit. Both Prime Minister Abbasi and Sri Lankan President Sirisena witnessed the signing ceremony.
During a one-on-one meeting, both the countries had agreed to diversify and deepen the bilateral relations hoping that the ties would continue to grow in future. Discussing issues of mutual importance, the Sri Lankan president had also extended support for holding the SAARC Summit in Pakistan.
During his stay in Pakistan, the Sri Lankan president had attended the Pakistan Day parade as the guest of honour and held meetings with the president and prime minister Shahid Khaqan Abbasi.