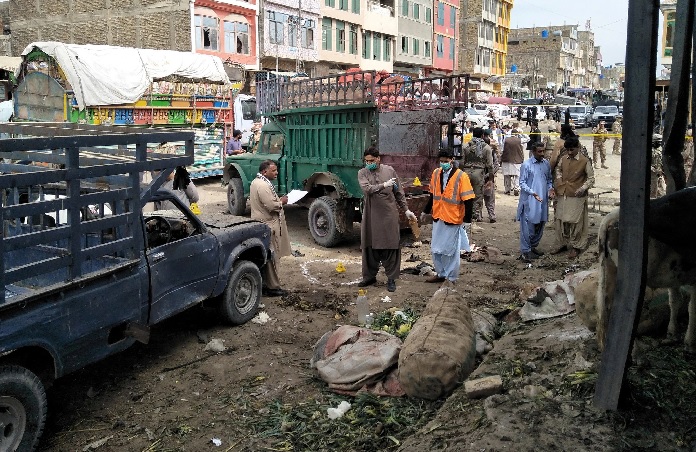 ISLAMABAD, Pakistan — At least 16 people were killed when a powerful bomb ripped through a vegetable market in Quetta in southwestern Pakistan early Friday, officials said. At least nine of the dead were Hazaras, a Shiite Muslim minority group that has repeatedly been the target of Sunni extremists.
There was no immediate claim of responsibility for the attack, which also injured at least 30 people, some of them critically. But Lashkar-e-Jhangvi, a banned militant Sunni group, has often carried out attacks against Hazaras in Quetta, the capital of Baluchistan Province.
For years, the Hazaras have lived in a state of perpetual fear in Quetta, and promises made by successive governments have failed to ensure their safety.
While terrorist attacks have declined significantly in the past year across the country, the attack on Friday was a grim reminder that the Hazaras continue to remain vulnerable to militant violence and that the security provided to them remains inadequate. Quetta has a large presence of security forces and a vast network of intelligence operatives.
A senior police official said the bomb went off in a sack of potatoes, and that the victims included shopkeepers and customers at the vegetable market. One paramilitary soldier was also killed, and officials said they feared the death toll would increase.
The police said they were investigating whether a remote control or a timed device had set off the bomb. The police initially ruled out an attack carried out by a suicide bomber, but investigators said Friday evening that such a scenario seemed probable as they had found human remains that could not be identified.
Abdul Razzaq Cheema, a senior police official, said that people belonging to the Hazara group come daily in a convoy to the vegetable market from Hazara Town, a walled enclave on the outskirts of Quetta, and that they are provided with security. The bomb that went off Friday morning ignited while vegetables were being loaded during the early market rush.
Qadir Ali, a provincial lawmaker who is Hazara, said in an interview that apprehension among Hazaras had increased since the bombing.
At least 250,000 Hazara people live in Hazara Town, and each day many vehicles made the trip to and from the vegetable market that was attacked, Mr. Ali said.
He urged the government to increase security, and said that he thought the attack was intended "to create tensions between different ethnicities living in Quetta."
"In recent months, Hazara people had started feeling safer and started commuting to different parts of the city," he said. "But the bombing today seems an attempt to force us into isolation."
The attack was widely condemned by government officials and rights groups.
"This horrific loss of life is a painful reminder of the threats that Quetta's Hazara community continues to face," Amnesty International said in a statement. "Each time, there are promises that more will be done to protect them, and each time those promises have failed to materialize."