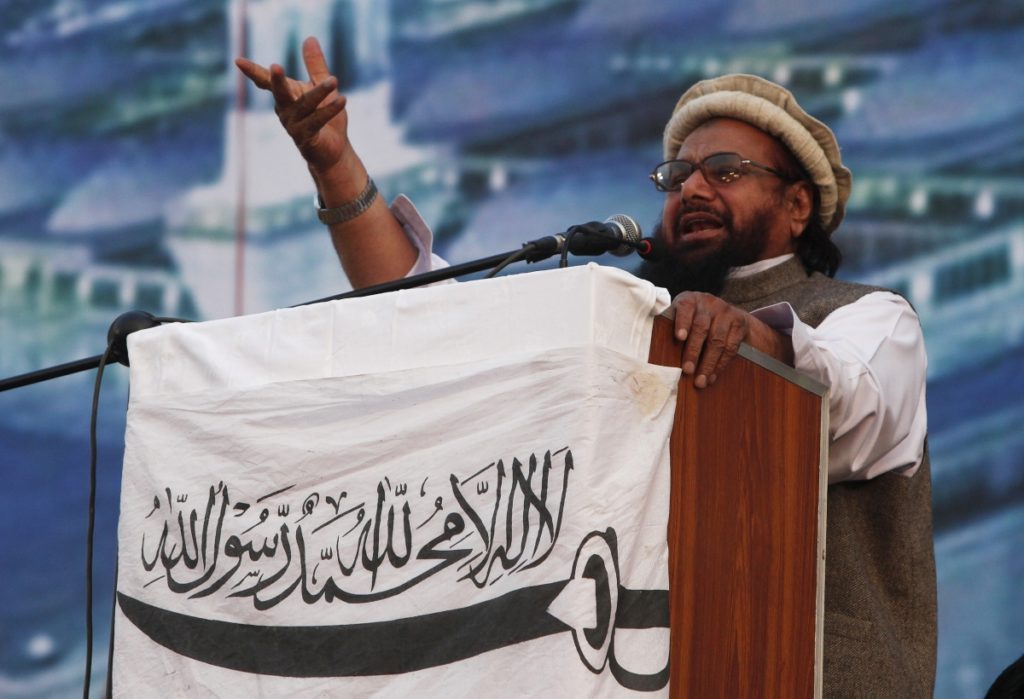 Last week, Pakistan's Counter-Terrorism Department charged Lashkar-e-Taiba leader Hafiz Saeed and 12 other key members of the group with money laundering and financing terrorist groups. If history is any guide, Saeed and his cadre will dodge the charges and continue to provide support to a wide range of terrorist groups, including al Qaeda and the Afghan Taliban.
Saeed, his brother-in-law and Lashkar-e-Taiba deputy emir Abdul Rehman Makki, and 11 others were charged with "financing terrorism from the massive funds collected through non-profit organisations and trusts including Al-Anfaal Trust, Dawatul Irshad Trust, Muaz Bin Jabal Trust, etc.," Dawn reported. These non-profits established by Lashkar-e-Taiban (which has been renamed Jamaat-ud-Dawa in an attempt to hide its activities), are "accused of financing terrorism by building huge assets/properties from the collected funds in Pakistan."
Dawn identified the 11 other Lashkar-e-Taiba leaders who were charged as "Malik Zafar Iqbal, Ameer Hamza, Mohammad Yahya Aziz, Mohammad Naeem, Mohsin Bilal, Abdul Raqeeb, Dr Ahmad Daud, Dr Muhammad Ayub, Abdullah Ubaid, Mohammad Ali and Abdul Ghaffar."
The Pakistani government is very likely taking action only because in 2018 it was placed on the Paris-based Financial Action Task Force "grey list" for turning a blind eye to money laundering and terrorist financing. Pakistan was given until May 2019 to take action and being further downgraded. Remaining on the grey list can hurt Pakistan's economy and restrict its access to international financial institutions.
Pakistan has ignored US and international designations of Lashkar-e-Taiba, its charitable fronts, Saeed, and the leadership cadre. Lashkar-e-Taiba is a key ally of al Qaeda, the Afghan and Pakistani Taliban and a host of other regional and international terrorist groups.
Pakistan is years behind the curve in identifying Lashkar-e-Taiba fronts and charging its leaders. The US and Britain listed Lashkar-e-Taiba as a foreign terrorist group in 2001, and the United Nations followed suit in 2008. The US has named numerous Lashkar-e-Taiba leaders as global terrorists. The US State Department offered a $10 million reward for Saeed, and $2 million for Makki in 2012.
Since 2010, the US has identified the following groups as Lashkar-e-Taiba fronts: Falah-i Insaniat Foundation, Jamaat-ud-Dawa, Al-Anfal Trust, Tehrik-e-Hurmat-e-Rasool, Tehrik-e-Tahafuz Qibla Awwal, the Al-Muhammadia Students organization, the Milli Muslim League and Tehreek-e- Azadi-e Kashmir. [See LWJ reports, US designates Lashkar-e-Taiba's charitable front as terror group, US adds 2 Lashkar-e-Taiba leaders, several aliases to terrorism list, and US adds Lashkar-e-Taiba student wing to terrorism list.]
Even if the current charges against Saeed, Makki and company are brought before a court, it is unlikely that they will suffer real consequences. Lashkar-e-Taiba is the premier state-sponsored terrorist group in Pakistan and has significant support within Pakistan's military, the Inter-Services Intelligence Agency and even in the government.
Saeed is virtually untouchable. Pakistan has placed Saeed under a loose house arrest multiple times over the past two decades after his group has been implicated in major attacks, such as the 2008 attack on Mumbai, India. This was only done after significant international pressure. And each time, Saeed, who has openly bragged about his role in the jihad, was released from custody to continue supporting his terrorist network.