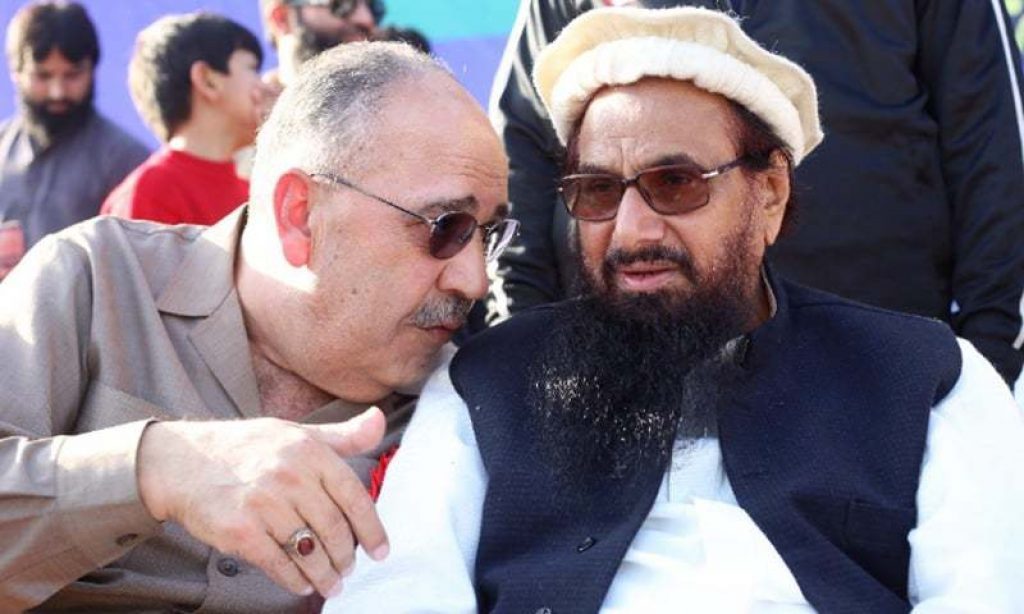 Only two weeks after the Counter-Terrorism Department in Pakistan's state of Punjab charged Hafiz Saeed with money laundering and financing terrorist groups, the Lashkar-e-Taiba/Jamaat-ud-Dawa emir has been arrested. Saeed, who is a key ally of al Qaeda, the Afghan Taliban, and a host of other terrorist groups, has been arrested and charged with crimes in the past, only to be let off.
Saeed was "sent to prison on judicial remand" earlier today, Dawn reported. Saeed, his brother-in-law and Lashkar-e-Taiba deputy emir Abdul Rehman Makki, and 11 others were charged with "financing terrorism from the massive funds collected through non-profit organisations and trusts including Al-Anfaal Trust, Dawatul Irshad Trust, Muaz Bin Jabal Trust, etc.," on July 4.
Pakistan has been forced to take action against Saeed, who is backed by the military and Inter-Services Intelligence Directorate (ISID) for his jihad against India as well as the Afghan Taliban. Last year, the Paris-based Financial Action Task Force placed Pakistan on the "grey list" for turning a blind eye to money laundering and terrorist financing. [See LWJ report, Pakistan charges 13 Lashkar-e-Taiba leaders under Anti-Terrorism Act.]
Saeed and Lahkar-e-Taiba/Jamaat-ud-Dawa's support for al Qaeda and regional terrorists groups is well-documented, yet Pakistan has refused to deal with him as he is a key part of Pakistan's "strategic depth" to counter India as well as back the Taliban in Afghanistan. [See Bill Roggio's testimony before the House Committee on Foreign Affairs Subcommittee on Terrorism, Nonproliferation, and Trade and the Subcommittee on Asia and the Pacific in July 2016: Pakistan: Friend or Foe in the Fight Against Terrorism?.]
It is perfectly clear that Pakistan has been unwilling to take action against Saeed. Pakistan is a state where those who push the bounds of what is acceptable to the military and ISID, including jihadists, politicians, journalists, and activists, end up missing or are found murdered. Pakistan has weathered nearly two decades of international condemnation over Saeed and Lahkar-e-Taiba, yet he and his terrorist entities have not only survived, but thrived.
President Donald Trump hailed the arrest of Saeed, and said US pressure on Pakistan lead him being found.
After a ten year search, the so-called "mastermind" of the Mumbai Terror attacks has been arrested in Pakistan. Great pressure has been exerted over the last two years to find him!
— Donald J. Trump (@realDonaldTrump) July 17, 2019
Yet Saeed did not need to be found by the Punjabi Counter-Terrorism Department. He has been operating openly inside Pakistan all along.