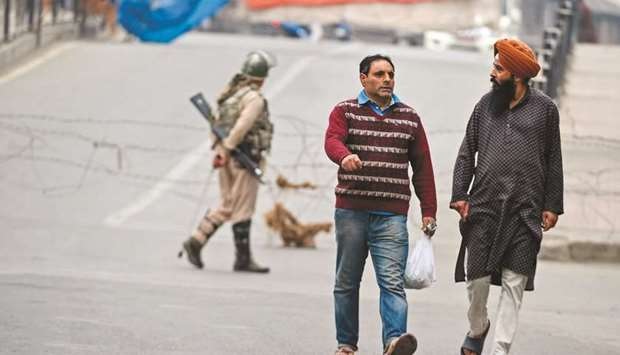 Security forces killed six militants in Jammu and Kashmir yesterday, police said, as the region simmers under a lockdown imposed by New Delhi after it revoked its constitutional autonomy in August.
Three militants were killed in the Batote market area of Jammu where, according to officials, they had taken a local civilian hostage inside his house.
The hostage was rescued unharmed, a spokesman for the Central Reserve Police Force told journalists.
Three others were killed in an encounter in Kangan in the north of the region, Dilbagh Singh, director general of Jammu and Kashmir police said.
Singh also said militants had thrown a grenade in the Safakadal area of Srinagar city but that no one was injured in the incident.
Security forces had tightened restrictions in Kashmir and the Hindu-majority Jammu region on Friday, fearing protests ahead of speeches at the UN by the leaders of India and Pakistan.
Pakistani Prime Minister Imran Khan warned the body that his country's dispute with India over Kashmir could escalate into an all-out nuclear war that would have consequences for the world.
Following his speech, authorities tightened restrictions on people's movements yesterday to prevent possible protests.
Soon after the speech, hundreds of Kashmiris came out of their homes, shouting slogans in support of Khan late on Friday night and calling for the independence of Kashmir.
Yesterday, police vans fitted with speakers made public announcements in some parts of Srinagar about movement restrictions, while additional troops were deployed to prevent protests, according to officials and two witnesses.
The troops also blocked access to the main business centre of Srinagar with razor wire.
"This was necessitated after protests across Srinagar city last night soon after Imran Khan's speech," said a police official, who declined to be identified.
India's crackdown as it revoked Kashmir's special status was accompanied by severe restrictions on movement, as well as disconnection of telephone services.
Though New Delhi has eased some of the movement curbs, no prominent detainees have been freed and mobile and Internet connections remain suspended.
In some areas in Kashmir – including the Soura region near Srinagar which has witnessed protests in the past against India's decision – people clashed with security forces by pelting stones on Friday night, forcing police to use tear gas to disperse them, said the Indian official.
According to reports Pakistan has stopped sending postal mails to India.
Media reports quoting Ajay Kumar Roy, deputy director-general of the Department of Posts in India, said Pakistan's customs department in an order on August 23 stopped both export and import of mails.
The unilateral order came into effect on August 27.
Letters and publications originating from Pakistan were earlier mailed to India via Saudi Arabian Airlines, a report added.
Chandigarh-based Indo-Pak peace activist Chanchal Manohar Singh said the stopping of the postal service was a gross violation of human rights.
"It is also a setback for the literary world in India. People in Punjab were fond of reading Punjab Dey Rang, a quarterly magazine published in the Gurmukhi script from Lahore and now it has stopped coming," Singh, who took 18 delegations to Pakistan and received five from Pakistan in 15 years, said.
The chairman of the Society for Promotion of Peace demanded the immediate restoration of postal service as it was impacting the common man.