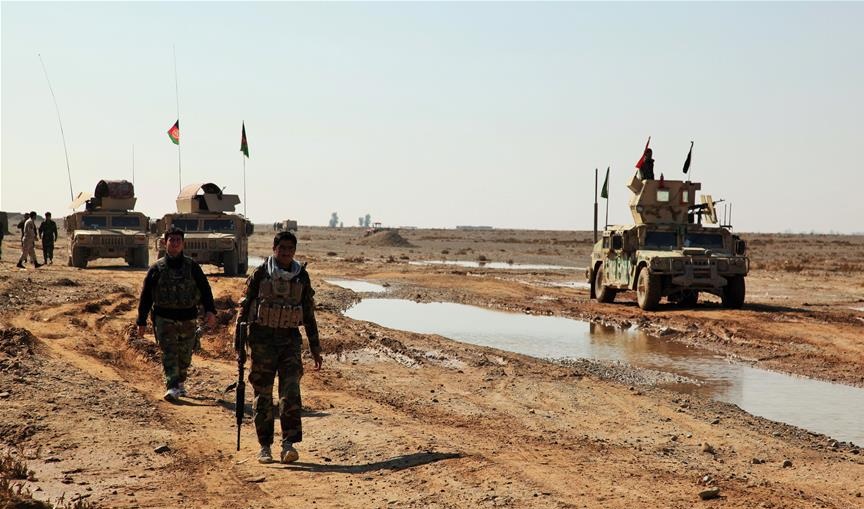 More than 40 Taliban militants have been killed within past 24 hours as the Afghan army, backed by air force and NATO-led coalition's aircraft, continued to pound militants by conducting daily operations, the Afghan Defense Ministry said Tuesday.
The latest wave of airstrikes and military operations on the group were conducted in 11 of the country's 34 provinces since early Monday, the ministry said in a statement.
In southern provinces, six Taliban militants were killed and a militants' vehicle and a motorcycle was destroyed in Marja district of Helmand province during a cleanup operation, according to the statement.
The Afghan army also distributed blankets and carpets as winter assistance package to 200 families in restive Marja district during the operation.
A total of 11 Taliban hideouts were destroyed and 11 landmines and improvised explosive devices (IEDs) were defused during a raid in neighboring Nahri Sarraj district of Helmand.
Two militants were killed in Afghan army's responsive shelling in Uruzgan province.
In eastern provinces, nine Taliban were killed in two separate airstrikes in Alishing and Alinagar districts of Laghman province, as the Afghan troops clashed with militants during operations in Ghazni province, killing five militants.
One militant was also wounded and five others arrested, while army soldiers also confiscated 16 mobile phones and four passports in Ghazni.
In Logar province, one militant was killed following an airstrike by the army's helicopter gunships in Charkh district.
In western region, eight militants were killed and six others wounded following an airstrike in Farah province, while two militants were killed and seven others wounded in neighboring Badghis province.
Seven militants were killed and four others wounded during a raid in northern Kunduz province, while one militant was killed in neighboring Jawzjan province.
During the period, 15 airstrikes were conducted which led to destruction of two militants' vehicles and several motorcycles.
The Afghan security forces have recently beefed up security operations against the Taliban militants who have been attempting to take territory and consolidate their positions in the countryside ahead of winter.
The Taliban militants, who have been using rugged terrains and mountains as hideouts to launch hit-and-run attacks against the security forces, have yet to make comments on the report.