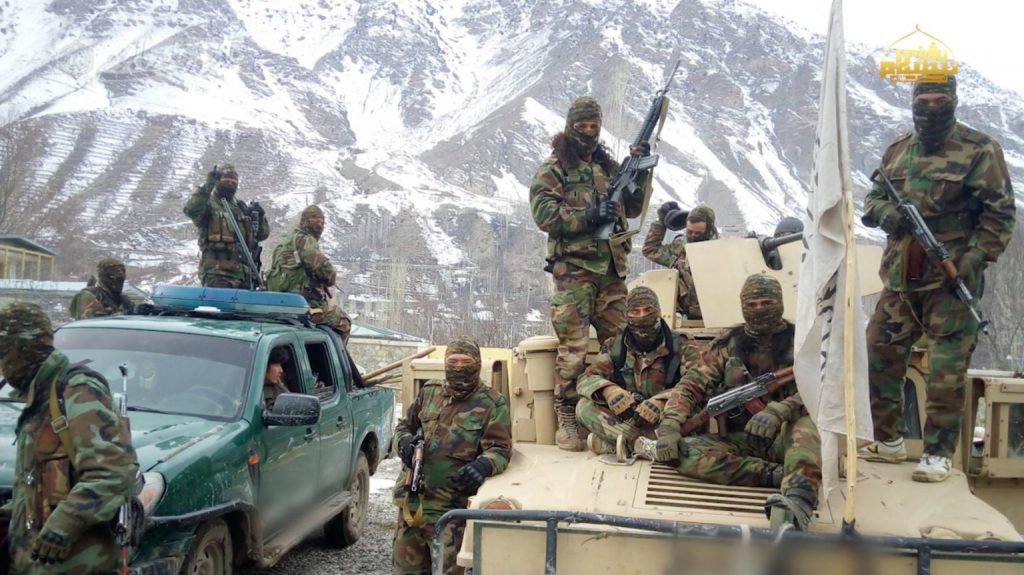 The Turkistan Islamic Party (TIP), a largely Uighur jihadist group that is affiliated with al Qaeda and also operates in Syria, released a new video earlier today showcasing it's men fighting in Afghanistan.
The video, dated for November 2019, is largely a photo montage featuring its fighters and their families. However, it also serves to tout its spoils taken from the Afghan military.
Dozens of TIP's men can be seen with captured Afghan military vehicles, including several Humvees. Captured weapons, including M16 and M4 variant rifles, can also be seen in the hands of the jihadists.
In several photos, child soldiers, a recurring theme within TIP propaganda, are also shown with the older militants.
This is not the first time the TIP has highlighted captured Afghan equipment and vehicles. Last year, it released a combat video from Afghanistan which showed several captured Humvees in the aftermath of the battle.
In 2015, a similar video was released in which another Humvee was captured in skirmishes with the Afghan military.
Additionally, photos from a training camp are also featured prominently in today's propaganda film. The camp appears to be an established facility, as it is maintained within a fortified perimeter. The camp is also shown in varying degrees of weather, indicating it is not a temporary fixture.
However, it is unknown where the training camp is located. Given the terrain featured in the photos, it is likely in northern Afghanistan. This tracks with a statement made by the U.S. military last year wherein it reported striking a TIP training camp in Badakhshan.
The TIP is also known to operate several training camps inside Syria, where it has played a prominent role inside Idlib and its surroundings since 2015.
Jihadist training camps in Afghanistan
Despite the presence of U.S. forces dedicated to targeting terrorist groups in Afghanistan, these organizations have been able to establish and operate training camps throughout the country.
For instance, the Taliban has publicly flaunted at least 20 of its training camps since the end of 2014. In late 2015, the Taliban announced that its Khalid bin Walid Camp operated 12 satellite facilities throughout Afghanistan, and had the capacity to "train up to 2,000 recruits at a single time."
In 2015, the U.S. raided an al Qaeda camp in Bermal district in Paktika, and two others in the Shorabak district in Kandahar province. Al Qaeda has also operated camps in Kunar and Nuristan.
Harakat-ul-Mujahideen, a Pakistani jihadist group that is closely allied with al Qaeda, "operates terrorist training camps in eastern Afghanistan," the U.S. government stated in 2014.
Last year, the U.S. military also struck a Pakistani Taliban training camp in Kunar.
And the Uzbek groups, Islamic Jihad Union and Katibat Imam al Bukhari, both of which also operate in Syria, have advertised their own training camps inside Afghanistan.
More photos from today's TIP video from Afghanistan: