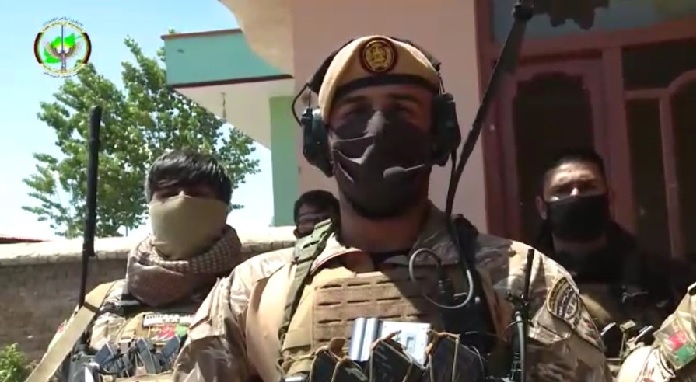 Five members of an Islamic State terror cell that attacked the largest American base in Afghanistan earlier this year were killed in a series of operations by Afghan commandos in and around Kabul, Afghan officials said Wednesday.
The terror cell, which was blamed for two rocket attacks on Bagram Airfield in recent months and for firing rockets at President Ashraf Ghani's inauguration in March, was eliminated and its leader captured in three raids in northern Kabul and a district just outside the capital, said the country's main intelligence agency, the National Directorate of Security.
A video released by the NDS shows the bodies of men said to be members of the cell. The operations were conducted Tuesday evening, an official said in the video.
Eight fighters were arrested during the raids, which were carried out by special operations forces assigned to the NDS, the agency said in a statement.
No one was seriously injured in the attacks on Bagram or the presidential inauguration attacks, but 25 people, including women and children, were killed in another attack blamed on the group, in which a gunman opened fire at a Sikh temple in Kabul in March.
Besides being part of Islamic State-Khorasan Province, the terror cell was said by the NDS to have ties to the Haqqani network, which is officially part of the Taliban but maintains district command and control over its own fighters.
The Haqqani network has been blamed for some of the most gruesome attacks in the country and was designated a foreign terrorist organization by the U.S. in 2012.
Taliban spokesman Zabihullah Mujahid said on Twitter Wednesday that none of the group's fighters are linked to ISIS and rejected the NDS statement as propaganda.
The Taliban and ISIS-K are bitter enemies and regularly clash on the battlefield.
Between 2,000 and 2,500 ISIS-K fighters are active in Afghanistan, according to data reported by the Special Inspector General for Afghanistan Reconstruction in January.