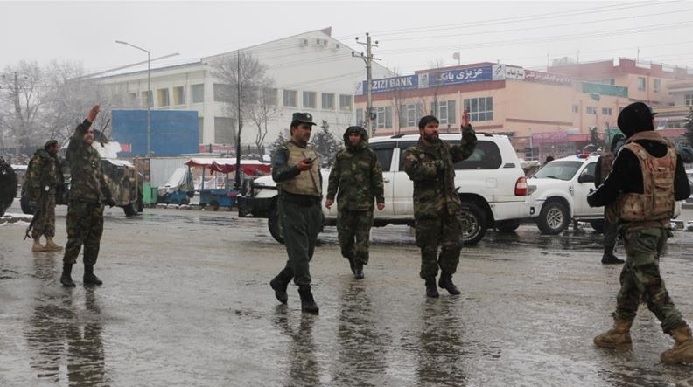 The assault comes as Kabul accuses the fighters of stepping up attacks against security forces in recent weeks.
Taliban fighters killed as many as seven Afghan commandos in an hours-long attack on an army outpost in northwest Badghis province, a lawmaker and the defence ministry said on Wednesday.
The assault comes as Kabul authorities accuse the armed group of stepping up attacks against security forces in recent weeks, after violence descended on much of the country following a three-day ceasefire announced in May.
Badghis lawmaker Ziauddin Akazi said the fighters attacked the Bala Murghab district outpost late on Tuesday, triggering fierce fighting that lasted for about four hours.
"Most of those killed were members of commando and special forces," Akazi said.
He said the attack came when a group of commandos and special forces travelled to the outpost from their base nearby.
The ministry of defence said seven security personnel were killed and five were wounded in the attack.
It said security forces later repelled the Taliban attack.
The Taliban have not commented.
In a separate incident in the northern Jawzjan province on Tuesday evening, a roadside bomb ripped through a rickshaw and killed six civilians, the interior ministry said.
Interior Ministry Spokesman Tariq Arian said the Taliban had placed the bomb on the road.
The Taliban group carried out 422 attacks in 32 provinces during the past week, killing 291 security personnel and wounding 550 others, Javid Faisal, spokesman for the National Security Council, said on Monday.
"Taliban's commitment to reduce violence is meaningless, and their actions inconsistent with their rhetoric on peace," he said.
The Taliban rejected the latest government figures.
"The enemy aims to hurt the peace process and intra-Afghan talks by releasing such false reports," Zabihullah Mujahid, the Taliban's spokesman in Afghanistan, told the AFP news agency.
The United States-Taliban deal signed in February set out a US withdrawal from Afghanistan in return for security assurances from the Taliban and outlined steps to be taken by the Afghan government before intra-Afghan talks.
The latest bloodshed comes as the armed group and the government inch closer to potential peace negotiations.
The much-delayed talks aimed at ending the conflict are expected to begin in the Qatari capital, Doha, once the two sides complete an ongoing prisoner swap, which has accelerated after a brief ceasefire last month.