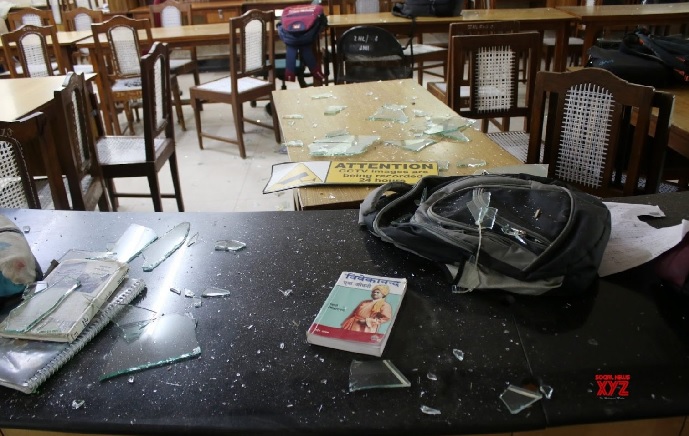 Just a few days ago the NHRC (National Human Right Commission) has released its report on 'Jamia Violence' which took place on 15th December 2019 night. The Commission in its report has largely blamed students and said that they indulged in violent protests without permission from concerned authority. The report while giving some 'soft criticism' to the Delhi police, however, has given an almost if not entirely 'clean chit' to the Delhi Police. In this respect, democratic-minded people in general and students who witnessed horrific violence and police brutality in particular have expressed their deep disappointment. While doing so, they have said that the NHRC's report on Jamia violence is not acceptable because the Commission has ignored victim's point of views and didn't do justice to them. Broadly speaking, the report has upheld the dominant narrative of Delhi police.
After the disappointments with the NHRC's report, now students have demanded that an independent, impartial and a high-level inquiry must be conducted by senior and retired Judges, so that truth and justice could be brought out. While showing their disagreements on the report, they have also said that it is not acceptable that the Delhi police who is directly involved in the gruesome act will conduct a further inquiry on Jamia violence based on the so called 'merit' as recommended by the NHRC in its report. After the report came out, Campaign Against witch-hunt of Anti-CAA activist have also sadly expressed their disagreements and said that the report is a 'politically motivated' and hence, it is 'farcical' in nature.
The NHRC report alleges that Jamia's students who registered their protest peacefully against the anti-constitutional Act CAA were influenced by 'outsiders', 'local goons', and 'petty politicians'. As a result, the protest had taken a violent turn and protesters had damaged and destroyed the public and private properties and burnt buses that took place a 1.3 KM away from Jamia. To control such violence in the future, the NHRC in its report has recommended that Jamia's administrations must develop a 'better communication' with 'student fraternity' so that 'outsiders' cannot influence students. The Commission puts the blame largely on Jamia's students who were the victim of police violence and its brutality. However, the report has also recommended that the Delhi government on the 'humanitarian ground' should provide compensation to those students who were affected and got injured during the course of violence.
Contrary to the version of the NHRC report, students of Jamia who had experienced horrific violence and police brutality have expressed that the report has largely upheld the dominant narrative of Delhi police and ignored victim's point of views including testimonies of several victims, as documented by Campaign against the witch-hunt of Anti-CAA activists in his report titled as The Night of Broken Glass: Testimonies from Jamia Millia Islamia, 2020.
The report advised to Senior police officers of Delhi police to focus on giving proper training, development of professional skills and sensitize police personnel, so that such situations and incidents can be controlled and 'avoided' in the future. The report has also recommended that police forces who had entered Jamia campus without the permission of Jamia's Administration, and vandalized the Library's infrastructures such as CC TV cameras must be identified and if found guilty 'suitable action' should be taken against them.
The NHRC has compromised its own Constitutional duties, as mentioned in the Protection of Human Rights Act-1993. For further clarity, let me cite an Annual Report (2017-18) in which NHRC Chairperson Justice H.L. Dattu preface who was the former Chief Justice of India in his has underlined the role of the Commission since its inception in the following words:
"The Commission [NHRC] has relentlessly endeavored to fulfill the aspirations of the citizen of the country in leading a life of dignity and self respect, over the past twenty five years. It has consistently worked towards bringing a human rights-centered approach in functioning of the Government at central and state level, as well as towards creating human rights awareness and sensitization amongst public authorities and civil society". (Annual Report, 2017-2018, accessed on 27th June 2020)
While further highlighting the NHRC as a role model in terms of protection and promotion of Human rights across the world, its websites mentions;
"The world looks at NHRC of India as a role model in promoting and monitoring effective implementation of promotion and protection of human rights". (Accessed on 27th June 2020)
On the basis of above official statements of the NHRC , one could argue that report of the Commission has not performed its Constitutional duties and flailed to protect life, liberty, justice and dignity to victims of police violence.
The further inquiry recommended by NHRC should not be conducted by Delhi police who were party to the violence.
This author has done winter internship programme from 18th December to 17th January, in 2006-7 at the NHRC and is aware of the positive role played by the Commission on various issues related to violation of the human rights of citizens. During the course of the internship, I got an opportunity to read the various annual reports and recommendations that were given by the NHRC. No doubt Commission had been earlier taken several positive measures and stood with victims and recommended strict actions against the police personnel or concerned authorities who have had violated norms of human rights of citizen.
The fact cannot be denied that there are rising trends of custodial killings and tortures including fake encounter done by police forces, as human rights organizations, had documented in their reports recently. In the past, if state agencies and public officials who were found guilty and violated the human rights of a citizen, the NHRC had recommended taking appropriate legal actions against them. In doing so, the Commission had recommended for providing compensations and rehabilitation to affected victims to heel the wounds. However, in the case of Jamia violence, it is a disappointing that the NHRC has not performed its Constitutional duties-for instance, by giving recommendations to heal wounds of victims – as enshrined in Protection of Human Rights Act-1993 and stated by its Chairperson cited above.
It needs to be recalled that in the case of the infamous Batla house encounter which took place in 2009, the report of the NHRC had given 'clean chit' to the Delhi police deeply disappointing several human rights activists and general public.
In the case of Jamia violence also NHRC is now under the huge cloud of suspicion and the report appears to be a 'politically motivated' rather than based on facts and evidence. It is unfortunate that NHRC has largely ignored perspective of victims including testimonies and medical reports which are now available in the public domain.
On the basis of the CC TV footages and other related videos which had been circulated on social media, one can say that it was Delhi Police who had involved in manhandling and beating up students. They also destroyed and damaged the library's infrastructures such as chairs, glasses, and other stuff. Delhi police had also used tear gas shells and fired bullets on the students, as medical reports and testimonies of victims, have clearly underlined. This evidence and several testimonies are enough materials to demonstrate and ask a critical question especially how students can be held responsible for being involved in violent protests and damaged public property, burnt buses, as shown by the NHRC's report.
It was the Delhi Police who had grossly violated human rights norms by having done the gruesome crime and brutality against innocent students. Holding a peaceful and non-violent protest, is our Constitutional rights, as a citizen of India which is duly enshrined in Chapter-3 of the Fundamental Rights especially in Article 21 ( Right to life with dignity) and Article 19 (Right to freedom of speech and peaceful assembly). However, the report has cited Article 19 and underlined that there is 'constitutional limitations' to exercise, the Fundamental Rights. In this respect, the report says,
"Law enforcing authorities are the best judge for meeting a situation prevailing in a particular locality based on which appropriate decision is to be taken either to grant permission to conduct the meeting or protest march in a particular place".
Amidst the dark times (as the people of India are experiencing after the spread of Covid-19 pandemic and economic downturn), we the progressive-minded people, social activist and students must not lose their hope and need to fight in a democratic, peaceful and the non-violent manner in days to come; as our founding Fathers like Mahatma Gandhi and other nationalist leaders had fought against the authoritarian British regime.