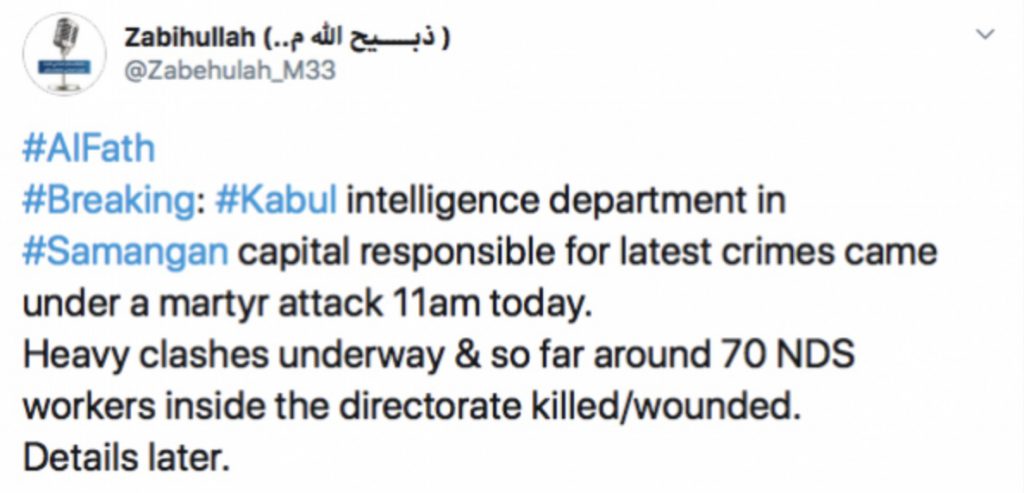 At 11:00 am local time on 13 July, the National Directorate of Security (NDS) facility in Aybak, the provincial capital of Samagan province in central Afghanistan was stormed by three militants of the Taliban's 'martyrdom brigade' after a massive car bomb explosion. Dozens of civilians were hurt by glass shards from the blown out windows. The Taliban claim to have killed at least 70 employees of the intelligence facility during the 'thunderous assault,' although the official casualty toll was lower.
The IEA spokesman Zabihullah Mujahid in a Tweet asserted that the Taliban was in fact responsible for the attack, and published a short essay via its website on why such operations will continue:
The Kabul regime continues their attacks on the Afghan people and the mujahideen, so the Taliban will continue to respond in kind in accordance with Islamic law.
The Kabul regime only seeks to mislead and divide rather than negotiate in good faith.
Attacks on the NDS and other government agencies is a message to 'those who do not understand the language of diplomacy'- only through such brazen attacks can the Kabul regime be compelled to 'return to the right path.'