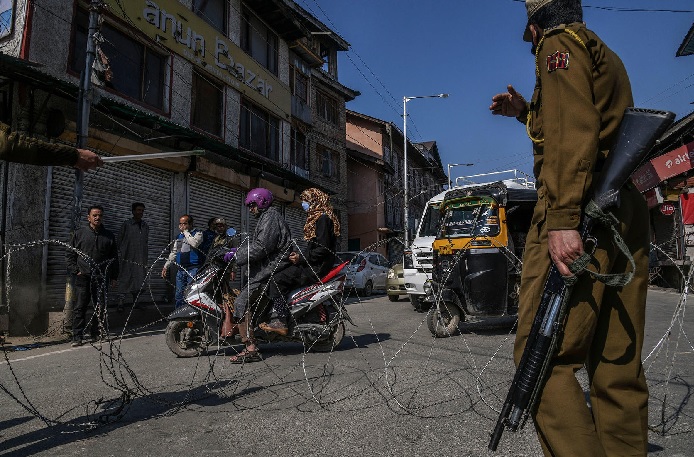 One year since the Modi government's move, the region remains cut off from the world with no sign of promised improvements.
One year since Indian Prime Minister Narendra Modi's government stripped Jammu and Kashmir of its special status and downgraded its statehood to a centrally controlled union territory—an act it argued was intended to improve governance and attract investment to the region—residents' lives remain upended by continued conflict and a high level of militarization.
Tamanna Salikuddin, director of South Asia Programs at the United States Institute of Peace, was on a flight from New Delhi to Srinagar on the morning of August 5, 2019. Arriving in Srinagar, she learned that the Modi government had taken the unprecedented step of abrogating Article 370 of the Indian Constitution, which had given the state a certain amount of autonomy. Jammu and Kashmir was split into two Union Territories—Jammu and Kashmir and Ladakh—and tens of thousands of troops were deployed to the area. Thousands of people, including local leaders, were arrested; a monthslong curfew was imposed; and all communications including phone and internet were cut off.
"The sudden, unilateral changes in Kashmir's status may be one of the most consequential developments in the region," said Salikuddin.
The Modi government's strategy in Jammu and Kashmir now appears to be one of sidelining separatist leaders and existing politicians, while trying to create a pro-India political narrative in the state, deflecting international attention to the unsettled status of the part of Kashmir controlled by Pakistan, and continuing to keep peace through the presence of security forces, according to Happymon Jacob, an associate professor at Jawaharlal Nehru University in New Delhi. (On August 19, the Modi government ordered the withdrawal of 10,000 troops from Jammu and Kashmir following a security review.) Jacob warned that the government's "nonconciliatory and winner-takes-all theory of victory" could have "long-term implications for India's approach to Kashmir."
Jacob participated in an online discussion with Sameer Lalwani, director of the South Asia Program at the Stimson Center in Washington, hosted by the U.S. Institute of Peace on August 20. Salikuddin moderated the discussion. Both Jacob and Lalwani are authors of USIP reports that examine the implications of recent developments in Jammu and Kashmir—"Toward a Kashmir Endgame? How India and Pakistan Could Negotiate a Lasting Solution" and "India's Kashmir Conundrum: Before and After the Abrogation of Article 370," respectively.
In his report, Lalwani tracks the unrest in Jammu and Kashmir over the years, which he describes as "mass quasi-violent resistance … [a] type of resistance that occupies the spectrum between organized armed insurgency and nonviolent civil resistance," and the decline in voter turnout. The increase in these dangerous actions represents the growing disillusionment in Kashmir.
Lalwani said predictions of mass violence in response to the Article 370 decision had not been realized because of the formidable military presence of the Indian state and its vast experience with counterinsurgency. "They preemptively arrested most of the nodes of these networks that were able to generate armed quasi-violent resistance; they shut down communication and freedom of movement, which really [reduced] the capacity for coordination and protest, and [the Indian government] threw a lot of resources … to keep a lid on this activity," he said. However, he added, normalcy has not returned to the region and there are high levels of animosity.
What's the Government's Strategy?
Both Lalwani and Jacob believe the government's primary focus is containing violence.
Noting an element of "remote control from Delhi" in this strategy, Lalwani said two disconcerting trends are emerging: "gerrymandering," with the aim of guaranteeing an upper hand for Modi's ruling Hindu nationalist Bharatiya Janata Party (BJP) and its allies in the new Union Territories, and "demographic engineering," aimed at altering the makeup of the Muslim majority parts of these territories.
Lalwani predicts that India will remain "bogged down, pouring political, economic, and security resources into Kashmir for years to come."
Describing New Delhi's strategy as "clearly unilateral," Jacob said the Modi government does not seem to have a "grand strategic plan" that considers Kashmiris' demands for freedom or justice or Pakistani sensitivities. He said the Modi government's strategy is, in fact, a short-term one aimed at containing violence and managing the narrative, with one eye firmly on domestic politics. "New Delhi's Kashmir policy is clearly tied to the BJP's understanding of domestic politics in India and how Kashmir, potentially, could feed into their own domestic political fortunes," said Jacob.
The Modi government's decision on Jammu and Kashmir is popular in other parts of India despite complaints from human rights groups about violations of rights and restrictions on access to information and healthcare, which have been intensified by COVID-19. Local authorities in two districts in Kashmir recently restored high-speed 4G Internet—which had been cut off since last August, the longest such shutoff in a democracy—on a "trial basis" after the Supreme Court of India ruled that the shutoff was illegal. The internet remains restricted in other parts of Kashmir. Additionally, curfews, pre-emptive arrests, and checkpoints remain the norm for Kashmiris.
Jacob suggested that "national mythmaking" about the former state is the reason the Kashmir decision is popular among many Indians. Successive Indian governments have made the case that Article 370 was the "mother of all problems as far as Kashmir is concerned … and Kashmir is being bankrolled" by taxpayers in the rest of India, he explained. "Both of these arguments are nonsensical," said Jacob, adding that, if anything, Article 370 had ensured there was less disaffection in Kashmir, and the state's economy was in pretty good shape and better off than its neighboring states.
Last year, Indian Foreign Minister S. Jaishankar had argued that Jammu and Kashmir's special status was revoked in order to improve governance and bring development to the state. However, there had been little progress on that front even before the nationwide lockdown in response to COVID-19 in March. A promised summit to encourage investment in Jammu and Kashmir has also not materialized.
Pakistan's Strategy
Following the abrogation of Article 370, Pakistani Prime Minister Imran Khan had warned that it would have serious consequences for India. Earlier in August, Pakistan unveiled what it claimed was a "new map" that showed the entire disputed area of Jammu and Kashmir as part of its territory.
Pakistan has pursued a strategy of attempting to "Kashmir shame" India in international fora, but this hasn't had much success, said Jacob. More worryingly for the region, Jacob said former Pakistani officials believe the abrogation of Article 370 has nullified the Shimla Agreement of 1972, which established the Line of Control (LoC) between India and Pakistan. "If the Shimla Agreement is not valid any more it will have severe implications for the Line of Control," said Jacob. Further, he said, Pakistan's strategy is to also turn up the heat on India by sending infiltrators across the LoC and stepping up coordination with terrorist groups in the region.
"The underlying logic seems to be that you create more pressure for India in Kashmir and the Indians might perhaps come to the negotiating table on the Kashmir question and give up the zero-sum approach to Kashmir," said Jacob. The trouble with that argument is that Modi is unlikely to back down unless the violence spills over from Jammu and Kashmir into India's heartland, he said.
A Role for the United States?
India has long maintained that Kashmir is a bilateral issue and that it will brook no mediation.
"We have to accept the fact that the United States doesn't have much influence or control over this process," said Lalwani. "We can offer suggestions, insights, and try to broker discussions, but ultimately this falls in the hands of the Indians and the Pakistanis and the Kashmiris, to the extent that the Kashmiris are given a say."
However, he said, Washington can lay down markers to encourage dialogue with Kashmiris who have been sidelined and start to articulate the complications and the challenges of India's actions. He highlighted that the basis of a U.S.-India relationship is shared values, and depriving Kashmiris of democratic rights may be a stumbling block.
As it has deepened its relationship with New Delhi, the United States has increasingly looked to India to serve as a counterweight to China. Lalwani pointed to the strategic implications for the U.S.-India relationship if India were to get bogged down in Kashmir and is unable to pivot toward challenges like that posed by China in the region. China is increasingly flexing its muscles in its neighborhood. In May, Indian and Chinese troops were involved in fistfights at several points along the Line of Actual Control (LAC), which has served as the de facto border between the two countries since the 1962 Sino-Indian war. Dozens of Indian soldiers were killed.
Jacob said the more overt role being played by China and a relative lack of U.S. interest in South Asia are two important factors that will complicate any attempt at third-party mediation between India and Pakistan. China is a strong ally of Pakistan's—a point that will only be underscored this week during Pakistani Foreign Minister Shah Mehmood Qureshi's visit to Beijing.
A Way Out
Jacob said that while it was easy for the Modi government to take the popular decision of abrogating Article 370, implementing what came next was harder. He predicted that if New Delhi is unable to win the support of the population in Jammu and Kashmir, it would be forced to come to the negotiating table to resolve the issue.
There is a way out, said Jacob. That way out is restoring statehood for Jammu and Kashmir—a demand made by Pakistan and the people of Jammu and Kashmir, and a possibility that has been left open by Modi himself. "There is a common minimum agenda," said Jacob.
Lalwani said the problem is that Kashmiris' views are often ignored. "There needs to be a greater premium on paying attention to the voices that are coming out of these regions to understand what their grievances and expectations and sources of disaffection are," he said.