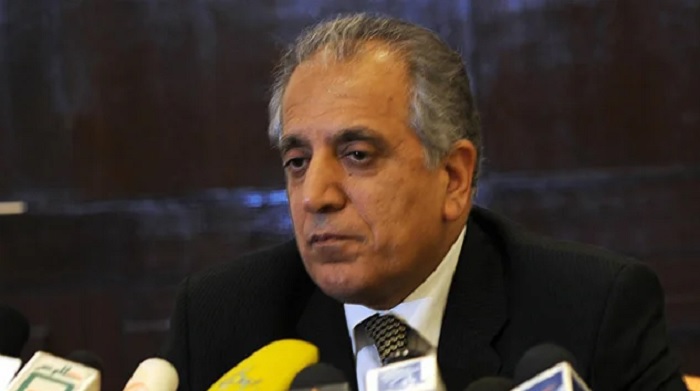 The Trump administration's envoy for Afghan peace talks has agreed to testify before a House committee after the panel threatened to issue subpoenas if officials would not appear at a hearing.
Zalmay Khalilzad, the special representative for Afghanistan reconciliation, will testify before the House Oversight and Reform National Security Subcommittee when he returns from an official trip to Doha, Qatar, the panel said in a statement Monday.
"I am grateful to U.S. Special Representative Zalmay Khalilzad for agreeing to testify before the Subcommittee on National Security about the United States' negotiations with the Taliban and the government of Afghanistan," subcommittee Chairman Stephen Lynch (D-Mass.) said in a statement.
"I look forward to examining the Trump administration's strategy, including potential impacts for Afghan women and U.S. security interests in the region," he added. "After nearly two-decades of conflict, the American people deserve to hear directly from the administration about how it plans to bring a responsible end to the war in Afghanistan."
Monday's announcement comes after Democrats on the committee demanded testimony from Pentagon and State Department officials at a hearing this month. In a letter to both departments, Democrats, who said they had been seeking testimony for a year, threatened to use a "compulsory process" if officials did not agree to appear before the committee.
Lynch spoke with Khalilzad on Thursday, at which point he agreed to testify before the subcommittee and also offered to provide members with a classified briefing, according to the statement issued by the committee Monday.
It is unclear if the panel is still seeking testimony from the Pentagon. A committee spokesperson did not immediately have an answer on whether the panel is still working on getting Pentagon testimony or if Khalilzad's commitment satisfies its demand.
Khalilzad was in Qatar for the start of peace talks between the Taliban and the Afghan government. The much-delayed talks kicked off Saturday.
ADVERTISEMENT
The withdrawal agreement the United States signed with the Taliban in February called for the intra-Afghan talks to start in March, but negotiations were repeatedly delayed as the two sides fought over a prisoner swap.
Meanwhile, the United States has been drawing down in Afghanistan even as military officials say the Taliban has not demonstrated its commitment to breaking from al Qaeda as stipulated in the deal with the Trump administration. The Taliban has also stepped up attacks on Afghan forces even as it avoids attacks on U.S. forces.
The U.S. military drew down to 8,600 troops earlier this summer, in line with the deal with the Taliban. Officials have said they expect to be at 4,500 troops by early November.
President Trump has touted the drawdown, as well as the start of intra-Afghan talks, as a fulfillment of his pledge to end so-called forever wars as he leans into foreign policy in the final stretch of the presidential campaign.