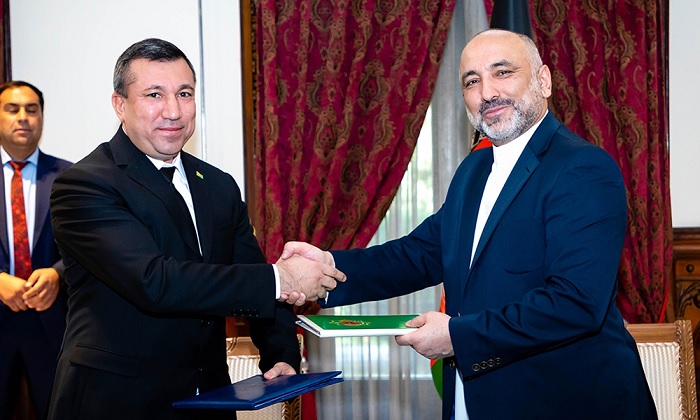 Acting Foreign Minister Mohammad Haneef Atmar and Turkmen Ambassador to Kabul Ovezov Hoja signed the ratification documents pertaining to the Strategic Partnership Agreement between Afghanistan and Turkmenistan on Thursday afternoon.
Atmar called Turkmenistan "a good, friendly and brotherly neighbor," the Foreign Ministry said in a statement Friday.
He added that expansion of political, economic, and security relations with the region and neighboring countries, including Turkmenistan, is one of the priorities of the foreign policy of Afghanistan.
"The two sides went on to discuss the importance of strengthening relations between the two countries, regional connectivity, Turkmenistan's support for Afghanistan's peace process, trade and transit development," the statement read.
While expressing his satisfaction with the completion and exchange of documents for the ratification of the Strategic Agreement between Kabul and Ashgabat, the Turkmen Ambassador to Kabul emphasized the importance of cooperation between the two countries in strengthening regional ties, economic cooperation, and regional trade and transit.
"The Strategic Partnership Agreement was signed with the aim of expanding political, economic and security relations between Kabul and Ashgabat, by the leaders of the two countries on February 21, 2019, during the visit of the President of the Islamic Republic of Afghanistan to Turkmenistan," the statement concluded.