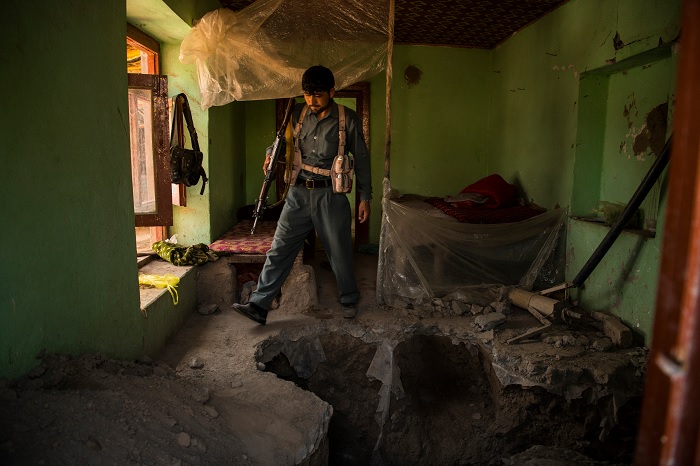 Those 'living the war' in Afghanistan, both civilians and combatants, have had markedly different experiences in the last seven months depending on where they are in the country. Those in Taleban-controlled areas have seen unexpected peace since the United States and Taleban signed their agreement in Doha after the US largely halted air attacks and the Afghan government moved to a defensive posture. For others, even as the Taleban have shifted away from major attacks, evidence from the ground points to them intensifying other forms of violence and to rising civilian casualties. He encounters jubilant Taleban and demoralised members of the ANSF. In compelling reportage from three provinces, Andrew Quilty explores the changing patterns of violence. He also asks what the view from the ground can tell us about the prospects for violence in Afghanistan to be reduced – a demand from Kabul, but so far, refused by the Taleban.
This is the fifth report published by AAN to understand the conflict since the eight-days of Reduction in Violence (RiV), 21-29 February, which marked the US-Taleban agreement. (1) It is based on 53 interviews with: Taleban (four), members of the Afghan National Security Forces (ANSF) (18), government officials (six) and other civilians (26). The interviews were conducted between June and August, with travel to three provinces; Maidan Wardak, Kunduz and Nangrahar, to assess how the changes in the military stance of the parties to the conflict since the Doha agreement have affected civilians and combatants
Highlights of the Report
Taleban and US forces came away from the Doha talks in February with very different interpretations of how violence would be reduced overall;  
US airstrikes and ANSF attacks, including night raids, are mostly down, but while the Taleban have largely stopped attacking "major military centres," they have increased other forms of attacks; 
For civilians living deep in areas of Taleban control living without the threat of air strikes, large scale ground operations or night raids, life has taken on a normality many have not known for years;
In areas under government control, aside from the decreased likelihood of being caught up in large-scale terrorist attacks, the risk is much the same as it was prior to the signing of the Doha agreement; 
For people living in contested areas, the defensive posture of the ANSF means Taleban attacks against ANSF positions have become more frequent, as are indiscriminate responses by the ANSF; the risk for civilians of being caught in the crossfire has increased;
Taleban morale is high, with the threat of attack by government or US forces reduced, many feel the prospect of victory is closer than ever—whether by political or military means; 
Many members of the ANSF express frustration with the government's passivity towards the Taleban and see the Doha agreement as having been made in bad faith; 
Taleban are putting pressure on the ANSF to defect;
Increased presence of foreign fighters, apparently using the lull in airstrikes to provide training;
In Maidan Wardak, the cessation of night raids and airstrikes that characterised 2018 and 2019 has brought calm to areas under Taleban control. In contested areas, the Taleban have become emboldened to strike at a static ANSF and because the areas the government control are so small, increasing violence on the fringes often impacts the government areas;
In Kunduz, the Taleban have a stronger presence on all roads to and from the capital than at any other time since 2001. Afghan National Police (ANP) and Afghan Local Police (ALP) in frontline outposts are under pressure and frustrated that the Afghan National Army (ANA) is not more proactive;
Circumstances have changed less in Nangrahar, where the violence has been mostly confined to areas that were active prior to the signing of the Doha Agreement. However, a large influx of foreign fighters into the southwestern districts is of concern.
No reduction in violence: broken promises – or selective interpretation – of the Doha Agreement
After US and Taleban representatives forged their Agreement to Bring Peace to Afghanistan on 29 February, the US claimed on Twitter that the parties "spoke of ALL sides reducing violence by as much as 80 percent to pave the way for [intra-Afghan] peace talks." Part of the Doha agreement is said to have been contained in secret annexes and anyway verbally agreed upon, which apparently stipulated that US forces and the Taleban would halt offensive operations against one another immediately. For the US, that included halting the use of offensive air power, while reserving the right to defend Afghan government forces under serious threat. President Ashraf Ghani ordered the Afghan National Security Forces (ANSF) into a defensive footing, too. Afghan forces appear to have, largely—but not entirely—suspended offensive operations.
The Taleban, on the other hand, went back on the offensive immediately. On 2 March, Taleban spokesman Zabihullah Mujahed told Reuters they were prepared to resume military operations against Afghan forces at any moment: "It could be any time, it could be after an hour, tonight, tomorrow or the day after." The following day, according to the Ministry of Interior, Taleban attacks were reported in 17 provinces (see AAN reporting on the first month after Doha here).
The US and Afghan governments acknowledge a decrease in large-scale Taleban attacks in provincial capitals, but continue to bemoan what they perceive as the group's breach of a commitment to reduce violence. The Taleban have denied that such an agreement was ever made, stating on the group's website on 5 April that, "According to the signed agreements until the intra-Afghan negotiations lead to a separate agreement with the Afghan sides and reach a comprehensive ceasefire, the Islamic Emirate can attack Kabul administration all military centres whether in rural areas or in urban areas." Suggesting they have in fact gone beyond the commitments that were agreed upon, the statement continued: "[The] Islamic Emirate, neither has attacked their centres in major cities, nor had carried out operations at major military centres." Two days later, in response to continued Taleban aggression, on 7 April, the ANSF moved from a defensive to an 'active defensive' stance.
It may be that this is a case of both sides leaving with a different understanding of what had been agreed – a kind of cognitive bias that often bedevils negotiations (assuming that both sides are genuine in their divergent accounts). (2) It does appear that the Taleban may largely be sticking to their narrow interpretation of the agreement, which they have insisted is voluntary and not per any agreement with the US, which is to refrain from attacking "centres in major cities" or "major military centres." Aside from a handful of incidents, including a truck bomb near a court in Gardez and a Humvee bomb targeting Ghazni's National Directorate of Security (NDS) headquarters, both on 14 May, a car bomb attack against an NDS office in Samangan's capital Aybak on 13 July and a roadside bomb targeting vice president Amrullah Saleh on 9 September which killed ten bystanders, large-scale bombings and complex attacks claimed by the Taleban in Afghan cities have fallen markedly since Doha.
On the other hand, if there was a general agreement to reduce overall levels of violence, as the Americans claim, then this is being clearly contravened by a sharp rise in the incidence of smaller attacks and targeted assassinations. Government officials and security personnel, as well as human rights advocates and religious figures have been killed and injured in what appears to be a carefully calibrated campaign of violence using magnetic IEDs, suicide bombers and small teams of gunmen in Kabul and provincial and district centres. On 4 October, the Afghan Independent Human Rights Commission released findings from an investigation into targeted killing of civilians. AIHRC stated that 533 were killed and 412 injured in assassination attempts. But as AAN has reported previously, there are fewer claims of responsibility from the Taleban for such attacks. Small to medium-sized coordinated attacks against ANSF outposts and checkpoints have continued at a steady pace, while the use of Improvised Explosive Devices (IEDs) targeting ANSF vehicles and convoys, particularly on highways, appears to have risen in some areas.
When attacks on a maternity hospital in Kabul and a funeral procession in Nangrahar caused dozens of deaths on 12 May, despite the Taleban's disavowal of both, President Ghani announced a resumption of offensive operations against the insurgents. The announcement, however, according to numerous ANSF personnel who spoke with AAN in three provinces, does not appear to have led to any real change in the government's actual posture on the battlefield.
Casualty figures since the signing of the Doha agreement do not reflect the drop in violence that Afghan and US officials had hoped would precede intra-Afghan talks. (It should be noted that the anticipated period between those two occasions expanded from less than two weeks to more than six months). UNAMA's most recent report on civilian casualties reported 3,458 dead and wounded civilians in the first six months of 2020, a 13 percent drop compared to the same period last year, but noted the decline was mainly due to the cessation of anti-Taleban international military operations and the declining capabilities of the Islamic State Khorasan Province (ISKP). Javid Faisal, then spokesperson for the National Security Council tweeted on 22 June that "The past week was the deadliest of the past 19 years. Taleban carried out 422 attacks in 32 provinces, martyring 291 ANDSF members and wounding 550 others." (Faisal declined to provide AAN with more recent figures). While in an opinion piece published by The Washington Post on 14 August, President Ghani wrote that, according to government figures, 12,279 Afghan security forces and civilians had been killed or wounded by the Taleban since February 29. (The Taleban do not publish their own casualty figures).
Government forces have not been without fault, either. Despite their defensive posture, they have nevertheless been responsible for numerous civilian deaths and injuries caused by excessive force or insufficient precaution when retaliating to Taleban aggression. In the most well-documented incident 19 civilians were killed and 31 were injured in a crowded bazaar in Sangin, Helmand, on 27 June, when ANA soldiers responded to a Taleban mortar attack with mortars of their own. While this was the most deadly incident, it is by no means an isolated one. AAN spoke with numerous civilians who said that since Doha, government forces have regularly responded to Taleban attacks on their bases and outposts with indiscriminate mortar and artillery fire without regard for civilians or their property.
Outside Kabul and provincial capitals, in areas where local populations are accustomed to living through prolonged military campaigns, under the buzz of drones and the fear of night raids, the change in posture on both sides of the conflict since 29 February has resulted in new realities for local populations and combatants alike. For some, the change has brought welcome relief, while for others, their experience of the conflict has become even more acute. In the following section, we report on findings from AAN visits to Maidan Wardak, Kunduz and Nangrahar.
Maidan Wardak
Maidan Wardak has seen the greatest reversal of battlefield momentum of the three provinces visited by AAN. In contrast with 2018 and 2019, which were marked by an intense offensive period, since the Doha agreement, the Afghan security forces have been quiet, while the Taleban have taken advantage of the absence of airstrikes and NDS raids. They have carried out more attacks on ANSF checkpoints and are exerting greater control of the roads.
Increased Taleban attacks on checkpoints and bases since June
In the months immediately after the Doha agreement was signed, fighting in Wardak dropped significantly. Aside from a spike in attacks against ANSF posts during Ramadan when a few ANP checkpoints were overrun, violence has remained low. Taleban attacks then ramped up significantly in late June. With violence continuing to escalate since then, the government forces are scared.
One local Taleban commander, Obaidullah, who commands around 25 men around Shaikhabad, in Sayedabad district, said that with no air strikes or night raids to contend with "we have more freedom now. Previously, we'd attack and then withdraw quickly, but now we don't have those fears." He said that meant they could sustain attacks for longer.
An ANA lieutenant based in Sayedabad confirmed that government forces had moved to a defensive posture, locally. He told AAN that the 1st and 2nd Kandaks of the 5th brigade, 203 Corps, based in Dasht-e Top, had not been doing offensive operations since the Doha agreement was signed. Operations aimed at improving security along the highway in Wardak have been conducted, but they are small in scale, he said and are more counter-offensive than offensive.
Taleban control of the roads
Greater Taleban control of major roads, a post-Doha Taleban trend countrywide, has also been seen in Wardak. The shift has been made possible by the defensive posture of the ANSF and the lack of US air strikes, so to that extent, it has been opportunistic, although control of major roads has always been a priority for both sides.
ANSF members in Wardak spoke about this to AAN. Haji Lal Muhammad, deputy commander of an ANP checkpoint beside Highway 1 on the southern edge of government control in Maidanshahr, said that with the threat of air strikes gone, the Taleban had become emboldened. Previously, Taleban checkpoints on the highway south of Maidanshahr were relatively common but never long-lasting. While travelling recently from Kandahar to Maidan Wardak by bus, Lal Muhammad said they passed through eight Taleban checkpoints during the night-time journey. "They aren't stressed about air strikes anymore," he said. Without letting on how he had passed through safely, he continued: "They walk around in the open with their weapons… They are very relaxed, checking everyone slowly and carefully."
In late July, Humayun, a policeman under Lal Muhammad at the highway checkpoint, pointed to a bend in the road south of their position. "No one has been able to move past this corner after dark in the last 15 days." On 20 July, a large convoy of ANA had stopped on the highway in Sayedabad when a vehicle laden with explosives drove alongside it and other vehicles and was detonated. According to one security source, 39 soldiers were killed and as many as 25 vehicles destroyed, although media reports citing Ministry of Defence officials suggested only eight or nine soldiers were killed with a further nine wounded.
Nasim, who is from Sayedabad but lives in Kabul, told AAN that during one recent visit to Shaikhabad, drivers in an ANSF convoy had staggered their vehicles throughout civilian traffic on the highway so that Taleban fighters would not attack. "The Taleban won't fire on them," he said, "because if civilians are killed the government will use it as propaganda."
Increased IED attacks
Greater freedom of movement for the Taleban has also seen a significant rise in the their use of IEDs against ANSF convoys on the Kabul to Kandahar highway. Between the southern edge of Maidanshahr and Dasht-e Top, a distance of 30 kilometres, AAN counted 19 IED craters in the highway in early September that had yet to be filled in, interspersed with several other older-looking craters that had also yet to be repaired. Some of the 19 craters were still ringed by mounds of bitumen and road-base not yet compacted by passing traffic; perhaps indicating that they were created relatively recently.
Colonel Hamidullah Kohdamani, commander of the ANA's 5th Brigade, 203rd 'Thunder' Corps, which oversees Wardak, said in Sayedabad in early September that his men diffuse between five and ten IEDs on the 95 kilometre stretch of the Kabul to Kandahar highway that runs through the province, every day. "It's a big problem. Often we come under attack while diffusing them."
One of Kohdamani's subordinates, however, said that previously routine mine-sweeping operations on the highway were uncommon nowadays and that the increase in IED attacks against government security forces was damaging morale. "We know that if we find a mine, they will plant another there the following night." As if the soldiers needed to be reminded, a crumpled tangle of painted-green steel—the remains of an armoured Humvee—lay on top of an ANA flatbed truck in the 5th battalion headquarters in Dasht-e Top three days after it was struck by an IED on the highway, close to the base. One occupant was killed and four others were so seriously injured they had to be airlifted out by an ANA medevac helicopter.
2nd Lieutenant Omaidullah commands an ANP highway patrol unit responsible for a stretch of highway south of Maidanshahr. He had served with police special forces until a combat injury forced him to transfer to a less demanding unit. From a hilltop satellite outpost overlooking Haji Lal Muhammad's highway checkpoint on 24 August, he pointed to a stretch on the highway around a kilometre south, past the bend which policeman Humayun had said was virtually impassable after dark. Ten days before, he said, the Humvee he was travelling in during a night patrol had been struck by an IED. "I thought my body was separated from my legs at first," he said, but was otherwise unfussed by the explosion that tore the front of his armoured vehicle away from the cabin, leaving its occupants injured but alive and bored a deep, conical-shaped crater as tall as him in the highway. He was still limping from what was his sixth combat injury.
Two nights after Omaidullah told the story of his lucky escape, friends of his from an Afghan National Civil Order Police unit manning a checkpoint on the southern side of a bridge, Pul-e Sorkh, a couple of kilometres south of where his Humvee was struck, were ambushed early in the morning. "They used heavy weapons – 82s [an anti-tank recoilless rifle] and sniper rifles," he said, "and fought from 3am until dawn." Only losing one man in the attack was as good as a victory for Omaidullah. "I will kiss the hands of my men when I see them."
Highway-side government checkpoints, too, have come under greater pressure since June. Between AAN's visits in June and July, Humayun, from the checkpoint just south of Maidanshahr, said several checkpoints had been captured by the Taleban. "Now we can't even walk around [the base]," he said, crouched below a sand-bagged parapet overlooking the Deh-e Afghanan residential area adjacent to the 'green zone', south of the provincial capital. He pointed to a pile of river stones, a monument for a fellow policeman, Azim, who was shot and killed as he walked past a gap in the base's concrete blast-walls by a sniper the day before. "The Taleban are just past the first row of houses," he said, pointing through the sandbags. "For the last few days," he said, "people have been saying they might try to capture our checkpoint. At night, they're able to surround us."
ANSF members talk about how the Taleban have been funnelling in from the southwest, attacking outposts within a kilometre of the governor's office. In one attack, on 23 August, five men were killed in a Deh-e Afghanan outpost close to where the green zone ends at Maidanshahr. The ANP at the highway checkpoint south of the provincial capital have a view across the valley and saw it happen. In fact, they had seen the Taleban's steady infiltration of the green zone from the southwest over the weeks before as attacks edged closer and closer to the city. With such momentum, the police thought an attack on the governor's compound in the coming weeks was plausible.
In fact, the Taleban has even been conducting regular attacks on government checkpoints and outposts between Maidanshahr and Kabul in recent months. In the Arghandi area, where traffic on the highway slows at the gate that marks the border between the two provinces, AAN witnessed fighting within a few hundred metres of the highway while returning from Maidanshahr twice in August. It was on the same stretch of highway on 3 October that the armoured vehicle carrying Maidanshahr's Mayor Zarifa Ghafari was targeted, but unharmed, by gunmen on 3 October this year. But an attack on a provincial capital itself seems outside the Taleban's current modus operandi.
A senior Taleban military commander who spoke to AAN described their current posture as 'on standby' — maintaining a low level of military offensives in order that gains of the past several years are not forfeited, while abstaining from large scale attacks in cities or attempts to capture them entirely. "We haven't launched big military operations in my areas. We've taken some checkpoints," he said, "but not district centres." This, he said, keeps them within the bounds of what was agreed in Doha. They are, he said, "fighting everywhere, everyday, but our big operations have stopped for now… We are sticking to our side of the agreement – it is important that we keep our word."
More foreign fighters?
Another change in some Taleban-controlled areas in Wardak is an increase in the presence of foreign fighters. The two low-level Taleban commanders AAN spoke to from Sayedabad and Daymirdad said that, since Doha, the numbers of foreign fighters had increased. Most, they say, are Waziris or Urdu speakers or others with non-native, heavily-accented Pashto, so probably Pakistanis, who had been present in Wardak in the past, but have been seen in more significant numbers of late. These fighters have had controlled access routes between Wardak and the Durand Line through Logar, then either on through Nangrahar or Paktia, for years. "Locals don't like having these people here," said Keramatullah, a low-level Taleban commander from Daymirdad. "Nor do the local Taleban authorities, but it's something that's not in our control." Keramatullah and Obaidullah, both from Sayedabad, said the "foreign fighters" took part in the small-scale attacks that were being carried out, but little else was known about them. "We aren't allowed to get close to them," said Keramatullah. "They're under direct command of the [Taleban] governor, but we don't know where they stay." Often, he said, they will appear in times of fighting and then disappear once an operation is over.
The more senior Taleban commander interviewed by AAN dismissed the notion of them being foreign fighters. "They are from the other side of the Durand Line. They're Afghans." Otherwise, he said, people are mistaking fighters from the Taleban's Red Unit, or their subsidiary 'laser' units as foreigners because they are necessarily aloof. The Red Unit – the Taleban's' special forces equivalent – he said, are forbidden from speaking to people outside their units and always wear face coverings. "Chechens, Tajiks, Arabs, they're not in our areas."
Decreased NDS raids and air strikes
For both residents and combatants alike, 2018 and 2019 will be remembered for the brutal campaign of night raids—mostly carried out by the NDS-01 unit—and air strikes by both Afghan and US forces. With the vast majority of the province's territory under the control of the Taleban since at least 2018, few Wardak residents (except those in the two northern Behsud districts in the Taleban-hostile Hazarajat (3)) were spared at least indirect experience of the raids. According to residents and security analysts, the raids ceased almost entirely around the time the Doha agreement was signed. This was also the case in Nangrahar and other eastern provinces that had seen a high frequency of raids by other NDS special force units over the same period.
Away from the frontlines, in Taleban-controlled areas, the end of the raids and air strikes has brought positive change to the quality of life for many Wardakis. Farwad, a 21-year-old resident of Daymirdad district said that, "Since the Doha agreement, in Wardak, there's no bombardments or night raids. The people are very happy – it's like the time of Eid."
During a visit to Sayedabad's Tangi Valley, which the Taleban have controlled since before 2014, but which bore the brunt of numerous night raids and associated air strikes last year, AAN witnessed a sense of calm that does not exist in contested areas nor Wardak's government-held provincial capital.
Several farmers from different districts who spoke to AAN in 2019 said they were often unable to work their fields — especially at night in summer and during Ramadan — because of the risk posed by raids and air strikes. (According to World Bank data, more than 80 per cent of Wardak households derive income from agriculture or livestock.) But Ahmad Shah, a farmer from Nerkh, said:
Now people can water their land at any time of day or night because there are no security issues. Previously, if someone was outside and a drone came, they couldn't move or return [home] or anything. Wardakis, are no longer living like prisoners in their homes.
Civilians caught in the cross-fire on the (new) frontlines
In contrast, for those living close to frontlines, their lives have become even more fraught, particularly for those near main roads or the island-like government-held district centres and even the provincial capital Maidanshahr. Since Doha, it is the farmers in these areas who are unable to tend their crops. Adam Khan lives in Lalakhel on the southern outskirts of Maidanshahr. He said that the police at checkpoints on the government frontline regularly fire toward the invisible Taleban line of control near his house in an effort to keep them at bay. "They're trying to scare the Taleban," he told AAN in late July, "but the Taleban don't pay any attention to civilians, so they don't care." When they're patrolling on the road, he said of the police, "they're firing the whole time. And if the Taleban fire one bullet [the police] will fire 500. This is only in the last six months." As a result, people like Adam Khan now find themselves in the same position as farmers who, last year, were fearing drones and night raids in Taleban areas last year. Now he is unable to work, except, he said, very early in the morning. "After this time," he said, "it is very lucky if you're able to do your farming."
Nurullah, a 38-year-old farmer from Kodai in Chak district said he was watering his land, about a kilometre from an Afghan National Police (ANP) base around dusk on 25 July. Recounting the evening to AAN, he said his two sons and a nephew were playing nearby. According to Nurullah, there was no fighting in the vicinity at the time. Out of nowhere, a small explosive munition landed close by and sprayed the three boys with shrapnel. When AAN visited the hospital the next day, all three were recovering from surgery to remove fragments from their stomachs, in the provincial hospital in Maidanshahr. "It came from the police base," said Nurullah, "my house was struck by government mortars and damaged." Since the Doha agreement, he said, these dynamics have become pronounced. "The national police have changed their behaviour," he said. "Because they're stuck in their bases they fire a lot from them."
Ehsanullah, 32, also from Chak, was at the hospital that day, as well. He complained of the ANA firing artillery at night. "When it's dark, they are afraid and firing mortars and artillery without targets or coordinates." It is experiences like Nurullah's that continue to push the people of Wardak further from the government. "We don't have any problem with the Taleban," said Ehsanullah. "All our problems come from the government."
Taleban recruitment
There are new pressures from the Taleban to contend with however. Dr Esmatullah Asim was head of the provincial hospital before recently being elected to the provincial council. Asim agrees about the population's disaffection from the government, though he said it is a longstanding problem which helped to fuel the insurgency in its infancy after 2006. "People are graduating from university and there are no jobs. They are jobless and looking for people to hear their problems." Now, without the military pressure of previous years, he said the Taleban are capitalising on the growing distance between the government and Wardakis. "They are very accessible for young people," he said. That in part is due to the relatively captive nature of their constituency. This also translates into recruiting, said Asim, which the Taleban have used the post-Doha detente to focus on.
A senior Taleban military commander (who asked not to be named) concurred but said that recruitment efforts were aimed at turning members of the ANSF more than getting new non-combatants to join up. The reason for the heightened activity of the recruitment commission, he said, is at least in part due to the change in the makeup of their enemy's ranks. In response to a question about whether or not their 'jihad' was still legitimate now that they were no longer fighting foreigners, he said, "You're right about jihad being against the US not Afghans. That's why we're giving [ANSF] a chance to surrender before attacking them." Before operations, he said, the recruitment commission now sends messages to those at the target location, urging the ANSF members to defect rather than resist: "We're trying to convince them that they're defending corrupt people."
Social restrictions relaxed and phone coverage restored
A senior member of staff in Wardak in one international health NGO said his work in Taleban-controlled areas has changed for the better since Doha. Previously, he said, "the Taleban were very aggressive, but since [Doha], they are acting like a government, not as an anti-government force… I think they want to prove that they can provide governance." Moreover, he said, "they are much more relaxed with the people." The NGO worker's sentiments reinforced AAN's sense that the decreased military pressure on the Taleban in Wardak had benefited civilians living under their control.
The NGO worker explained that coordination between the Taleban's district and provincial health commissions and the military commission has also benefitted from the drop in violence. "There are no challenges for us in Taleban areas. But in the government areas, we are stopped and searched and questioned all the time since Doha."
Prior to the Doha agreement, Taleban suspicion about local informants was rife, with civilians often suffering depredations like limits on mobile services and even on the use of mobile phone cameras. In 2018 and 2019, the Taleban controlled mobile phone towers across most of Wardak and enforced a restriction on phone use to a few hours early each morning. The aim was to hamper any informants helping the Afghan and US military. According to residents and a local engineer, the phone towers are now mostly on, both day and night.
Kunduz
The Taleban's strength in Kunduz since the departure of German forces in October 2013 is well-documented, most famously illustrated by the group's brief capture of Kunduz City in 2015 and again 2016 (AAN reporting here and here). No other provincial capital has come under such sustained pressure from all sides. Even Wardak—where the government has arguably less control over its districts—does not feel as constricted as Kunduz City where the Taleban continue to infiltrate the outskirts.
Beyond Kunduz City, the Taleban have been mostly in control of the district centres of Chahar Dara, Dasht-e Archi and Qala-ye Zal for several years. The latter was physically moved in 2018 to enable the government to retain its claim of control there. More recently, Khanabad to the east, Aliabad to the southwest and Imam Saheb to the north have all come under sustained Taleban pressure. The province's three new sub-districts of Gor Tepa (also known as Gul Tepa), Aqtash and Kulbad are all largely under Taleban sway. Since the Doha agreement was signed, Taleban pressure on the government has only intensified. Travellers wanting to use the highways to Khanabad and Aliabad have found it virtually impossible to avoid encountering Taleban fighters carrying weapons in the open or stopping motorists at checkpoints. This is especially the case at night. Meanwhile, Imam Saheb, on the border with Tajikistan, is the focus of a new Taleban front threatening the eastern fringe of the district's populated, agricultural zone, with dozens of border forces, ALP and ANP dying in recent months.
Increased Taleban assaults and ANSF frustration
For the ANP stationed at Kunduz City's northern gate, fighting is an almost daily occurrence. On a visit to the city in July, AAN met Faizullah, a 45-year-old policeman. "Since the peace process began," he said, referring to the 29 February Doha agreement, "we are only defending. The Taleban attacked us here last night… Sometimes they're coming from all sides and surrounding us."
On the opposite side of the city, Dastagir commands the checkpoint that leads south into Aliabad district and beyond, to Baghlan province and Kabul. The checkpoint, which is only a kilometre from the ANA's large battalion headquarters beside Kunduz's airstrip on a raised plateau, has only come under attack a handful of times since he took command nine months ago. The smaller ALP and ANA satellite outposts to the south and even those a few minutes' drive north, however, have been less fortunate. "It is worse now than it was," he said. "The Taleban are taking advantage because we are only defending." What has changed, he said, is that now the Taleban are "sure the US won't attack or make aerial bombardments. The Taleban have captured some areas, they cut [blocked] the highway… They have had many achievements since Doha. All around Kunduz, they have come closer to the city."
The checkpoint sits under an archway and is manned by a single policeman most of the day. Because attacks almost always come in the night, Dastagir's men are mostly nocturnal, but made a show of checking passing vehicles thoroughly during AAN's daytime visit. While Dastagir laments the defensive posture he and the ANSF have been ordered to uphold since Doha, he also clarifies that, even under normal circumstances, it is not the ANP's job to lead offensive operations. "They are the responsibility of the ANA," he said, while the police follow in arrears to maintain a presence once areas have been cleared.
His men still patrol the highway, but only as far as the village of Kocha-ye Qazaq, around two kilometres south. The same afternoon that AAN visited in July, two Humvees and an ALP Ranger laden with men swung south onto the highway from the road that leads up to the ANA battalion headquarters. They were on their way to Kocha-ye Qazaq. The next night, their checkpoint was attacked. At least five members of government forces were killed and several wounded. A local journalist told AAN that fighting continued well into daylight hours on 20 July.
The cost of their defensive posture—effectively, waiting to be attacked— was beginning to take a toll on morale when AAN visited Kunduz in July. "We need our leaders to make an agreement as soon as possible," said Dastagir. "We're not happy with this situation."
Muhammad Yusef Ayubi from the provincial council concurred. "The idea of peace is good," he said, "but the agreement was between the Taleban and the US. Day by day the situation is getting worse."
The second time AAN spoke with Faizullah, he was stony-faced. His demeanour betrayed the feeling typical of most of those on the government side AAN spoke with in Kunduz, that since Doha, they have been saddled with the consequences of American attempts to make peace with the Taleban. An Afghan soldier had been killed an hour earlier and the fighting continued on and off less than a minute up the highway. "The foreigners made a peace deal," said Faizullah, "but us, we keep dying."
In Imam Saheb district, which had seen a spike in fighting in the month prior to AAN's July visit, security officials had been instructed not to speak to reporters, so most did so on the condition of anonymity. One senior official from the district administration said that around 50 ANSF had been killed in the month prior to mid-July.
Civilians were able to speak more freely about the increased pressure on the district. Abdul Qarluk, a 45-year-old man who works as a gardener in the government headquarters, said that "after the peace agreement every day and night the Taleban have been trying to win control of the district. How is this peace?"
Most of the casualties were occurring around the village of Qarghaz, three kilometres southeast of the district centre. The frontline was marked by a narrow irrigation canal and most residents not on the government-controlled side had left since the Taleban had moved in. The district official said he believed that Taleban fighters from other provinces had been sent to Kunduz to help push government forces back toward the district centre.
Inside the handful of frontline ANP and ALP outposts in Qarghaz, AAN was told ten men had been killed at two of the posts in the past week alone, including some ANA soldiers sent to help defend the positions. The Taleban, according to Nezamuddin, the commander of one small outpost, were making concerted efforts to overrun them almost every second night. The desperation of the defence was evident in the tunnels that had been dug from the periphery of the outposts, not only leading to subterranean bunkers with ground-level firing holes outside the boundary walls, but to internal bunkers from which, the police said, they could fight when Taleban fighters managed to breach the walls. "The president has ordered all security personnel into a defensive position," he said. "It is hard for us, but these are our orders." His men had had to resort to such last-ditch-like defences more than once in the past week. The entrance to one such tunnel in an outpost in the village of Joi-ye Begum had been dug through the concrete floor of a room that was being used as sleeping quarters for the men. "Before the Doha agreement," said Nizamuddin, "we were able to conduct operations… Now there is a one-sided ceasefire and the situation from our side is much worse than before."
Since AAN visited Kunduz in July, fighting has continued across the province and worsened in Imam Saheb and Khanabad. A 25 August Tolo News report found Kunduz residents critical of the ANSF for their reluctance to conduct offensive operations in the province. The passivity, they said, was allowing the Taleban to turn battlefield momentum in their favour. The UN Office for the Coordination of Humanitarian Affairs (OCHA) reported that over 9,000 families had been displaced by fighting in the two districts in the last week of August.
Taleban checkpoints and 'taxation'
The presence of Taleban fighters and checkpoints on Kunduz's major roads has arguably been the greatest change for residents since Doha. Muhammad Yusef Ayubi, a member of the provincial council, said the main complaints he received from his constituents now were about the province's insecure highways. Ayubi singled out the Kabul-Baghlan-Kunduz highway. The "Taleban," he said, "control that highway and tax every vehicle." All those AAN spoke with in Kunduz who had travelled to or from Kabul in recent months more or less concurred, especially with regard to Baghlan's northern districts, south of Aliabad. Dastagir, the police commander of the checkpoint at Kunduz City's southern gate, through which motorists pass to travel on to Aliabad, Baghlan and Kabul, said the highway between there and Baghlan belongs to [the Taleban]. They are taxing drivers. They were never able to do this before. But," he remonstrated, "we can't do everything." Ayoubi said truck drivers were forced to pay as much as 30,000 afghanis (390 USD) to pass through the Taleban checkpoints.
A bus passenger said Taleban fighters were stopping vehicles, taking mobile phones, calling recently dialled numbers and telling those on the other end that their friend had been involved in an accident. Taking the guise of a helpful passer-by, the Taleb would then ascertain relevant personal details that would determine whether the passenger had government affiliations and should be allowed to continue on their journey or not.
Rashida, who recently remarried after losing her children and first husband—a member of the ALP—to a US air strike in 2019, lives in Dasht-e Archi. Even though the Taleban have dominated the district since at least 2015, Rashida said that, since Doha, they were coming onto the road far more frequently. "If they make a checkpoint now," she said, "[it] would take four hours [to come to the city]. It takes a long time – they check everything." She added that such checkpoints are now most likely on Thursdays – the day most people go to the city to shop at the bazaar. "They check phones for songs, they check memory cards," she told AAN. "They're looking for Salaam SIM cards [forbidden by the Taleban because Salaam is owned by the government]. They'll fine you and send you to jail."
Aside from the added difficulties associated with travel, Rashida told AAN that the Taleban had not otherwise changed much since Doha. She said she and the people were hopeful, however, that peace would come "because [then we] won't have to provide food and things [to Taleban fighters]. This is a constant problem," she said, "especially for the poor."
Sayed Malek runs a small shop on the far western edge of Kunduz City where the lines of control begin to blur, so much so, that the Taleban frequently request payments from him for electricity. There are, he said, even police at frontline checkpoints who are required to pay the Taleban because, with power lines running through Taleban territory, failure to do so would mean their supply would be cut off.
Malek, who lost one of his four sons fighting for the Taleban, fits a common mould among residents of areas long-controlled by the Taleban: he is not necessarily pro-Taleban, but he is most certainly anti-government. "We support an Islamic regime and the people that bring it," he said. "We don't necessarily want the Taleban, we want whoever brings an Islamic regime." His ire, on the other hand, is focussed on those the Americans chose to work with and how the benefits that were supposed to trickle down to families like his stayed in the pockets of American clients. "They never asked the people whether they were happy to be represented by these people. They have to end their support for the government. Then we'll see what happens."
Nangrahar
Since 2015, conditions in Nangrahar have been shaped to a large extent by the presence of the Islamic State Khorasan Province (ISKP). Even after the group was declared "obliterated" by President Ghani in the province in November 2019, its disruption to battlefield dynamics in the years that followed has continued to affect the state of play since the Doha agreement was signed.
Low-level ANSF pressure contains Taleban
For its part, the ANSF's strategy since February appears to have been about retaining the gains made since anti-ISKP operations began in 2017. Those gains resulted from both anti-ISKP offensives by both the Taleban and ANSF in districts like Khogyani and Shirzad and a reinvigorated US aerial campaign. All sides have claim responsible for victory – for more see this AAN report. Before February, according to a security analyst who was not permitted to speak publicly, the convergence of sustained anti-ISKP activity in the preceding years saw the government—with the help of new pro-government NDS-funded Uprising Forces—holding territory it had not seen in years. Now, the analyst said, aside from "smaller operations against [Taleban] safe houses around Nangrahar, the ANSF [strategy] has been about containing the Taleban where they ended up," after three years of almost non-stop military operations.
In spite of Taleban efforts, that strategy, according to Gul Shirin, the commander of a small ALP checkpoint on the main highway running north to south through Khogyani, has been successful. Pointing across a group of villages known as Argach at the base of the White Mountains (Spinghar) in southern Khogyani, Gul Shirin said the whole area had been controlled by the Taleban until government operations in early 2019. While they still maintain a minor presence, "The Taleban haven't taken any territory in [this area of] Nangrahar [since Doha]," he told AAN in early August, "but they have tried."
The government, he and other pro-government militia fighters say, have continued to conduct operations since Doha—a rare exception according to AAN's reporting in three provinces. The difference now, Gul Shirin told AAN, "is that previously the ANA would have the support of US air power. Now they don't." While the Taleban have not been able to expand their presence in Khogyani from pre-Doha areas, the halting of ground and air operations by US forces and NDS-02 has provided the Taleban with breathing space. "Now the Taleban can easily walk in the open," said Gul Shirin. "They have heavy weapons [mounted] on vehicles now and don't even have to hide them."
More foreign fighters, more training?
Malik Maki, commander of Khogyani's Uprising Forces, with 60 men between the district centre into the Spinghar Mountains to the south, was critical of the repercussions of Doha on his district. His immediate concern was that his outposts which previously were under attack once or twice each month were now coming under fire more regularly because the Taleban were no longer under military pressure. His long-term concern, however, was that since US aerial operations had wound down after Doha, foreign fighters—among them, he said, Pakistanis and Chechens (4) —were flooding into Khogyani from across the Durand Line. Maki claims the "Taleban and their supporters want the Taleban to come to power by force." Several residents and analysts also told AAN of the foreign influx in southwestern districts of Nangrahar.
Security officials claimed to have killed 15 Pakistani nationals in Khogyani in July, though the circumstances surrounding their deaths was not clear. An ANA regiment commander, General Karim Niazi, was reported by Tolo in July as saying: "Intelligence information shows that there are retired Pakistani colonels who are training the local Taliban." Also supporting this was a claim from Pakistani politician and Pashtun activist Ali Wazir on Twitter, who said that the bodies of dead Pakistanis were being returned from Afghanistan. He asked, "What are the priorities of the Pakistani state?"
The consensus among most of those AAN spoke with was that the foreigners were taking advantage of the post-Doha freedom to train rather than fight, at least for the time being. Civilians and members of the ANSF described influxes of external fighters in Surkh Rod and Khogyani and in Nangrahar's most remote districts, Sherzad and Hesarak. Wali, a Sherzad resident, said fighters, mostly from Waziristan and the Khyber agency, had come and settled in areas the government had not managed to retake before Doha. Without the threat of air strikes, he said, the groups, who appear to wield power over local Afghan fighters, are conducting "large meetings without fear… they're playing football and walking freely." The fear is that they are part of a build-up of military capacity that could be unleashed if intra-Afghan talks fall apart or fail to materialise at all.
Mounting frustration for some ANSF
In some areas, the Taleban are still on the offensive against the ISKP. Before ISKP was dispelled from Nangrahar, their presence pushed some Taleban groups into less-contested areas, including northern Surkh Rod, where they were able to increase their attacks against government forces. Haji Anar Gul commands a small ALP outpost in Shamshapur, close to the Surkh Rod district centre. AAN met him for the first time in July 2019 during a joint ANA, ANP and ALP operation to clear several villages of Taleban around Dasht-e Baghwani, at the foot of what locals call the Black Mountain (because snow doesn't fall on it). This August, Anar Gul was recovering at home in Surkh Rod after suffering a gunshot wound two weeks earlier when his outpost was overrun. Three of the five ALP in the outpost were killed. One of his sons was also wounded but survived.
When first interviewed, during the operation in 2019, he said, "One day after the operation, the Taleban were back." The clearing operation one year ago did, however, allow one new police outpost to be established on top of a small hilltop between the highway that runs through the district and the Black Mountain. The outpost was still occupied by ANP at the time of AAN's visit.
Anar Gul's recent experience was undoubtedly souring his views on the government and the forces behind the Doha agreement. "Now the Taleban are relaxed because they're not afraid of air strikes," he said. "No [NDS]02, no special forces – the Taleban were afraid of all these things, but now, nothing." He described the circumstances since Doha, as a one-sided ceasefire, with political manoeuvring only by a government that failed to take into account frontline realities. "They're attacking and we're waiting to be attacked."
Anar Gul said that, although new groups have entered the area, it was local Taleban commanders who were responsible for the recent attack. One, a group commander named Mubarez, he said, called him after the worst of the fighting had died down. 'Come on, where are you? Come out,' he said through the phone. Anar Gul was hiding behind a wall nearby and saw Mubarez's men shoot his son and try to steal his vehicle, which would not start, so they burned it instead. "I saw everything," he said.
People in Kabul, he said, do not understand. "In the districts, we're fighting. We know how it is – the reality." Furthermore, he, like many among the ANSF that AAN spoke with, were sceptical of the intentions of those supposedly suing for peace. "Both sides are wasting their time. They're not working honestly toward peace," he said, adding that there is "no hope. There will not be peace. Even as an old person, when I die, I will not have known peace." When asked whether he planned to return to the outpost once he had recovered from his wound, Anar Gul said "Maybe I'll go back, but just for my local people, not for the government."
Civilians on a shifting frontline
Hamesha Gul lives beneath the new outpost on the small hill between the highway and the Black Mountain that was built in mid-2019. Since then, he said security had improved significantly.
He had left Khogyani for Surkh Rod several years before so his children would not be pulled into the Taleban's growing orbit there but, by 2018, in Surkh Rod, he and his large, extended family found themselves in a kind of no man's land between the government forces on the highway and the Taleban on the far side of the small hill where the outpost would be built. Mortars and rocket-propelled-grenades (RPG) would fall from the sky and explode around their house in the village of Ibrahimkhel, often several times each week. Bullet holes still scar the outer walls of their home from that time. But it was an unexploded RPG, picked up by one of his young children on their way to school in early 2018 that finally struck the family down. Hamesha Gul's sister and three children were killed and seven others were injured, each losing at least part of one leg, when one of them dropped the rocket outside the front door.
Last year's joint ANSF operation provided long overdue relief for Hamesha Gul and the surviving members of his family. Sighting the construction of the new outpost, he told AAN that "security was very good after [the] operation." But, describing a pattern similar to what the vast majority of people whom AAN spoke to for this report have described, he said that, since the Doha agreement, "the situation is worse." Taleban assaults and mortar attacks on the outpost have become more frequent. Now, at least, he and his family are behind the government's frontline position rather than in between the two frontlines as they had been previously.
In Khogyani, despite the ANSF having retaken much of the district last year, the Taleban are still far more active than in districts closer to Jalalabad like Surkh Rod. 72-year-old Khairullah described how his granddaughter had been killed when a munition was dropped from what he believed was an American aircraft on their way home during fighting in Wazir Tangi, not long before the Doha agreement was signed. Since Doha, Khairullah said the incidence of roadside bombings and targeted killings of government officials and ANSF members had increased. Khairullah was also critical of the behaviour of the insurgents toward local people, suggesting that the number of non-Afghans among them had increased since Doha. "If we ask them not to fight near our homes they reject our requests. They search cars and demand ushr." But his anger is not only directed toward the Taleban, who he said were responsible for carrying out the majority of recent violence, as much as the government and the Americans, who he said must make demands of Pakistan if they truly want to end the war. "We're not happy with the government either," he said. If the people had faith in the government, Khairullah said, they would be more likely to support them at a local level. Then, he suggested, "maybe they will have success."
The security the government brings never lasts long enough for locals to commit to aligning with it. Instead, for long-term survival, they hedge their bets, knowing from experience that the government does not have the capacity nor the resources to maintain security over an extended period and that supporting it would come back to bite soon enough. Yet, Khairullah still opposes the Taleban and, even as a victim of a US and government military operation, Khairullah cannot understand why the government has relinquished pressure on the Taleban since Doha. "They're inactive and ineffective," he said. "They should start again – bombardments and 02 [NDS] operations."
In Sherzad, 40-year-old resident Wali said the newfound freedom for local and foreigners fighting with or training the Taleban has led to more rigour in their tax collection. This is on top of the ten percent ushr on crop yield for farmers, which has been in place for years. For a truckload of stones coming from a mine in Sherzad, a 20,000 afghani (260 USD) fee is now payable. All done out in the open, said Wali. "Now they're scared of nothing."
Conclusion
Attitudes toward the Doha agreement depend to a large degree on which side of the frontline one lives or fights.
For the Taleban and their sympathisers, the agreement is seen as a reward for the sacrifices made during the 15-year insurgency. With the threat of being targeted by government or US forces now low, morale among fighters has soared. According to those AAN spoke with, the fight against the United States brought the agreement to withdraw and, in the meantime, to abstain from offensive operations. That also brings the prospect of ultimate victory—whether by political or military means—closer than ever before. Fighters seem to be taking advantage of the absence of airstrikes to claim roads, launch small to medium attacks against the ANSF without overstepping their Doha obligations and otherwise enjoy the drop in military pressure against them. The increased presence of foreign fighters reported in Maidan Wardak and Nangrahar, however, is disquieting for Taleban fighters and residents alike.
Government forces are widely distrustful of American intentions and see the US as having made the Doha agreement in bad faith, with scant regard for the outcome for Afghans themselves. Most of those who spoke to AAN see the agreement as benefitting the US and the Taleban at the expense of the Afghan government and the ANSF, who, they point out, are still dying everyday. Most members of the ANSF that AAN spoke with also expressed frustration over the government's sudden passivity toward the Taleban. After the severe Taleban losses inflicted by last year's intense US air campaign and the fear wrought by widespread night raids, Ghani's orders after Doha—to defend only— have allowed the Taleban unfettered control in areas already under their sway and greater freedom to impose themselves in contested areas, most notably on major roads and highways. To many government and security officials, regardless of whether it might serve the purported goal of peace, the new orders are militarily weak and politically foolish.
In this scenario, the Taleban have little incentive to reduce violence. They are rarely having to defend themselves nowadays, so an overall reduction in operational tempo – the closest thing the insurgency has ever had to downtime – will continue to allow them to focus on training, consolidating their control where they can, planning for future contingencies or simply recuperating. Although the Taleban do not appear to be focused on large-scale territorial conquest for now, they have taken advantage of the lull in offensive operations against them by consolidating their control around the urban centres which they might in the future want to attack, particularly if the threat of US air strikes went away entirely. Meanwhile, the current defensive posture makes the ANSF vulnerable to attack, has meant a rise in casualty rates and depressed morale. This is not sustainable.