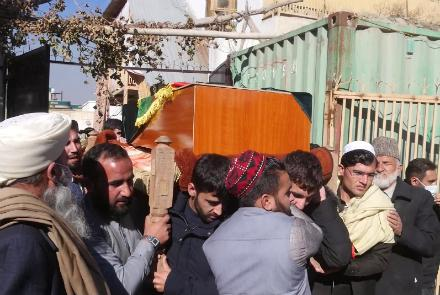 Four people were killed in security incidents in Kabul in the last 24 hours, according to eyewitnesses and victims' relatives.
In one of these incidents, unknown armed killed Abdul Jamil Hafifi, member of the Supreme Court, in Kabul's PD8. His brother was wounded in this incident, his family said.
His family said that security agencies have "failed" to prevent such incidents in the city.
"They attacked my brother and martyred him. When I raised my voice, they opened fire on me and my foot was injured," said Abdul Qayum, brother of Abdul Jamil Afifi.
"The security agencies and the intelligence agencies are totally 'failed'," said Sayed Abdul Hadi, a relative of Afifi.
In another incident, three people were killed in a clash in Kabul's PD6. Meanwhile, and three people were wounded in a gunfight in Prozje Jadid area in Kabul's PD15.
Kabul residents called on the government and security agencies to prevent target killings and security incidents.
"A clash started here. Then we heard a gunfight. We saw three people lying on the ground when we arrived at the scene. Bullets hit their feet," said Abdul Hameed, a Kabul resident.
"Hashish, drugs and K tablets are sold in markets. Why the government remains silent? Why the government is not ensuring people's safety?" asked Fahim, a resident of Kabul.
This comes as First Vice President Amrullah Saleh in his daily meetings with security officials vowed to prevent crime incidents in the city and ensure the safety of the people.