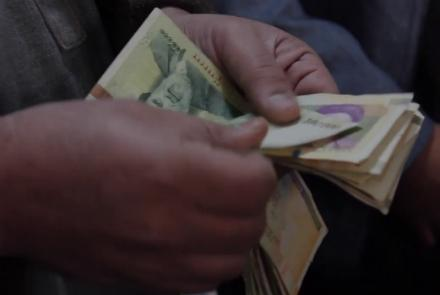 Iran's currency is a widely used in local markets in Nimroz that shares borders with Iran, provincial council members in the province said on Saturday, adding that 90 percent of transactions are carried out in Iranian rial instead of Afghani.
They said many people in Nimroz are not familiar with Afghani due to the large scale use of Iranian rial in their dealings.
Nematullah Sediqqi, member of Nimroz Provincial Council said that use of Iranian currency has posed financial damages to the business community and the people.
"One of the major economic issues in Nimroz is the use of foreign currencies, particularly the Iranian rials in business transactions," Sediqqi said.
The Central Bank officials in Nimroz confirmed the trend, but said efforts are underway to strengthen the use of Afghani in the local market.
"All major business transactions are carried out in Afghani," said Mohammad Naeem Saeed, the head of Central Bank branch in Nimroz.
TOLOnews' Nasir Ahmad Salehi who visited a shopping center in Zaranj, the center of Nimroz on Friday, said that most of the business dealings are conducted in Iranian currency.
"Use of foreign currency, especially Iran's rial that is an unstable currency has been imposed on our economy and it has damaged our economy," said Mohammad Ishaq Shahbaz, an analyst in economic affairs.
Shah Mohammad, a shop owner in Zaranj, said that most of his customers in Nimroz cannot recognize the country's currency.
"Customers come to my shop to purchase goods. We tell the prices in Afghani, but they don't have the national currency in their pockets," he said.
"Our children do not recognize Afghani," said Qudratullah, a Nimroz resident.