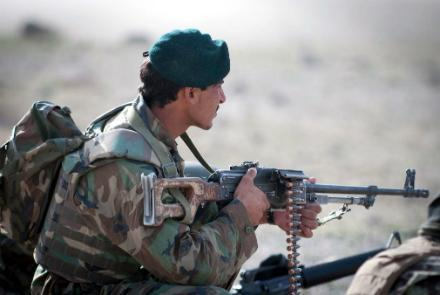 At least two security force members were killed and three others were wounded in a Taliban attack on a military base in Andar district of Ghazni, the Ministry of Defense said in a statement on Wednesday.
"At the start, a Taliban suicide bomber drove toward the base but was destroyed before reaching its target," the statement said, adding that "The Taliban attack was repelled and they suffered casualties as well."
A security source said earlier that the clashes started at 12:00am the night before and continued into Wednesday morning.
"First a car bomb detonated close to the base and then a number of attackers started fighting with security forces," the source said.
No group has claimed responsibility for the attack yet.
At least 31 people, mostly security forces, were killed in a suicide attack in Ghazni province on Sunday, local health officials stated.
Ten days ago, a suicide car bomber detonated his explosives close to a public protection unit in PD3 of Ghazni, killing 31 and wounding 24. Most of the victim were military personnel, the officials said.