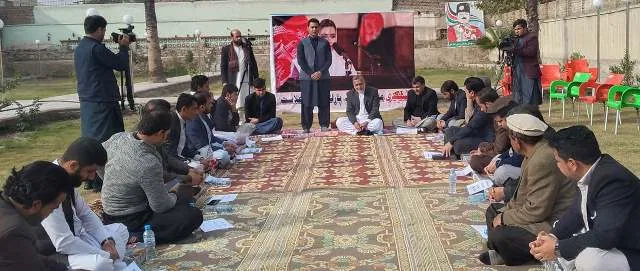 Journalists based in eastern Nangarhar province on Friday asked the government to try in public and award severe punishment to the killers of TV and radio presenter Malalai Maiwand.
Paying homage to the slain journalist, her colleagues held a gathering in Jalalabad, the provincial capital, and asked the government to severely punish her killers if they had been really arrested.
Malalai Maiwand was travelling in a car from home to work when gunmen attacked her vehicle, killing her and her driver in Jalalabad on Thursday.
Her killing was widely condemned on national and international levels.
Nangarhar Governor Ziual Haq Amarkhel yesterday said intelligence operatives had arrested two suspects in the killing of Malalai.
Nangarhar journalists, who held a condolence reference in the memory of Malalai at the provincial information and culture department, welcomed the arrest of her killers.
Ariana TV reporter in Nangarhar Rahmatullah Ziarmal said they wanted open trial of the detainees and death sentence for them.
"If our demand goes unnoticed, we will come together again and raise our voice, we will mobilize the masses. We also ask the insurgents to stop killing us," he said.
Afghan Journalist Safety Committee head for Nangarhar Sher Shah Hamdard also demanded open trial of the killers of Malalai.
Enikas TV head Eng. Zalmai Latifi expressed his concern that all their colleagues had been threatened and continued to be threatened.
Nangahar information and culture director Rahimullah Khogyani said the lives of journalists were under threat and security organs had obtained a hit-list carrying names of many journalists.
Journalists from Kandahar and Khost provinces also attended the condolence reference for Malalai.