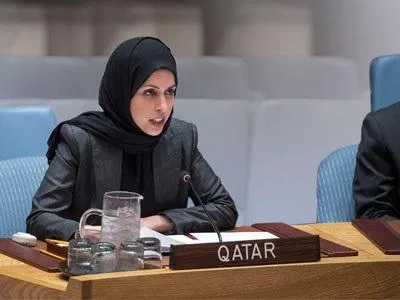 Qatar is proud of its role in the context of international efforts aimed at helping the brothers in Afghanistan to reach the desired peace, said the country's Permanent Representative to the United Nations Ambassador Sheikha Alya Ahmed bin Saif Al-Thani.
Addressing the 75th session of UN General Assembly on "The situation in Afghanistan," she said the efforts of the State of Qatar to support the restoration of security, peace and prosperity in Afghanistan reflected its firm foreign policy that attaches importance to promoting the settlement of disputes through peaceful means and mediation.
She noted that hosted the Afghan peace negotiations last September and considered them an important step towards achieving the desired comprehensive political settlement in Afghanistan, putting an end to the state of violence and human suffering and paving the way for lasting stability and prosperity.
This important step came as a result of the continuous efforts by the mediation of the State of Qatar during the past period to bring the parties to the dialogue table, including Doha hosting the Afghan Dialogue Conference in July last year with the participation of representatives of the Afghan sects, political parties and civil society with the distinct participation of women.
She explained that the progress represented by the start of the Afghan peace negotiations was based on the important achievement made through a peace agreement between the United States and the Taliban movement in Doha on February 29.
She said that despite the challenges due to precautionary measures from the Coronavirus pandemic, the State of Qatar's mediation continued to push the dialogue between the Afghan parties.
The Permanent Representative pointed out that this process will not be sustainable unless it is inclusive of all and based on a broad consensus, and guarantees the rights and full participation of all groups of the Afghan people, including women, girls, youth and minorities.
The Afghan people have come a long way towards achieving their aspirations to build a state of institutions that enjoy security and progress, she added, stressing the need for Afghans to support the international community in order to preserve these gains, complete the transitional phase, and overcome many challenges facing security, sustainable development and economy.
She affirmed that the State of Qatar will spare no effort, in cooperation with international partners, to make peace negotiations a success and achieve the desired goals, and will continue its solidarity with the Afghan people and support the achievement of their aspirations to consolidate peace, stability and prosperity.