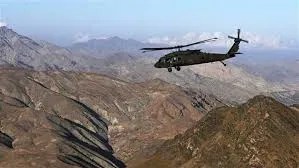 US forces conducted airstrikes against Taliban insurgents attacking Afghan security forces in Zheri district of southern Kandahar province, local officials confirmed on Friday.
Local officials said the American forces struck the insurgents who waged coordinated attacks on Afghan forces in Zheri district, killing 30 insurgents.
But the Taliban said the US forces hit civilian area, killing 10 civilians, a claim rejected by the Afghan and US officials.
Kandahar police chief Tadin Khan said the Taliban waged attacks on security forces in Sangi Hesar area and in response the US forces conducted airstrikes.
He said the airstrikes were in accordance with the US-Taliban agreement in defense of Afghan forces.