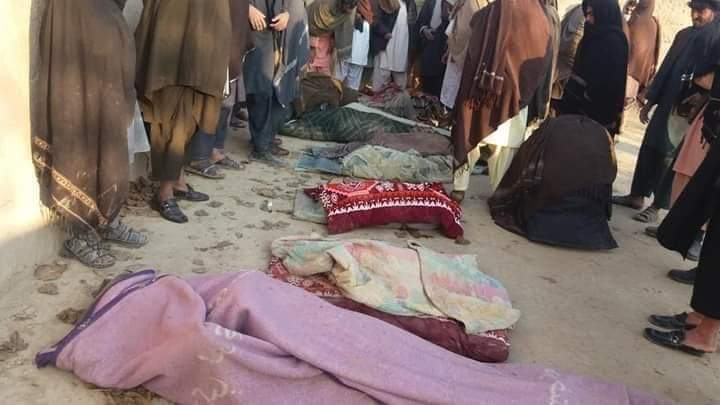 At least 11 civilians, including children and women, have been killed as a result of an airstrike in Arghandab district of southern Kandahar province, local people said on Sunday.
Security officials did not say anything about the incident so far.
Local inhabitants said the airstrike happened during a fierce fighting in DehSabz village of the district on Saturday night.
The people wanted to carry the bodies of the slain civilians to the governor's house but police stopped them in BaghPul area.
Abdul Samad, a relative of the victims, told Pajhwok Afghan News 11 people were killed as a result of air raid targeted a civilian house on Saturday night.
He said head of the family, his brother, women and children were among the victims of the overnight bombardment.
A security official, speaking on the condition of anonymity, said Taliban insurgents were stationed at the guest room of the house and the rebels also suffered casualties.
Pajhwok tried to contact local officials for their comment on the incident, but failed.
But the Ministry of Defence confirmed receiving reports of civilian casualties from Arghandab district of Kandahar.
In a statement the ministry said that a joint delegation formed from 205thAtal Military Corps, police headquarters and local officials tasked to probe the incident.
On the other hand, MoD said Taliban insurgents conducted attacks on security check-posts in Dand, Zheri, Arghandab, Maiwand and Shah Walikot districts.
Following a strong resistance from security personnel, the ministry said at least 51 militants were killed and nine others wounded in the mentioned areas.
However, Taliban in a statement said that 13 civilians, including women and children, were killed during bombardment in DehSabz village on Saturday night.
QariYousafAhmadi, spokesman for the movement, said they strongly condemned the airstrike and vowed to avenge.