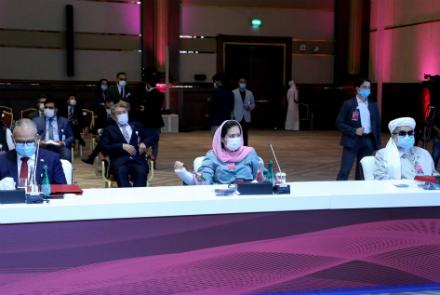 The negotiating team of the Islamic Republic of Afghanistan will return to Kabul Monday, having called for a 23-day break in their three-month discussions, calling it the end of the current round of talks.
The negotiators reached an agreement on a 21-article list of procedural rules for the talks after three months of discussion and have finalized an initial list for the agenda of the peace negotiations.
"The delegation will return to Kabul for consultations not for rest, to find common ground for all sides in the talks," said Habiba Sarabi, a member of the Afghan republic's negotiating team.
Sources familiar with the matter said that a 28-article draft agenda has been handed to the Taliban by the Afghan team and the Taliban has given a 21-article agenda draft to the republic's negotiators.
The Afghan government meanwhile rejected the interim government issue in the talks.
"An interim government is a mirage. Returning to the past is a false, imaginary hope," said presidential adviser Waheed Omer.
The key position of the republic's team is to maintain the Islamic Republic of Afghanistan, the Constitution of the country–the achievements and freedoms– and maintain the Afghan security and defense forces, according to sources.
Other demands of the republic's team are the freedom of the media, a ceasefire, maintaining national institutions and opposing foreign fighters.
The Taliban has not included the release of their prisoners in their list of demands as a part to be added to the agenda of the talks.
Some of their demands include an Islamic government without suffix or prefix, establishment of an Islamic council, women's freedoms and rights "within Islamic principles," and their foreign policy.
The Afghan team is expected to return to Kabul during the break. Nadir Nadery, a member of the Kabul team, said that the agreement on the procedural rules and the preparation of a list of demands are their achievements in the last three months.
But a number of analysts familiar with the matter said they have less confidence about the results of the second round of the talks between the two sides.
"There has been a partial agreement on the procedural rules of the talks, but it has not been signed so far," said Faiz Mohammad Zaland, a university lecturer.