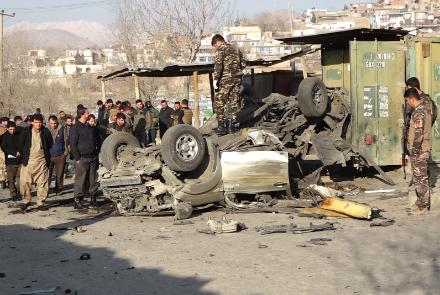 At least three people were killed in a fresh spate of targeted killings in Afghanistan's capital Kabul over the past 24 hours.
The first incident took the life of security guard of Ahmad Malikzada, the security guard in charge of Bagrami district in PD15 when an IED blast targeted his vehicle.
Malikzada and another guard were wounded.
Meanwhile, in Paghman district in the western part of Kabul, unknown armed men shot and killed a police officer named Haji Ramazan. He was on his way to work when gunmen attacked him.
"Everyday there is an IED blast, there are assassinations, the security situation is quite fragile," said Baryalai Naseri, a resident in Kabul.
Also on Tuesday night, unknown armed men gunned down a prosecutor in front of his wife in PD15.
"I spoke with the security in charge of Ahmad Malikzada at the hospital, he is in stable condition," said Khalid Malikzada, the cousin of Malikzada.
"There was a huge blast, I saw one man who was martyred, another man was wounded, but his driver was in good health," said Mohammad Salim, a resident of Kabul.
"I was sitting next to my father near the car's window, we were due to move, when they shot with pistols," said Kaihan, the son of the slain prosecutor.
"Two people have been arrested, we call on the government to find other suspects too, otherwise we will not remain silent," said Mohammad Haroon, the cousin of the slain prosecutor.
Based on the statistics of the Attorney General's Office, at least 12 prosecutors have been killed in targeted attacks in Afghanistan since the start of the current year.
The Afghan Ministry of Interior recently said that 25 military personnel have been killed in the country in targeted attacks over the past one month. But members of the public say that the figure is much higher than the government's tally.