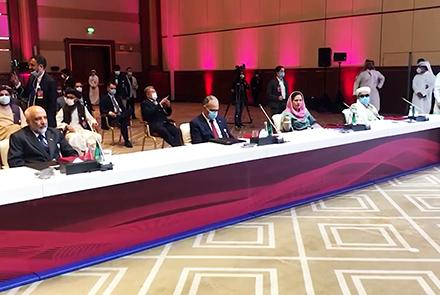 The Taliban has opposed President Ashraf Ghani's call to hold the next round of the peace negotiations in Afghanistan, saying the request signals fear on the republic's side.
Taliban spokesman Mohammad Naeem told TOLOnews that "spoilers of the peace process," by making such a demand, see their power and personal interest in danger.
Naeem said that the negotiators of both sides will resume their meetings in Doha on January 5.
"Many areas in the country are in our control and any decision that we get belongs to us. These locations are those that were suggested to them by the United Nations a while ago in which they mentioned that the members of (the Taliban) remain on a blacklist and pressure is brought on (the Taliban). All these statements are in contradiction," Naeem said.
But the Ministry of Foreign Affairs said that holding the next round of negotiations in Afghanistan will be a key to progress in the peace process.
"The continuation of peace negotiations in Afghanistan gives the Taliban an opportunity to get connected with the realities of Afghanistan, with the high level of violence and with the pain that the people are feeling," said Gran Hewad, the spokesman for the Ministry of Foreign Affairs.
President Ashraf Ghani in a cabinet meeting Monday echoed NSA Hamdullah Mohib to say that the second round of the peace negotiation talks should be held in Afghanistan.
"While the Taliban is claiming that they are on Afghan soil, why aren't they holding talks on Afghan soil?" Ghani asked, adding that the Afghan government is ready to negotiate with the Taliban in any area of Afghanistan that the group chooses.
"Afghans can negotiate under a tent, too, and in cold weather. This is not the time for luxury hotels to be considered as preconditions. It is necessary that all the people should see how the talks are moving forward, what are the areas of focus, and why," Ghani said.
The National Security Adviser Hamdullah Mohib on Saturday said the next rounds of the peace negotiations between the teams of the Islamic Republic of Afghanistan and the Taliban should be conducted in Afghanistan, adding that the government does not have any issue with any venue that is selected by the Taliban.
The peace negotiations witnessed a breakthrough earlier this month after the two sides agreed on procedural rules for the talks. The working groups of both teams held three meetings to discuss the agenda of the talks last week. Their meetings were expected to be held this week but were delayed as the two sides were consulting internally on the demands to be included in the agenda of the talks.