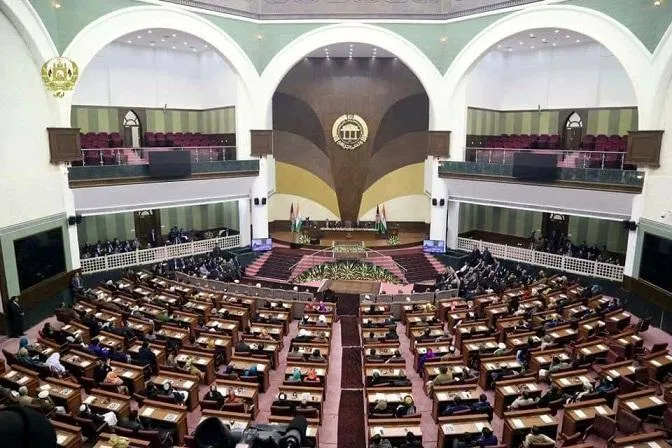 Wolesi Jirga speaker and some members on Monday strongly reacted to First Lady Rula Ghani's recent remarks, saying her 'unforgiveable' insult to the lower house should be investigated.
Rula Ghani during an interview with Radio Azadi on December 17 had alleged that the lower house of parliament has turned into a market of buying and selling.
She further said no matter if the Wolesi Jirga wanted or not, the female ministerial nominees for the education and women affairs portfolios would continue their job.
Her reaction came after the Wolesi Jirga denied the trust vote to five Cabinet picks, including the ministers-designate for the education and women affairs ministries and granted the trust vote to 20 nominees.
Her remarks drew strong reactions from lawmakers during today's session of the lower house.
Lawmaker Habib Rahman Pedram from western Heart province, said: "Who is the first lady to insult the parliament? Her position is nowhere in the law."
He said the first lady considered herself the queen of Afghanistan, but she was not. "If she calls the nation ignorant, I call you ignorant." The lawmaker called for investigation into the first lady's remarks by the judiciary.
Lawmaker Ghulam Hussain Naseri asked the first lady to provide evidence in support of her claim that the lower house had turned into a business center. He said the first lady should apologize, otherwise the parliament should legally challenge her.
"The Wolesi Jirga should ask the relevant authorities to cancel the identity card of Rula Ghani because she has insulted the people of Afghanistan."
Wolesi Jirga speaker Mir Rahman Rahmani said Rula Ghani's remarks were an unforgivable insult to the legislature and the custodians of real power.
"Giving or denying the trust vote is the right of public representatives. No one has the right to trample on one's independence. Those who were not eligible for ministries were filtered out and they have no right under any law to continue their job. "