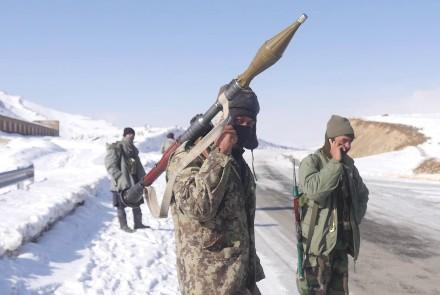 Some family members of those killed in Behsud said the incident needs to be probed thoroughly.
Sporadic fighting reported in Hese Awal Behsud district in the central province of Maidan Wardak as the probe team wrapped up their investigation into the clashes in the district that killed at least 12 people, a source said on Friday.
The source said that the clash started when the probe team relocated the provincial police chief from the district where he was "under siege" by fighters loyal to Alipoor, a local commander.
Two residents of the district were wounded in the clashes, the source said.
"We will not support the central government if they don't make a wise decision and if perpetrators are not punished," said Murad Ali Murad, former deputy minister of defense.
The team was assigned to probe a clash between security forces and fighters loyal to Alipoor during a protest in Behsud district a week ago.
The Ministry of Interior Affairs said the clash happened when a group of protestors resisted new appointments in police headquarters in the district.
The probe team said their findings will be made public after they are assessed. The team said that one of one demand of Behsud residents is to refer Maidan Wardak police chief Allah Dad Fedaee to the Attorney General's Office.
"The perpetrators of the incident should be trialed and should be punished based on the law," said Mahdi Rasikh, an MP from Maidan Wardak.
"Anyone who are main motives behind this incident will be held responsible and will be punished," said Ayub Salangi, member of the probe team.
Some families that have lost their members in Behsud clashes said the incident should be probed justly.
"My son was innocent. What should I do?" said Zahra, mother of a victim of the incident.
The government forces have blamed Alipoor's fighters for civilian casualties in Behsud but Alippor has accused special forces of opening fire on protestors.
"You are traveling to three provinces. You spend our part on fuel and tanks and vehicles. Why you come here?" asked Ehsan, the relative of a victim, referring to security forces' visit to the district.