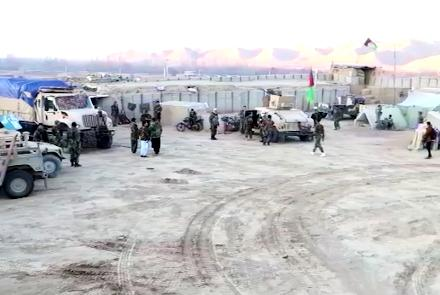 Faryab governor says some soldiers were taken hostage by the Taliban after they attacked their outpost.
At least five security force members, including the commander of the sixth battalion of the Afghan army, in Khwaja Sabz Posh district in the northern province of Faryab on Thursday afternoon, the provincial governor Naqibullah Fayiq said on Friday.
Fayiq said that some members of the Afghan army were taken hostage by the Taliban after they attacked their outpost.
The Taliban has shared a video of soldiers taken hostage by them and has claimed that they have inflicted "heavy casualties" to Afghan forces.
"Some of the soldiers have been taken hostage," Fayiq said. "Meanwhile, 15 Taliban fighters were killed and wounded in the clash."
Fayiq said that President Ghani in a telephonic conversation has directed that the government forces stand against the Taliban with all their strength.
"The president of Afghanistan, the commander-in-chief called and asked about the situation here. This shows his attention and he directed that all facilities and support should be provided here," Fayiq said.
The governor said that President Ghani told him that a delegation will visit Faryab in the next few days to assess the problems and the needs of the security forces.
He said that airstrikes were conducted after the Taliban attack on security forces in Khwaja Sabz Posh district.
Security forces on the frontline said they will not allow the Taliban to pose threat to the people.
"We were deployed here to eliminate the enemy," said Abdul Ahad, commander of the special forces company in Faryab.
"This uniform is not for staying calm. We are here to prevent the enemy from destructive activities and from killings," said Shafiqulalh Shafiq, an army officer in Faryab.