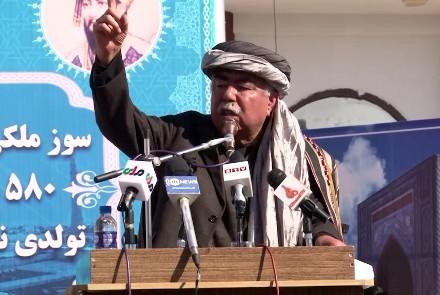 Former Vice President Marshal Abdul Rashid Dostum on Wednesday said that there is still a presence of some top Al Qaeda affiliates in northern Afghanistan who have close ties with the Taliban.
Dostum said that Nasruddin, who is the grandson of Al Qaeda's founder Osama Bin Laden, and Saifuddin Haqqani, the son of Sirajuddin Haqqani, are currently in the Ghormach and Bala Murghab districts in the north.
Dostum suggested that the Taliban return to the negotiation table instead of making trips to other countries, and tthat the group will not be able to achieve victory through war.
"I want to suggest that the security forces shoot them, after this. They should no longer fire in the air. Shoot them (the Taliban) in their foreheads and their chests so that they (Taliban) can see the reaction of their deeds—in case the Taliban do not accept the peace," said Dostum.
Referring to the recent rhetoric by Gulbuddin Hekmatyar, the leader of Hizb-e-Islami, Dostum said that he will not allow Hekmatyar to challenge the political system and government.
Dostum made the remarks at a ceremony commemorating the 580th death anniversary of the prominent philosopher, poet and writer Amir Ali-Shir Nava'i.
Ali Sher Nava'i was born in 1441 in the western province of Herat. He died in 1501.
During Navai's lifetime, Herat was under the rule of the Timurid Empire and it became one of the leading cultural and intellectual centers in the Muslim world.
Dostum concluded that peace will not prevail in Afghanistan without safeguarding the rights of the women and freedom of speech.