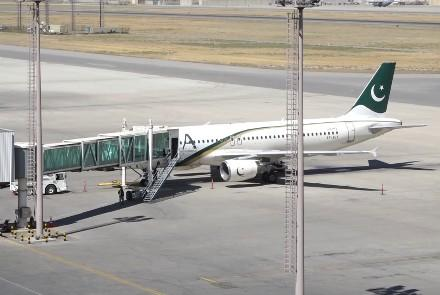 Pakistan International Airlines (PIA) is seeking to increase its operations in Afghanistan, according to the courier chairman Arshad Malik.
Currently, the airline provides flights between Kabul and Islamabad; however, in the future, it plans to bring flights to Mazar-e-Sharif, Herat and Kandahar.
"From Mazar-e-Sharif, Kandahar and Herat I am told that the guest travels all the way to Kabul and from Kabul they have a connecting flight, so, why not, if PIA could offer these services then we can give you a direct connection from Kandahar, from either Herat or Mazar-e-Sharif to Karachi," said PIA chairman Arshad Malik.
Officials at the Afghanistan-Pakistan Joint Chamber of Commerce and Industries have said that PIA wants to transport Afghan products to China and European markets.
"We want Kam Air and Ariana to provide us with the means to conduct flights to Karachi and Lahore," said Khan Jan Alokozay, an investor.
"The Afghanistan Aviation Authority will make a decision after looking at the level of demand in the market and the effect that the coronavirus has had in terms of the reduction of demand," said Mohammad Qasim Wafayeezada, the head of the Afghanistan Civil Aviation Authority.
Currently, PIA hosts three flights to Kabul per week.
Afghanistan's Kam Air Aviation company conducts four flights to Islamabad weekly.
"We expect the relevant institutions to provide fair access to companies in both countries during the discussions–whether Pakistani or Afghan companies—we need facilities in the area of taxes and visas," said Sulaiman Omar, the head of the business department of Kam Air.
Pakistan's imposition of huge taxes have burdened passengers, and this issue has forced many Afghans to travel to Pakistan by difficult land routes.