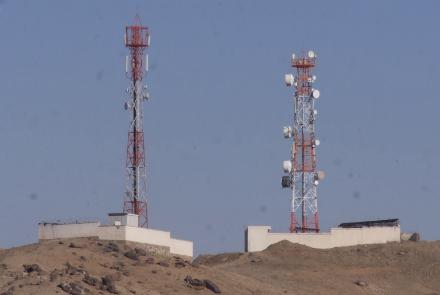 A lack of security has inflicted a loss of over $15 million to telecommunication companies, as 380 towers have been totally or partially damaged in various parts of the country since last March, official figures reveal.
The Afghanistan Telecommunication Regulatory Authority (ATRA) called the situation challenging, saying that over 1,200 other towers are at risk in different parts of the country.
"78 towers are from the state-owned Afghan Telecom, 78 from Etisalat, 78 from Afghan Wireless, 23 from MTN and three from Roshan," ATRA spokesman Saeed Shinwari said.
ATRA information shows that only six out of 34 provinces have been marked safe for telecommunication services.
Telecommunication companies in a statement said their problems do not end with the lack of security as they are also faced with lack of cooperation from ATRA, lack of access to clean frequencies, and difficult strategies implemented by ATRA that have impeded the development of their plans.
The statement said that telecommunication companies have invested over $3 billion in the industry and have paid almost $2 billion in taxes to the government so far.
Residents of some insecure regions said that they have not had telecommunication services at night for many years.
"We decided many times to close the offices of the companies here (in Helmand) because it is better to have no telecom services instead of having a low-quality one," said Nazar Mohammad Rodi, a Helmand resident.
"There are many problems. We have often complained, but the services have not improved," said Abdul Wali Patyal, a Helmand resident.