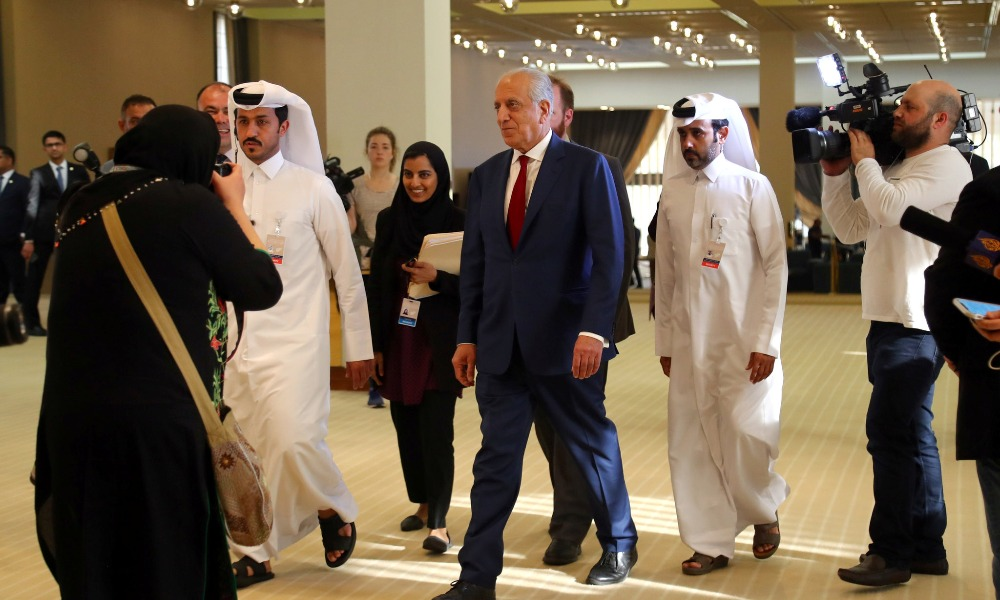 US Special Representative for Afghanistan Reconciliation Zalmay Khalilzad has embarked on another trip to Germany, Afghanistan and regional countries, aimed at strengthening the Afghan peace process, sources said.
Khalilzad was on Sunday in Germany and is expected to travel to Qatar, Afghanistan, Pakistan, UAE and a number of other regional countries in the coming days, sources added.
"He will resume discussions on the way ahead with the Islamic Republic and Afghan leaders, Taliban representatives, and regional countries whose interests are best served by the achievement of a just and durable political settlement and permanent and comprehensive ceasefire," the US State Department said in a statement on Sunday.
This comes as negotiations between the Afghan government and the Taliban peace teams resumed last week after more than a month of delays.
Meanwhile, the Afghan State Ministry for Peace Affairs is optimistic about Khalilzad's trip to the region.
"We welcome the US Special Envoy's trip. The United States is a good strategic partner for Afghanistan and we hope this trip will be more effective in facilitating the peace process in Afghanistan," State Minister for Peace, Sayed Sadat Mansoor Nader said.
The Taliban urged Washington to uphold its part of the US-Taliban agreement signed a year ago Sunday and stated the release of remaining prisoners and the end of blacklists have yet to be implemented.
The Taliban meanwhile issued a statement Sunday that urged the US to uphold its commitments as part of the agreement.
The group stated that "the release of remaining prisoners and end of blacklists are part of the agreement that have yet to be implemented."
Khalilzad, a Republican, brokered a deal with the Taliban on behalf of the US last year and was asked to stay on in the position by US President Joe Biden for the sake of continuity.
The move is not typical, as traditionally incoming administrations replace politically appointed officials with their own team, particularly in foreign policy matters.
In late January, new US Secretary of State Antony Blinken said: "We've asked him to continue the vital work that he's performing."
Khalilzad is a veteran of Republican administrations and served as US ambassador to the United Nations, Iraq and Afghanistan under former President George W Bush.
Former President Donald Trump's administration then tasked Khalilzad, who was born in Afghanistan, with negotiating with the Taliban.