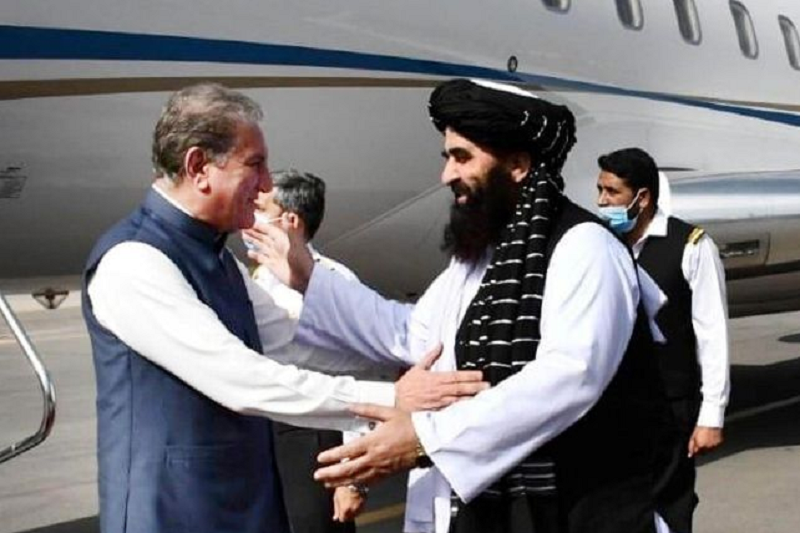 Islamabad must tread carefully with its long-time Taliban allies back in power in Kabul. Pitfalls lie ahead for Pakistan's domestic security and its foreign relations. The Pakistani government should encourage Afghanistan's new authorities down the path of compromise with international demands regarding rights and counter-terrorism.
What's new? Pakistan faces difficult challenges in shaping policy toward Taliban-controlled Afghanistan. Though Pakistan continues to back its Afghan ally, the Taliban's military takeover and subsequent diplomatic and economic isolation could make Afghanistan's new government more of a burden than an asset for Islamabad.
Why does it matter? Growing instability and economic hardship could lead impoverished Afghans to seek shelter in Pakistan. Islamabad's alliance with the Taliban could also strain relations with the U.S. and other Western countries. Most importantly, the Taliban's failure to take action against Pakistani militants operating from Afghan territory could endanger Pakistan's internal security.
What should be done? So as not to embolden hardliners at home, Islamabad should avoid condoning the Taliban's draconian rule, particularly its treatment of women. At the same time, it should use its ties to nudge the Taliban toward compromises on governance and counter-terrorism commitments that could ease the ostracism the new authorities face.
Executive Summary
Pakistan is trying to make the best of the Afghan conflict's undesirable outcome. Islamabad has backed the Taliban for years, but it would have preferred them to regain political authority in Afghanistan via inclusion in a government with both international legitimacy and outside financial support. Instead, Pakistan's longstanding allies took power by force, sending political opponents into exile and angering Western governments that had kept the Afghan state afloat. The Taliban's government lacks international recognition and the diplomatic and economic benefits that would flow from it. Islamabad will probably not cut its close ties with the new rulers in Kabul. It should use those ties carefully, to nudge the Taliban toward compromises on governance, including on respect for basic rights and adherence to counter-terrorism commitments that might win them greater favour abroad and help ease Afghanistan's humanitarian tragedy.
Having long harboured the Taliban leadership, Pakistan could quickly forge links with the new Taliban authority but has yet to formally recognise this entity. This stance contrasts with Pakistan's position the last time the Taliban held power, in the 1990s, when it was one of only three countries to recognise the group's Islamic Emirate and the last to sever the connection. Islamabad's hesitancy to take the plunge this time around is primarily driven by concern that no other government worldwide, including among Afghanistan's other neighbours, has yet taken the step of recognition. Unilateral action by Pakistan would likely strain relations with powerful Western countries, particularly the U.S. Islamabad also realises that Pakistan's recognition in itself would do little to ease the Taliban's diplomatic and economic isolation.
Yet Pakistan is advocating for the Taliban's cause in other ways on the international stage. In policy pronouncements, in bilateral meetings and at multilateral forums, Islamabad is urging outside powers, particularly the U.S. and its Western allies, to engage with the Taliban, lift economic sanctions, and supply Kabul with both humanitarian and economic assistance. Pakistani policymakers warn – rightly – that continued sanctions and freezes on donor assistance will result in the Afghan economy's complete meltdown, worsening an already grave humanitarian crisis. They also emphasise that the West is more likely to moderate Taliban behaviour through incentives than through punitive measures. Given carrots instead of sticks, they argue, Taliban authorities will be more inclined to opt for inclusive, representative government, to respect basic rights, including of women and girls, and to honour counter-terrorism obligations.
Islamabad is well aware, however, that the Taliban must also assuage international concerns with regard to both governance and security if Western pressure is to let up. While Pakistan is encouraging the Taliban to opt at the very least for a façade of inclusive government and demonstrate at least token respect for basic rights, the Taliban have yet to heed its advice. Nor has Islamabad succeeded in convincing the militant group-turned-government to break links with Afghanistan-based jihadist outfits such as al-Qaeda.
Islamabad could itself face Western pressure, aimed at compelling it to work harder at convincing its Afghan allies [to compromise].
Concerned about such inaction on the Taliban's part, even countries such as Iran, China and Russia that have opted for closer engagement with the Taliban government are unlikely to officially recognise it any time soon. The odds are even lower that the U.S. and its Western allies will recognise the Taliban government and lift all sanctions so long as the Taliban show no willingness to compromise. Given its closeness to the Taliban, Islamabad could itself face Western pressure, aimed at compelling it to work harder at convincing its Afghan allies to respond more positively to international demands. Cooler relations with the U.S. could become particularly onerous given Washington's weight in international financial institutions, such as the World Bank and International Monetary Fund, on which Pakistan is dependent to prop up its floundering economy.
Islamabad is also concerned about the cross-border implications of Afghanistan's economic and diplomatic crises. Afghanistan's economic collapse is depriving Pakistan of opportunities to revive trade ties that had been badly eroded by frictions with erstwhile Afghan President Ashraf Ghani's government. Growing insecurity and economic hardship could translate into thousands, possibly hundreds of thousands, of impoverished Afghans seeking shelter and livelihoods in Pakistan.
Yet Islamabad's leverage appears to have declined after the Taliban takeover in mid-August 2021, while new irritants have already emerged. Pakistan's efforts to secure its border with Afghanistan, to prevent both an influx of refugees and infiltration by Pakistani militants based in Afghanistan, are already a point of contention. The Taliban's apparent refusal to break off relations with their Pakistani counterparts, the Tehreek-e-Taliban Pakistan, is of even greater concern to Islamabad. The Taliban, in fact, at least initially appeared in some ways to be dictating Pakistan's policy choices – forcing Islamabad to concede to at least some demands on cross-border movement and pressuring it to reach a negotiated settlement with the Pakistani Taliban.
Despite such differences, Pakistan is unlikely to abandon its Afghan allies. Still hopeful that the Taliban takeover will protect Pakistani interests in Afghanistan, Islamabad will likely keep treading lightly, continuing to act as the Taliban's key advocate in the region and beyond, while urging the Taliban to acquiesce in addressing international concerns. In devising policy toward Taliban-controlled Afghanistan, Islamabad should:
Continue to call for removal of Western sanctions and resumption of development aid to Afghanistan, while using its close ties with the Taliban to convince them, through quiet diplomacy as well as public messaging, to go further in meeting donors' demands on governance, including respect for basic rights, as well as counter-terrorism commitments. Islamabad should remind the Taliban that their government's stability and domestic legitimacy rests on their ability to govern, which in turn depends on their willingness to compromise on international demands.
Resist the temptation to act as the Taliban's main representative at the cost of other equally important relationships, including with the U.S. and European Union member states.
Provide as much assistance as Pakistan's resources permit, also keeping humanitarian air and road corridors open, along with land routes, for UN agencies, non-governmental organisations and bilateral donors.
End the growing practice of forcibly repatriating newly arriving Afghan refugees, from which Pakistan gains little but risks much harm to the lives and livelihoods of those most in need of shelter.
Keep its own security interests in mind in dealing with the Taliban by refraining from endorsing the Taliban's restrictions on women's rights they justify on the grounds of a hardline version of Sharia. Should it appear to condone the Taliban's approach, Islamabad risks emboldening homegrown militants who espouse the same ideology.
Be wary of Taliban-dictated negotiations with the Pakistani Taliban, which could adversely affect internal security, particularly in the tribal belt.
Islamabad has difficult choices to make. It is unwilling to distance itself from a friendly government that it sees as a vehicle for asserting influence over its western neighbour. Yet in the Taliban it could find itself saddled with an ally that refuses to do what is needed to ease Western sanctions and end the attendant diplomatic isolation. That Pakistan's clout with the Taliban has declined after the group seized power complicates things further. Still, Islamabad is better placed than any other regional or extra-regional actor to persuade its Afghan ally to accept changed international realities. Islamabad can and should use that special relationship to hammer home the importance of compromise, which is far more likely to stabilise the Afghan state and improve prospects of foreign aid than the Taliban government's current approach.
Islamabad/Washington/Brussels, 4 February 2022
I.
Introduction
Following the Taliban takeover in mid-August 2021, Pakistan has urged outside powers to work with Afghanistan's new rulers in the interest of stabilising that conflict-prone country. It has accompanied these calls with pledges of non-partisanship. Yet, given Pakistan's long history of interference in Afghanistan and decades of support for the Taliban, its denials of direct involvement are vastly overstated.
Seeing itself as inheriting the British Indian Empire's western frontier, the so-called Durand Line, in 1947, Pakistan has long perceived Afghanistan as falling within its sphere of influence. Afghanistan's refusal to recognise the 2,430km line as the international border and its claims to contiguous Pakistani Pashtun-majority areas have strained bilateral relations in the past. As an antidote to Pashtun nationalism and to assert its influence over its western neighbour, Pakistan has backed various Afghan Islamist factions, of which the Taliban are the latest incarnation.
In the past, as now, Pakistan has found itself at odds with powerful international players, particularly the U.S., for backing the Taliban. In 1996, after the movement first captured Kabul, Pakistan was one of only three countries, the others being Saudi Arabia and the United Arab Emirates, to recognise the Taliban's Islamic Emirate. Pakistan had reluctantly severed formal ties with the Emirate after the September 2001 terror attacks in the U.S. Yet, after the October 2001 U.S.-led invasion ousted the Taliban's regime, Pakistan provided shelter to their rahbari shura, the body of their top leaders and military commanders. The Taliban's political and military command structures were reconstituted out of Pakistani sanctuaries, allowing the insurgents to recruit, raise money and conduct operations against the U.S. and aligned forces and the Western-backed Afghan government. As the insurgency gained ground in Afghanistan, the U.S. held Pakistan responsible for lending it succour.
Islamabad realised that if the Taliban were to return to power … the movement would need international recognition.
Islamabad realised that if the Taliban were to return to power (in a manner that would not cast Pakistan as, once again, protector of a pariah regime), the movement would need international recognition. It set about trying to bring the Taliban into the political mainstream, an effort that would bear fruit when the U.S. opted to exit Afghanistan. Pakistan first facilitated the Obama administration's quiet attempts to open a dialogue with the Taliban. But it was President Donald Trump's decision to hold direct, overt talks with the Taliban that presented Islamabad with its best opportunity to push for the Taliban's inclusion in Afghan governance and security structures.
Pakistan's powerful military saw the Taliban's incorporation into such power-sharing arrangements as serving Islamabad's interests. First, it would protect Pakistan's interests in and influence over Afghanistan. By ending decades of war in Afghanistan, it also might help stabilise Pakistan's conflict-prone north-western border. Plus, Islamabad could ease its strained relations with Washington by brokering talks. Pakistan therefore facilitated U.S.-Taliban negotiations and welcomed the 29 February 2020 U.S.-Taliban deal, which set a firm date for foreign forces' departure from Afghanistan in return for Taliban pledges to cut ties with terrorist groups and to participate in negotiations over a political settlement with other Afghan political forces.
For Islamabad, the deal's value lay in the prospect of a settlement that, by aiding its Taliban ally, would cement Pakistan's influence over Afghanistan. While Pakistan also expected to garner U.S. rewards, the Taliban would benefit from a power-sharing arrangement that was backed, diplomatically and financially, by Washington and its Western allies. In 2021, however, Pakistan grew concerned about prospects for a negotiated peace. In April of that year, the White House decided to unconditionally withdraw U.S. forces by 11 September, the twentieth anniversary of the terror attacks that had led to the U.S. military intervention. Pakistan called instead for a conditional withdrawal, whereby the troops' departure would coincide with progress in the peace talks, but Taliban battlefield gains soon rendered the question moot.
By the time the Biden administration moved up the withdrawal to 31 August 2021, the writing was on the wall. Demoralised Afghan security forces, led by a weak, internally divided government, proved no match for an emboldened insurgency. Quickly capturing much of the country, the Taliban took Kabul on 15 August. The Taliban's conquest has brought Islamabad's principal allies to power in Afghanistan, but their victory creates new diplomatic and security problems for Pakistan.
This report looks at Islamabad's response to the Taliban takeover. It focuses on the diplomatic, economic and security challenges the Taliban's victory poses to Pakistan as it forges policy toward Afghanistan today. It also examines the extent to which Pakistani policy initiatives to date have succeeded in addressing the new challenges and threats. It is based on interviews with senior former diplomats, including those with close knowledge of both civilian and military stakeholders, as well as political leaders, financial and security analysts, civil society activists and traders.
II.
Backdrop
In the wake of the Taliban takeover, Pakistan denied the responsibility often attributed to it by the U.S. and Afghans now in political opposition for shaping the Afghanistan conflict's trajectory. Instead, Pakistani policymakers held a host of factors responsible for the Taliban's state capture. These included the Biden administration's hasty, unconditional withdrawal and the lack of support for former President Ashraf Ghani's government inside Afghanistan. As Prime Minister Imran Khan complained, Pakistan is "being held responsible for the shortcomings of the United States" in Afghanistan. Pakistan's national security adviser underlined the point, asking: "Did Pakistan tell the Afghan National Army not to fight? Did Pakistan tell Ashraf Ghani to run away?"
Still, when the Taliban seized Kabul, many in Pakistan celebrated their triumph, including Prime Minister Khan, who said Afghans had "broken the shackles of slavery". That initial euphoria was likely based on the perception that the Taliban takeover, which saw Pakistan's chief Afghan ally replace an unfriendly government in Kabul, gave Pakistan an opportunity to consolidate its influence over Afghanistan.
Reality now appears to be sinking in, as reflected by Pakistan's reluctance to unilaterally extend formal recognition to the Taliban's de facto government (see below). Three days after the Taliban takeover, a Pakistani analyst wrote: "Pakistan's destiny is now joined more than ever before with that of Afghanistan, since Pakistan has argued all along that the Taliban are better suited to run Afghanistan than anybody else. 'You got what you wanted', the world will say. 'Now deliver'".
The Taliban could fast become more of a burden than an asset [for Pakistan].
There are rising concerns that the Taliban could fast become more of a burden than an asset as Pakistani policymakers confront a Taliban government that lacks international legitimacy and the attendant economic benefits. The Taliban have captured the state, but their government is sanctioned by the U.S. and its allies. The Taliban inherited a weak economy, hard hit by conflict, political instability, institutional deficiencies and drought. The economy's lifeline has been cut off by the freeze in donor funding, mainly from Europe and the U.S., which under the previous government composed around 75 per cent of Afghanistan's public spending, threatening a humanitarian catastrophe. The European Union has suspended $1.4 billion in development assistance; the U.S. has frozen almost all of the Afghan central bank's $9.4 billion gross reserves and halted cash shipments to Afghanistan. Multilateral institutions, including the World Bank and International Monetary Fund (IMF), have blocked the Taliban's access to financial resources.
In the face of these punitive measures, the Taliban remain defiant. They resist meeting donors' expectations, which include representative power sharing, respect for fundamental rights, inclusion of women and girls, and follow-through on counter-terrorism obligations. Though there are signs that the Taliban might ease up on restraints on girls' education, the U.S. and also other important powers, including China and Russia, want to see further action against transnational militants before offering any concessions of their own.
Islamabad is concerned about an unstable neighbour on the verge of economic collapse, with potential cross-border implications including new waves of refugees seeking shelter on its territory. It is also troubled both by the Taliban's continued links to Afghanistan-based Pakistani militant groups and the potential impact of Islamist governance in Afghanistan on homegrown sectarian outfits.
Yet Islamabad is reluctant to part ways with the Taliban for several reasons. It still perceives its Afghan allies as the primary means of buttressing Pakistan's standing in Afghanistan. It does not want the Taliban to fall – or face a serious military challenge – because renewed conflict in Afghanistan would also have a cross-border impact. A security expert said Pakistan has "no desire to end its backing for the Taliban. … Nor can it afford a collapse of the Taliban regime, which, given the fact of neighbourhood, would have dire consequences for Pakistan". Islamabad's policy thus entails trying to ease the Taliban government's isolation and, to that end, convincing the Taliban to make the necessary concessions to international demands on governance and counter-terrorism, all the while urging them to sever ties with Pakistani militants operating from Afghan soil.
III.
Ending the Taliban's Diplomatic Isolation
Fearing that the Taliban's government would be internationally isolated and deprived of crucial funding, Pakistan launched a diplomatic offensive aimed primarily at the West, particularly the U.S. and EU states. Underscoring Taliban cooperation in facilitating Western evacuation flights of foreign citizens and Western-aligned and at-risk Afghans, Islamabad also emphasised the Taliban's apparent willingness to follow through on international commitments with regard to basic rights and counter-terrorism. Responding to the Taliban's spokesman's first press conference, a Pakistan foreign ministry representative pointed to "positive indications". "We have particularly noted his comments about not letting Afghanistan become a terror haven, protection of lives and properties of Afghans and foreigners, respect for rights of all Afghans, including women, the right to education and political reconciliation".
Pakistan first endeavoured to convince the Taliban to get out from under Western sanctions by reaching an understanding on future governance structures with key Afghan leaders, particularly Hamid Karzai, the first Afghan president after the U.S. invasion, and Abdullah Abdullah, a senior official under the ousted leader Ghani. According to a reporter with access to key policymakers, one such official said: "Let's say for the sake of argument that the Taliban offer important offices to people like Dr Abdullah or Hamid Karzai. … [It] would have a big impact on how the government would be perceived". Pakistan's military intelligence chief General Faiz Hameed was in Kabul in early September, soon after the Taliban seized power, possibly to deliver such a message. Islamabad hoped that a façade of inclusive government would change international perceptions and prepare the ground for broad acceptance and formal recognition of the Taliban government.
Instead, euphoric about their victory, on 7 September the Taliban announced the formation of a so-called interim government that was composed primarily of key movement leaders. This government's head and several ministers, including of defence and the interior, are on the UN, U.S., EU and other countries' sanctions lists. Opting for Sharia-based governance, the Taliban have suppressed critics and deprived women of job opportunities and universal access to education. With the Taliban also appearing disinclined to break links with transnational jihadist groups, particularly al-Qaeda, the prospects are dim for unfreezing state assets or restoring large-scale non-humanitarian aid and support from international financial institutions.
Pakistan's diplomatic offensive now focuses on convincing Western countries that incentives rather than pressure will more effectively change Taliban behaviour.
Pakistan's diplomatic offensive now focuses on convincing Western countries that incentives rather than pressure will more effectively change Taliban behaviour. Calling on external actors to draft a roadmap that leads to the Taliban's diplomatic recognition, Islamabad is urging Western countries to recognise Afghanistan's new reality and to adopt more pragmatic policies toward its government. In a press interview, Pakistan's Foreign Minister Shah Mahmood Qureshi insisted that the Taliban would be "incentivised" to meet international expectations, including on inclusive governance, rights and counter-terrorism, if they knew that development and economic assistance would be forthcoming. "At the same time", he said, "the international community has to realise: What's the alternative? What are the options? This is the reality". On another occasion, Qureshi said: "A policy of coercion and intimidation did not work. If it had worked, we wouldn't be in this situation".
There is little ambiguity in Pakistan's backing of the Taliban government. "There is only one way to go. We must strengthen and stabilise the current [Afghan] government", said Prime Minister Khan. While Islamabad has not formally recognised the Taliban government, it has come close. It kept a full diplomatic mission, including an ambassador, in Kabul throughout the fighting that brought the Taliban to power. It issued visas to the Taliban appointees who have replaced veteran diplomats in Kabul's embassy in Islamabad and consulates in Peshawar, Quetta and Karachi. A former Pakistani diplomat with relations with the Taliban has urged Islamabad to go further, by unilaterally recognising the Taliban government. "Islamabad has no rationale for delaying the inevitable. There is no other option". He warnedµ: "Delaying recognition would create many unwarranted suspicions in Kabul".
Islamabad, however, is reluctant to go it alone, fearful of damaging its ties with Western states, particularly the U.S. and Europeans. An expert with deep knowledge of Pakistan's Afghan policy said: "Pakistan is in a very bad place. It wants an early recognition of the Taliban government but no country in or outside the region is on board". The expert added: "Islamabad is particularly aware that such a unilateral move would further strain relations with Washington".
U.S.-Pakistan ties have undoubtedly frayed in the last several years, and in Pakistani perceptions, Islamabad's backing for the Taliban is the main reason why. Pakistani policymakers consider the cooling of relations somewhat unfair. A journalist with access to the uppermost echelons in Islamabad commented:
Pakistani officials are parroting a fairly reasonable position. We maintain that the Taliban should have inclusive governance, that they should include women and minorities in their government, and that they should ensure that Afghan soil is not used for terrorism against any country. … And yet the problem persists … for at least three reasons: 1) Western leaders believe there is a gap between what Pakistani officials say and what they do; 2) Western leaders also maintain that Pakistan has not used the leverage it has over the Taliban sufficiently to change their behaviour; and 3) they also maintain that the Taliban would not have gained the emphatic victory they have without the active support of Pakistan through the years. These Western leaders – especially the Americans – are taking the three factors, welding them into a steel rod and preparing a mighty swing at Pakistan.
Indeed, developments in Afghanistan are the primary factor shaping Pakistan's relationship with the U.S. "There is no other major bilateral context to the relationship", said a former Pakistani ambassador to Washington. President Biden has yet to talk to Prime Minister Khan amid an administration review of Pakistan policy that is stressing Afghanistan. Testifying before Congress, Secretary of State Antony Blinken said this review would not only look at "the role that Pakistan has played in Afghanistan over the last twenty years but also the role we would want it to play in the coming years". Counter-terrorism is paramount, according to a former Pakistani ambassador now based in Washington: "The U.S. would like Pakistan to get the Afghan Taliban's cooperation in weakening entities like the IS-K [Islamic State-Khorasan]. As the Taliban may lack the willingness … to do this, the Americans also want to have their own operations for which they need air lines of communication from Pakistan".
In the few high-level contacts that have taken place, Washington has asked Islamabad to use its leverage with the Taliban to convince them to commit to inclusive and representative governance, to uphold basic rights, particularly of women and girls, and to take action against Afghanistan-based terrorist groups. During her trip to Islamabad in October, then the highest-level visit by a U.S. official since the Taliban takeover, U.S. Deputy Secretary of State Wendy Sherman met Army Chief of Staff Qamar Javed Bajwa, the foreign minister and the national security adviser. Sherman said they discussed the importance of holding the Taliban accountable to their commitments. "It is in all our interests to have a stable and inclusive Afghanistan that does not serve as a haven for terrorists", she said. It was important, she added, for U.S. and Pakistani officials to consult about "what we should expect of the Taliban" to ensure "that there is no terrorism, here in Pakistan, in Afghanistan, in any country in the region, in the world".
Washington has also reportedly called on Pakistan to provide the necessary support for U.S. counter-terrorism operations in Afghanistan, likely focused on preventing an al-Qaeda revival and countering the resurgent Islamic State's local franchise. Though Prime Minister Khan insists that such support is not forthcoming, since he does not want Islamabad to partner with the U.S. military in Afghanistan, Pakistan's foreign office confirmed that the agreement with the U.S. on ground and air lines of communication remains in place.
Even as Islamabad baulks at some of Washington's demands, it cannot afford to irk the U.S. too much.
Even as Islamabad baulks at some of Washington's demands, it cannot afford to irk the U.S. too much. The government has dire need of assistance from international financial institutions, particularly the IMF and the World Bank, where the U.S. has considerable weight. When negotiations with the IMF to resume Pakistan's $6 billion loan program hit a snag, experts attributed the delay at least partly to Washington's refusal to support Islamabad's case. An analyst wrote that U.S. irritation with Pakistan's Afghanistan policy is behind several "ills", one of which is "the pressure on Pakistan regarding the agreement with the IMF". Pakistani policymakers also worry that strained relations with Washington could bring more scrutiny from the Financial Action Task Force (FATF), an inter-governmental watchdog organisation, which has put Pakistan on its "grey list" for deficits in its counter-terror finance and anti-money laundering regimes.
Parallel to its entreaties with Western governments, Islamabad has embarked on efforts to forge a regional consensus on diplomatic recognition of the Taliban government. Pakistan has helped set up a new forum for foreign minister-level consultations among Afghanistan's neighbours. Along with Pakistan itself, the group includes China, Iran, Russia, Tajikistan, Turkmenistan and Uzbekistan. At the forum's meetings, Islamabad has called for a long-term roadmap for political engagement with Kabul. Addressing a virtual summit of the forum in September, Foreign Minister Qureshi emphasised the importance of renewed "diplomatic and international presence in the country".
Pakistan's efforts in the region have also come up short, however. China, Russia and Iran have signalled willingness to broaden engagement with Taliban authorities by keeping their embassies open in Kabul and have extended economic assistance to the Afghan state. But that money is nowhere near enough to fill the massive gaps left by the cutoff of Western funding. Meanwhile, these three countries have been far less generous than Western states with aid to address Afghanistan's humanitarian crisis. All three, moreover, continue to make formal recognition of the Taliban government dependent on more inclusive governance and even more so on action against Islamist militant outfits that threaten their security.
Meeting in November in Islamabad, the special envoys of the Troika Plus, which along with Pakistan and the U.S includes Russia and China, made it clear that recognition is not yet on the cards. The special envoys agreed in their meeting with the visiting Afghan interim foreign minister to continue "practical engagement" with the Taliban government. But the Troika Plus joint communiqué "called on the Taliban to work with fellow Afghans to take steps to form an inclusive and representative government that respects the rights of all Afghans and provides for the equal rights of women and girls to participate in all aspects of Afghan society".
That the world is not likely to stop ostracising the Taliban any time soon was evident in the UN accreditation committee's December decision to defer recognising the Taliban's nominated UN envoy. The UN General Assembly then decided to postpone such recognition in a consensus-based resolution. Islamabad now faces the task of convincing the Taliban leadership to rethink governance and security policies so as to ease their diplomatic isolation. At the same time, the Taliban takeover poses other challenges to Pakistan, particularly to its own national security
IV.
Opportunities and Constraints
In international and regional forums and in bilateral meetings with representatives of the U.S. and other key Western states, Pakistani officials continue to insist that the Taliban takeover has not destabilised Afghanistan. Pakistan's UN envoy told the UN Security Council meeting on Afghanistan in November that the nightmare scenarios feared after the Taliban takeover "have not come to pass" as "there has been no widespread violence or violation of human rights" and the "security situation has vastly improved".
Meeting Taliban officials in Kabul and Islamabad, Pakistani officials also continue to advise the Taliban that they need to compromise if they wish to end their diplomatic isolation. As a well-informed Pakistani journalist noted, however, "Pakistan officials continue to complain in private that the Taliban leadership is non-receptive to their urgings. … So far, the Taliban have not displayed much flexibility". The journalist said Pakistan is "frustrated at this attitude". Though Islamabad remains bent on promoting the Taliban cause, new stresses have begun to bedevil its relations with Kabul's new rulers.
A.
Early Pains of Partnership
One source of strain in the Pakistan-Taliban relationship has been the two countries' contested border. Pakistan's fencing of this line has in the past led to periodic clashes between the two militaries. Islamabad's belief that such tensions would dissipate once the Taliban came to power is being tested. Outright confrontation might have ended but border disputes, as reflected in occasional closures, are a growing irritant. Since the Taliban takeover, one side or the other has clamped down on the movement of goods and peoples through the two main crossings – Chaman-Spin Boldak, linking Pakistan's Balochistan and Afghanistan's Kandahar provinces, and Torkham, which connects Pakistan's Khyber Pakhtunkhwa and Afghanistan's Nangarhar provinces.
The Chaman-Spin Boldak crossing has been closed twice. In mid-July 2021, with uncertainty looming over the Afghan conflict's outcome, the Pakistani military, which had replaced paramilitary forces along the border, closed the crossing after the Taliban captured it. Pakistan soon reopened it for trade and to allow stranded Pakistani and Afghan citizens to return home. Taliban authorities then closed their side on 5 October, demanding visa-free travel on the basis of national identity documents for Afghan citizens. Islamabad was hesitant to acquiesce, concerned that Pakistani militants would exploit the absence of verification to enter Pakistani territory. The crossing reopened on 2 November after almost a month; Pakistani authorities agreed to allow Kandahar's residents to enter Pakistan, while Afghanistan allowed Pakistani residents in Balochistan's Qila Abdullah and Chaman districts to cross the border solely on the basis of national identity documents. The accord was a slightly expanded version of "easement rights" granted to Pashtun tribes whose traditional lands this border cleaves in two.
Pakistan briefly closed the Torkham border crossing as well in mid-July, citing the need to contain the spread of COVID-19. The Taliban also sporadically shut this crossing the following month, reportedly to discourage thousands of Afghans hoping to leave the country. While Torkham is now open, Afghans entering Pakistani territory must have valid visas; such movement is also monitored by Pakistani authorities (see below).
Pakistan's security fence along the border with Afghanistan has also caused quarrels. On 18 December 2021, Taliban soldiers stopped the Pakistani military from erecting segments of fence along Afghanistan's eastern Nangarhar province, with the Afghan defence ministry spokesperson calling the barrier "illegal". According to a senior Pakistani official, Taliban Defence Minister Mullah Yaqoob moved quickly to defuse tensions, and the parties agreed that further fencing would be done through consensus. On 2 January 2022, after Taliban soldiers tried to remove a section of fence, Pakistan's foreign minister said such differences would soon be resolved "through diplomatic means", a view endorsed by the Taliban foreign ministry spokesman. But in a statement, the Taliban acting information minister said there was no need for border fencing. "The issue of the Durand Line is still an unresolved one, while the construction of fencing itself creates rifts between a [Pashtun] nation spread across both sides of the border".
Pakistan strongly believes that the [Afghanistan] border fence is necessary.
Pakistan strongly believes that the border fence is necessary. A Pakistani military spokesperson said: "The purpose of the fencing is not to divide people but to protect them. This is a fence for peace. … Work on it will continue, and the fencing is here to stay". He also claimed that Taliban field commanders were responsible for the "localised problems" on the border, adding: "We have very good relations with the current Afghan government. We understand each other". Apparently unwilling to annoy their chief backer, the Taliban have begun to take a softer line on the fencing; in January, their envoy in Pakistan said border issues were minor and easily resolvable through talks among locals on both sides.
While for now differences over border management do not threaten the ties between Islamabad and Kabul, they could come to pose a greater problem if the Taliban authorities more seriously challenge the Pakistani military's fencing efforts and Islamabad's restrictions on cross-border movement.
The second cause of stress in relations relates to commerce. One reason why Pakistan wanted the Taliban to enjoy international backing when they entered government is that, in that case, bilateral trade could have reached its full potential. Instead, these economic opportunities for Pakistan have become hostage to Western sanctions and the Taliban's refusal to compromise.
At first, Pakistani businesses saw the Taliban takeover and hence improved relations with Kabul as a chance to boost bilateral trade. Such trade had shrunk from a high of $2 billion in 2003, when Pakistan was Afghanistan's largest trading partner, to less than half that amount due to tensions between Islamabad and the Ghani government. "It is time to regain the lost share of the market in Afghanistan", said a Pakistani business representative. The hoped-for economic dividends have yet to appear.
Challenges to bilateral trade relate to both border crossings and Western policy.
Challenges to bilateral trade relate to both border crossings and Western policy. Pakistani traders and local communities dependent on cross-border business complain that repeated border closures as well as security restrictions and poor infrastructure hinder commerce. Western sanctions and asset freezes have had an even more serious impact, particularly by starving the Afghan banking system of cash. In mid-September, Pakistani traders said bilateral trade had declined by 50 per cent since their Afghan counterparts could not pay for Pakistani imports in dollars. That month, Pakistan allowed bilateral trade to be carried out in the Pakistani rupee. The decision was also likely motivated by illegal flows of scarce foreign currency to Afghanistan via informal remittance systems (hundi/hawala). The president of Pakistan's foreign exchange attributed this unregulated outflow of dollars to the Taliban trying "to leverage whatever options are available in the wake of sanctions"; Pakistan's finance minister also held such outflows partially responsible for the Pakistani currency's devaluation.
While using Pakistani rupees might keep bilateral trade afloat, Pakistani hopes of a major economic dividend after the Taliban takeover will remain unrealised so long as the Afghan economy fails to revive. That in turn will depend on Western sanctions being removed or at the very least eased. For now, Pakistani policymakers are increasingly concerned about the cross-border implications of an Afghan economy crumbling under the weight of sanctions.
B.
Implications of Afghanistan's Economic Meltdown
Pakistani policymakers have repeatedly emphasised the need for urgent, unconditional international assistance and economic support to Kabul to avert a major humanitarian catastrophe. Islamabad has asked Western capitals and international financial institutions to remove sanctions on economic assistance to Afghanistan. It has also called upon the U.S. to release the billions of dollars of Afghanistan's financial reserves that it has frozen. Decrying an "unjustified freeze" of Afghan assets, Pakistan's UN envoy told the Security Council: "Cash is needed to revive the economy … to pay salaries, restore small businesses [and] revive the banking system".
For its part, Pakistan is facilitating the provision of vital assistance by UN agencies to Afghanistan by opening up road and air humanitarian corridors. Islamabad has also committed some $30 million for food, medicines and other essential supplies. Yet with Pakistan's own economy in the doldrums, there are severe limitations to the assistance that it can send.
Pakistani policymakers are apprehensive that the Taliban … will prove incapable of governing effectively and meeting public needs.
Pakistani policymakers are apprehensive that the Taliban, hamstrung by inadequate economic resources, will prove incapable of governing effectively and meeting public needs. As Afghan grievances increase, the Taliban's domestic standing could be at stake. Rising alienation in society, Islamabad fears, would undermine the Taliban government's claim to legitimacy, dealing another blow to its chances of international recognition. Islamabad is also concerned that widespread economic deprivation amid a major humanitarian crisis could lead hundreds of thousands of Afghan refugees to seek shelter in Pakistan. "Should that happen", a prominent Pashtun politician warned, "and if Pakistan attempts to forcibly stem the flow, it will risk domestic and international outrage".
Islamabad is extremely reluctant to absorb more Afghans fleeing hardship and instability. It has garnered international approval by assisting Western countries in evacuating their citizens as well as thousands of Western-linked and at-risk Afghans. But it insists that Pakistan, already home to around 1.4 million registered Afghan refugees and another 770,000 undocumented Afghan nationals, is in no position to host more. "We have our limitations", said Foreign Minister Qureshi. Pakistan, he went on, "has been hosting over three million, close to four million [Afghan] refugees for so many decades without any international help or assistance. We do not have the capacity to absorb more".
Islamabad has thus restricted the entry of new Afghan refugees. Pakistani policymakers claim that for now there are few signs of a large-scale influx, implying that Afghan citizens are not averse to living under Taliban rule. Yet only Afghans with valid visas are allowed to enter Pakistan, and even then, the state has imposed additional restrictions. According to rights activists in the adjoining provinces of Khyber Pakhtunkhwa and Balochistan, Afghan visa holders often require security clearances to enter Pakistan. Officials give such clearances selectively, often denying them to those most in need, such as women's and other rights activists. Desperately seeking livelihoods or fearful of Taliban rule, as in the case of the Shia Hazaras, whom the Taliban have persecuted in the past, scores of Afghans have little choice but to rely on people smugglers.
Pakistani authorities have reportedly deported hundreds of newly arrived refugees, including women and children.
Even as smugglers profit from human misery, Pakistani authorities have reportedly deported hundreds of newly arrived refugees, including women and children. In an important speech before a military audience on 20 August 2021, Pakistan's Army Chief of Staff Bajwa said: "We expect the Taliban to live up to the promises made to the international community of [respecting] women and human rights". Yet despite his words, officials seem to evince little sympathy for Afghans seeking refuge. A politician from Khyber Pakhtunkhwa said: "Hundreds are being forced back, including entire families".
V.
Security Risks and Concerns
As Islamabad forges policy toward Taliban-controlled Afghanistan, it faces new security challenges, key among which is the cross-border presence of the Tehreek-e-Taliban Pakistan (TTP). Military operations since the mid-2000s had largely managed to oust the TTP, a coalition of several mainly Pashtun Deobandi militant groups, from Pakistan's tribal belt and Khyber Pakhtunkhwa's mainland. Closely aligned ethnically and ideologically with the Afghan Taliban, who are also mainly Pashtun and Deobandi, the Pakistani Taliban leadership and thousands of fighters then relocated to Afghanistan. The TTP subsequently resorted to cross-border attacks that claimed scores of lives of military personnel and civilians.
Islamabad has accused India's intelligence agency and that of the former Afghan government, the National Directorate for Security, of backing Pakistani militants. Pakistan's national security adviser said the TTP, among other "terrorists based in Afghanistan", had collaborated with India and "elements of the Afghan intelligence agencies" to carry out attacks within Pakistan. Pakistani security agencies are, however, well aware that the TTP, which is banned in Pakistan and also on the UN sanctions list, maintains close ties with the Afghan Taliban. In April 2021, a very senior security official said: "They are two faces of the same coin".
Even before the Taliban's August takeover, Pakistan had called on its Afghan allies to deny the TTP cross-border sanctuary. In late June, as the Taliban made rapid military gains, Pakistan's interior minister said Islamabad expects "from [the Afghan] Taliban that they will not allow the TTP and other elements to carry out activity which causes harm to the lives and properties of Pakistani people". According to a well-informed former diplomat, Afghan Taliban leaders repeatedly told Pakistani military officials that they would rein in the Pakistani Taliban, who were fighting alongside them, once their so-called jihad against Western occupying forces and the Western-backed Afghan government was over. But after the Afghan Taliban captured Kabul, TTP cross-border attacks surged.
Pakistan was particularly concerned by the Taliban's release of scores of [Tahreek-e Taliban Pakistan] commanders and fighters … during jailbreaks as they advanced across the country.
Pakistan was particularly concerned by the Taliban's release of scores of TTP commanders and fighters, including former deputy chief Maulvi Faqir Muhammed, during jailbreaks as they advanced across the country. Hundreds more were set free after the Taliban takeover. Reportedly congratulating the Taliban on their victory, TTP chief Noor Wali Mehsud renewed allegiance to Taliban Emir Hibatullah Akhundzada. A Pakistani Taliban militant told a Western news agency that TTP fighters "feel more comfortable after the fall of Kabul to the Taliban. They can now move around freely in Afghanistan. … They have no fears of drone attacks. And they can meet and communicate easily". In light of these reports, Islamabad renewed its calls on Taliban authorities to either take action against the Pakistani militants or to expel them from Afghan territory.
Disinclined to cut ties with its Pakistani Deobandi Pashtun allies, the Taliban instead asked Islamabad to reach a negotiated settlement with the TTP. Pakistani officials have since held several rounds of talks with the TTP leadership in Kabul and Khost province in eastern Afghanistan. Sirajuddin Haqqani, the Taliban interior minister, and his uncle Khalil, the minister for refugees, have played the lead role in mediating the negotiations. It is the first time that Islamabad has negotiated with a banned Pakistani militant group on foreign soil, facilitated by a foreign entity. On 8 November 2021, Islamabad disclosed that it had reached agreement with the TTP on a one-month ceasefire and that negotiations would continue.
Though fully backed by Imran Khan's government and likely conducted by the military, the negotiations have faced domestic pushback. Opposition politicians criticise the lack of transparency, particularly as the government has kept parliament in the dark. They and civil society activists from the north west warn that any settlement would likely resemble earlier short-lived peace deals between the military and TTP factions. Those deals allowed the tribal militants to regroup, only to subsequently start attacking security forces and civilians again. The superior judiciary has also weighed in. A Supreme Court judge asked Prime Minister Khan, appearing before a hearing on the 2014 Peshawar TTP attack that killed over 130 schoolchildren, if the government was "bringing [the TTP] back to the negotiating table instead of taking action against them". He went on: "Are we going to surrender again?"
Fresh fighting soon broke out. Though Islamabad reportedly released more than 90 TTP militants to ensure that negotiations continued, on 9 December 2021 TTP leader Mehsud refused to extend the ceasefire, saying attacks would resume. A TTP statement issued the same day claimed that the government had not honoured the agreement's terms, which included handing over 102 "imprisoned mujahideen" to the TTP through the Islamic Emirate of Afghanistan. TTP attacks have since gathered pace.
In early January, the Pakistani military spokesman said talks with the TTP were "on hold" as the army renewed its campaign against them.
Even if talks start again, chances of a sustainable deal are slim. For one thing, the government cannot accept many TTP demands. These reportedly include imposition of Sharia in the tribal areas and restoration of the semi-autonomous status those areas enjoyed before the government merged them with Khyber Pakhtunkhwa province in May 2018. For another, the TTP itself is divided on the question of a truce. At most, TTP factions that fought alongside the Afghan Taliban while eschewing violence in Pakistan would be willing to cooperate. A senior former security official said hardline factions, headed by TTP chief Mehsud, "are unlikely to sign on" and could instead escalate violence in Pakistan. As such, Islamabad's challenges in combating the TTP will likely grow. In a statement issued a day after the TTP refused to extend their ceasefire, the Afghan Taliban spokesman said: "We request that Pakistan look into their [TTP] demands for the better[ment] of the region and in Pakistan", indicating the group's hesitancy to take action against their Pakistani brethren.
Militant forays from bases in Afghanistan are straining Islamabad's ties with the Taliban.
Militant forays from bases in Afghanistan are straining Islamabad's ties with the Taliban just as Pakistani efforts to interdict the TTP threat within Afghanistan have tested Taliban patience with Islamabad. In late December 2021, in a sign of things to come, Pakistan fired a missile at the home of Pakistani Taliban commander Maulvi Faqir Mohammed in Kunar province, just across Pakistan's border with Afghanistan, wounding two TTP militants.
The recent killing of a TTP commander in Afghanistan illustrates the difficulties for both Pakistan and the Taliban. On 9 January, a senior security official said Islamabad was "telling the Taliban leadership [to] consider the TTP as a test case". He queried: "If the Taliban can't address concerns of Pakistan, then who would trust them and their promise of cutting ties to al-Qaeda and other such groups?" A day later, the TTP's operational commander and spokesman was reportedly shot dead in Nangarhar; a Pakistani security official confirmed the killing the same day and the TTP acknowledged it two days later. A former senior military officer said the Taliban authorities had done it: "The Taliban leadership claims that they will not allow anyone to use their territory against others. It was heartening to learn that they lived up to their commitment". The Taliban, however, denied that the killing had even taken place. A Taliban spokesman said: "I do not confirm these reports. They are not true. No such incident has taken place on this [Afghan] side".
Regardless of which version is correct, tensions are unlikely to upend the overall relationship. A well-informed former diplomat said such tensions will not be a "make-or-break factor" in the relationship. Islamabad will continue to back the Taliban government, including by helping it fight the local Islamic State franchise. Acknowledging that help, a Taliban spokesman said: "Pakistan is our brother and is supporting us in many ways, including sharing information and intelligence".
The Islamic State-Khorasan, as the local Islamic State branch is known, is a far lesser concern for Pakistani security agencies than the TTP, but its resurgence in Taliban-controlled Afghanistan could pose new threats. A former senior security official said Pakistan could now become a "good recruiting ground" for the Islamic State, drawing in particular upon the range of homegrown jihadist and Sunni sectarian groups that have lost ground within the country. Members of such groups might either see Afghanistan as an attractive destination – should they come to regard the Taliban as insufficiently committed to imposing Sharia and wish to fight them – or restart violent campaigns in Pakistan. In January, counter-terrorism forces claimed to have killed six Islamic State militants planning attacks in Balochistan's capital Quetta. In January, Khyber Pakhtunkhwa's police chief, attributing the earlier killings of at least three police officers in Peshawar to the Islamic State's local franchise, said: "I see IS-K as a bigger threat to peace and security in the province compared to the TTP in the near future".
The Taliban's takeover of Afghanistan has definitely emboldened many homegrown jihadist and Sunni sectarian groups in Pakistan
The Taliban's takeover of Afghanistan has definitely emboldened many homegrown jihadist and Sunni sectarian groups in Pakistan. Pakistan's religious parties aside, militant Islamists were among the first to welcome the Taliban takeover. In Islamabad, the hardline Lal Masjid (Red Mosque) leadership hoisted the Taliban flag. A top former counter-terrorism official said: "The Taliban victory is a boost for radical Sunni groups in Pakistan. They believe that they, too, like the Taliban, will win their battle for sharia in Pakistan". On 22 January, Pakistan's Interior Minister Sheikh Rashid issued a high security alert for law enforcement agencies across the country; the minister warned that smaller sectarian and jihadist groups had become more active in Pakistan "following [the Afghan] Taliban's success".
VI.
Charting a Pragmatic Course
While Islamabad's support of the Taliban government is understandable as a way to keep its western neighbour stable, Pakistani policymakers should avoid acting as Taliban advocates at the cost of other vital relationships, including with the U.S. and the European Union, important security and economic partners. An analyst cautioned: "By becoming the flagbearer of the Taliban, Pakistan has not endeared itself to many in the international community"; a former foreign minister also expressed concern that "many people in the Pakistan government right now are becoming spokespersons for the Taliban". By taking on that role, a former air chief of staff said, Pakistan risked alienating Washington. Referring to the Taliban victory, he said: "There is no need to boast about what has happened in Afghanistan", adding that diplomacy was not about "picking up enmity with any country. The U.S. is still a superpower. We must realise and respect that".
There are … serious implications for Pakistan's internal security if Islamabad is seen to acquiesce in the Taliban's hardline ideology.
There are also serious implications for Pakistan's internal security if Islamabad is seen to acquiesce in the Taliban's hardline ideology. Prime Minister Khan has skated close to doing so, for instance in comments about the Taliban's views on women's rights. Claiming that the Taliban bases its restrictions on women's rights on local culture, he said: "The idea of human rights is different in every society. … We have to be sensitive about human rights and women's rights". Yet the Taliban justifies its restrictions with reference to its version of Sharia. That hardline interpretation has many Pakistani admirers, who might see Khan's remarks as licence to pursue its application in Pakistan. An editorial in Dawn stated: "The premier should know better than to co-opt a Taliban viewpoint". An analyst additionally warned: "Pakistan needs to distance itself from the Taliban regime, on two issues. First, their religious interpretation and its political use; and second, the use of force to capture power". Inspired by the Taliban victory, Pakistani Islamists could come to believe that force is the only way to promulgate Sharia at home.
Advising the prime minister against "becoming the Taliban's advocate", a former ambassador said Pakistan should instead:
Support the Taliban and the Afghan people both – the Taliban with the help of China, Russia and any other friends in the region; and the Afghan people with America's help on the issues of women's rights and inclusivity which is important for Afghanistan's stabilisation, and is in Pakistan's own interest. To this end, Pakistan will need to put some distance between itself and the Taliban. This will enhance its leverage with the Taliban as well as its credentials as an honest broker between them and the outside world.
Another former ambassador emphasised: "Careful calibration will be needed – assisting Afghanistan, but avoiding overstretch, and acknowledging that the interests of the Taliban and Pakistan are far from identical".
Islamabad can best serve its Taliban allies by convincing them to respect obligations on governance and security. An expert on the relationship said: "Pakistan should put its full weight on the Taliban to moderate their positions on issues of serious concerns to the West. … They need to rethink their priorities". A former foreign secretary concurred. Warning that a "humanitarian catastrophe is about to unfold", he wrote:
There is an expectation that the Taliban government would honour the commitments it has made and take practical steps in that direction: form an inclusive government, respect human rights especially of women, and not allow Afghan soil to be used by any terrorist entity. If the Taliban government fails to meet the expectations of the regional and international community and adopts an uncompromising approach, the situation is likely to worsen. Conversely, if the Taliban government makes progress in meeting international expectations, the regional and international response could be more forthcoming.
Islamabad should advise the Taliban to address international reservations. Cooperation and compromise would more quickly enable the resumption of foreign financial assistance and hence prevent Afghanistan's humanitarian and economic crises from worsening. If the Taliban wish to consolidate their regime, they are unlikely to achieve that goal by merely giving in to hardliners in their midst. Pakistan's influence with the Taliban might have declined and the Taliban certainly appear averse to accepting Islamabad's advice; yet as the new government's most reliable external backer, Pakistan still has a role to play. Islamabad should use its close ties to warn the Taliban leadership that the failure to compromise bears high costs – for the lives and livelihoods of Afghan citizens and the stability of the Afghan state. Islamabad should also make clear, through quiet diplomacy and consistent public messaging, that the Taliban's refusal to break ties with the TTP could strain that important relationship.
Meanwhile, Pakistan could do more itself to ease Afghans' suffering. Islamabad is quick, with considerable justification, to hold Western sanctions primarily responsible for Afghanistan's reeling economy and unprecedented humanitarian emergency. Pakistani policymakers also claim that they are doing everything possible within the country's limited resources to provide life-saving assistance to Afghan citizens. Still, if protecting Afghan civilians in the midst of a major economic and humanitarian crisis is indeed a Pakistani priority, then Islamabad can better demonstrate its commitment. At minimum, it should end the forced deportation of newly arriving Afghan refugees and instead provide shelter to those in desperate need.
VII.
Conclusion
Islamabad may view the Taliban as its closest ally in Afghanistan, but the group's seizure of power is far from ideal for Pakistan. Pakistani leaders hoped to bring the Taliban in from the cold as part of an internationally recognised and funded power-sharing arrangement. Instead, the former insurgents' government is starved of aid, lacking formal recognition by a single state worldwide and ruling a country that is about to be consumed by the world's worst humanitarian disaster.
In these circumstances, Pakistan has few good options. Its leaders are right to push the world to give Afghanistan more than humanitarian aid over the coming months and to work with some Taliban ministries to keep basic services alive. But Islamabad should think hard about the relative costs and benefits of unconditionally supporting the Taliban. In the words of one of the country's most seasoned diplomats: "Every country has finite diplomatic and political capital. Can Pakistan afford to spend all that capital on backing the Afghan Taliban?" If Pakistan still chooses to do so, it might find itself being held responsible for Afghanistan's myriad crises. The better option would be to push the Taliban harder toward more inclusive governance and respecting fundamental rights, which would better guarantee stability in Afghanistan itself and make it easier for decision-makers in Western capitals to take steps that would stave off the looming humanitarian catastrophe and save millions of Afghan lives.