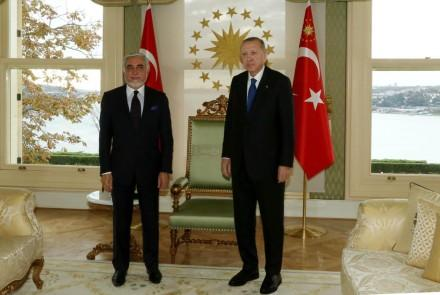 Abdullah Abdullah, head of the High Council for National Reconciliation, on Friday met with Turkish President Recep Tayyip Erdogan in Istanbul and exchanged views on the Afghan peace process, the talks in Doha and bilateral relations.
Erdogan said that his country supports the peace that is supported by the people of Afghanistan, Abdullah's office said in a statement.
He said that the two countries have time-tested relations strengthened by common culture and values.
Erdogan said Turkey supports the ongoing peace efforts in Afghanistan and wants an end to violence in the country.
Abdullah said the relations between the two countries are based on common values and will remain as such.
He highlighted the role of Turkey in Afghanistan's issues, active presence in ensuring security, its economic and cultural assistance and the Istanbul process, according to the statement.
Abdullah said Afghanistan wants Turkey's continued support to the country's efforts for achieving an enduring peace.
Abdullah traveled to Turkey this week as part of his regional tour to strengthen regional consensus on Afghan peace. Over the last month, he has visited Pakistan, Iran and Uzbekistan.