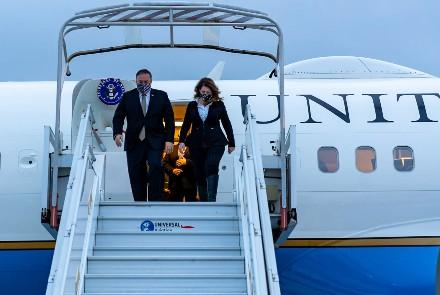 Amid signs of progress in the ongoing peace efforts in Doha, reports indicate that US Secretary of State Mike Pompeo will meet negotiators from the Islamic Republic of Afghanistan and Taliban in Doha on Saturday.
Quoting the US State Department, AFP reports that Pompeo will meet separately in the Qatari capital Doha with Afghan and Taliban teams to the talks.
According to the State Department, Pompeo will also see Qatar's Emir Sheikh Tamim bin Hamad Al-Thani and the foreign minister on his stop to Doha.
Pompeo is on a seven-nation tour of Europe and the Middle East as US President Donald Trump shores up late-term priorities.
Sources familiar with the peace efforts on Friday said negotiators in Doha are close to an agreement on the procedural rules of the negotiations.
Peace negotiator Fawzia Koofi said they expect to include ceasefire as a priority in their agenda once the two sides agree on the procedural rules of the talks.
The two sides of the talks have held more than 10 meetings in small group levels over the procedural rules. Their meetings have halted for more than a month.
Negotiations between the Islamic Republic of Afghanistan and the Taliban opened in Doha on September 12, but violence continues and even appears to be escalating since then.