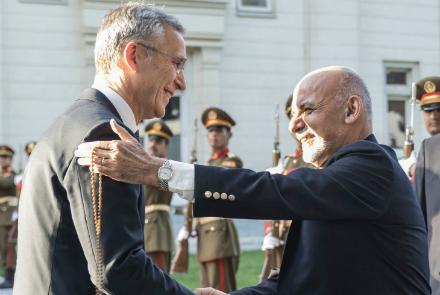 NATO Secretary General Jens Stoltenberg on a phone call with President Ghani on Wednesday evening discussed the Afghan peace process and troops level adjustment with the Afghan leader.
Stoltenberg said in a tweet that even with the US reduction, NATO will continue to train, advise and assist the Afghan forces in their fight against international terrorism.
"Both sides talked about the Afghan peace process and NATO's continued support to train, advise and assist the Afghan forces in their fight against terrorism," presidential spokesman Sediq Sediqqi said in a tweet.
Meanwhile, German Foreign Minister Heiko Maas said on Wednesday that a premature troop withdrawal from Afghanistan may complicate peace talks between the government in Kabul and the Taliban, Reuters reported on Thursday.
The remarks come as US plans to pull out 2,000 troops from Afghanistan by mid-January.
"It remains very important for us not to jeopardize what we have reached so far by taking any rash actions," Maas said quoting by Reuters.
The German government is in touch with Washington and the NATO alliance and is looking into what consequences the US withdrawal would have for the around 1,200 German troops still deployed to Afghanistan as part of a larger NATO mission, he said.
"We are especially concerned how the US announcement will affect the peace talks for Afghanistan," Maas said, adding that the negotiations were already complicated enough and by far not completed, he said.
"In this situation, we should not establish additional hurdles that a premature withdrawal from Afghanistan would certainly bring," he added.