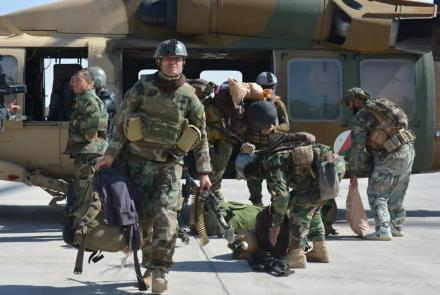 Afghanistan's Ministry of Defense (MoD) on Friday said the Taliban launched attacks and other "destructive activities" in 23 out of 34 provinces of the country in the last 24 hours.
One of their attacks was on the center of Maymay in the northeastern Badakhshan province on Thursday, where according to Hujjatullah Kheradmand, an MP from Badakhshan, at least 25 members of Afghan security forces were killed and seven more are missing.
"The foreigners are leading the war in the border areas of Badakhshan, according to the reports we received from local people in Maymay, foreigners were also present. Their role was significant," the lawmaker said.
He said that foreign fighters provided big support to the Taliban in their attack on Maymay district.
"Some members of the security forces and the public uprising forces were martyred. Some of them were beheaded after being arrested, which is a war crime and crime against humanity," Badakhshan governor Zakaria Sawda said.
Also in the southern province of Kandahar, officials said on Friday that at least two civilians were killed and 20 others were wounded in a magnetic IED blast in the province.
"Two of policemen were also martyred. Our reserved forces arrived at the scene and then the Taliban fled the area," Badakhshan police spokesman Jawed Besharat said.
"The brave Afghan National Security and Defense Forces repelled and foiled plots by the enemy. They also inflicted massive toll to the enemy," said Rohullah Ahmadzai, spokesman for the Ministry of Defense.
Sources on Thursday said that the Taliban has staged attacks on the centers of at least 50 districts in 16 provinces of the country following the signing of the peace deal with the US in Doha in February and most of these attacks happened in the last two months after the start of the negotiations in Qatar on September 12.
Violence has intensified in various parts of the country despite ongoing efforts in Doha by negotiating teams of the Islamic Republic of Afghanistan and the Taliban.