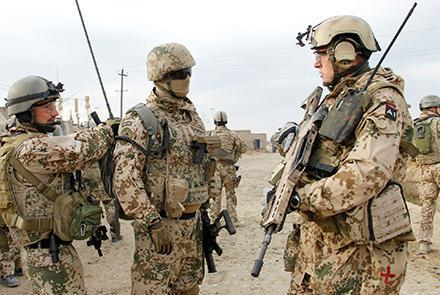 Germany is reducing its military presence in the northern province of Kunduz that was planned by NATO's mission in Kabul in late summer, Germany's military said as quoted by Reuters.
The reduction is not a reaction to the United States' announcement last week that it will cut US forces in Afghanistan to 2,500 from 4,500 by mid-January, a spokesman for Germany's Joint Operations Command said quoted by Reuters.
Germany started to redeploy its around 100 troops from the camp in Kunduz, which is located inside a larger Afghan base, about a week ago, the German military spokesman said.
If military advisers were needed in Kunduz in future, German troops would be flown there from a large base in Mazar-e-Sharif, capital of northern Balkh province where around 1,000 German soldiers are stationed, he said.
With roughly 1,200 troops, Germany has deployed the second largest military contingent in Afghanistan after the United States.
German Defence Minister Annegret Kramp-Karrenbauer said earlier on Tuesday, Berlin expected to learn more details on the planned US withdrawal from Afghanistan in the coming days, Reuters reported.
But a NATO official in Afghanistan said that the small adjustment to German forces was the result of long planned and ongoing optimization efforts.
"This small adjustment to German forces was the result of long-planned and ongoing optimization efforts, which began long before the recent US announcement. The NATO-led Resolute Support Mission to train, advise and assist the Afghan security forces is continually looking at efficient ways to optimize the force in order to provide the right level of support to Afghan forces. These modifications are conducted in full coordination and consultation with Allies and partners," said the NATO official.
"Germany is a long-standing and highly valuable contributor to our presence in Afghanistan, first under our ISAF mission and since 2015 under our Resolute Support Mission, with a significant contribution to our efforts to make the Afghan security forces even more effective and sustainable," the official said.
The NATO official in Kabul said that NATO Secretary General Jens Stoltenberg has made clear that NATO's approach remains conditions-based. We went in Afghanistan together; we are adjusting our force levels together, in support to the peace efforts; and when the time is right, we should leave together, in a coordinated way.
On November 18, US acting Defense Secretary Christopher Miller said that US troop presence in Afghanistan and Iraq will be reduced to 2,500 in each country by mid-January.
Miller made the announcement in remarks to Pentagon reporters that highlighted the next step in what he called "President Trump's plan to bring the wars in Afghanistan and Iraq to a successful and responsible conclusion and to bring our brave service members home."
He said that President Donald Trump made the decision to draw down troops in both countries in consultation with his top national security officials and that it did not amount to a change in policy.
Before this, the NATO Secretary General Jens Stoltenberg said that "the price for leaving too soon or in an uncoordinated way could be very high," referring to recent reports on Trump administration's plan to reduce its presence in Afghanistan.