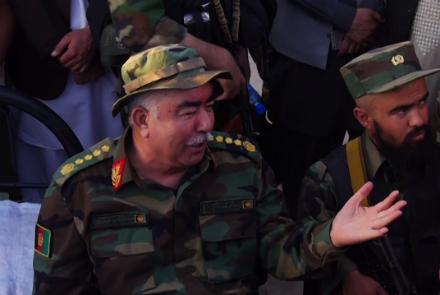 Dostum has said that more focus is needed to ensure a real partnership of the nation.
Marshal Abdul Rashid Dostum has criticized the lack of implementation of the political agreement that was signed between President Ghani and Abdullah Abdullah in May and stressed that the deal needs to be acted upon to ensure lasting peace in the country.
Dostum has been given the marshal rank under the agreement. According to the agreement, he should also be given membership to the High Council of the Government and the National Security Council.
"To achieve an enduring peace, it is required to focus on a real partnership of the nation and full implementation of the political agreement," a message of Dostum reads that was read out in the second meeting of the leadership committee of the High Council for National Reconciliation on Saturday.
"Allow Mr. marshal to act so that we will at least get out of the crisis and the killing of the innocent people of this country," said Ehsan Niro, Dostum's spokesman.
Some MPs said that the agreement needs to be implemented.
"The commitments should be addressed because the country is in a critical situation and it should not further move towards a crisis," said Gul Ahmad Noorzad, an MP.
Some politicians said that Abdullah Abdullah after achieving the leadership of the council has shown less interest in implementing the agreement.
"The will and decision by Mr. Abdullah are highly important and he should act courageously," said Gul Rahman Qazi, former head of the commission overseeing the implementation of the Constitution.
But Abdullah's spokesman Fraidoon Khwazoon urged that the agreement be implemented but added that Abdullah is busy in peace efforts at this juncture.
"The head of the High Council for National Reconciliation has centered all his efforts around peace," said Khwazoon.
The Presidential Palace did not comment on the matter.
Analysts said there is a need for internal consensus, otherwise, peace efforts will get more complicated.