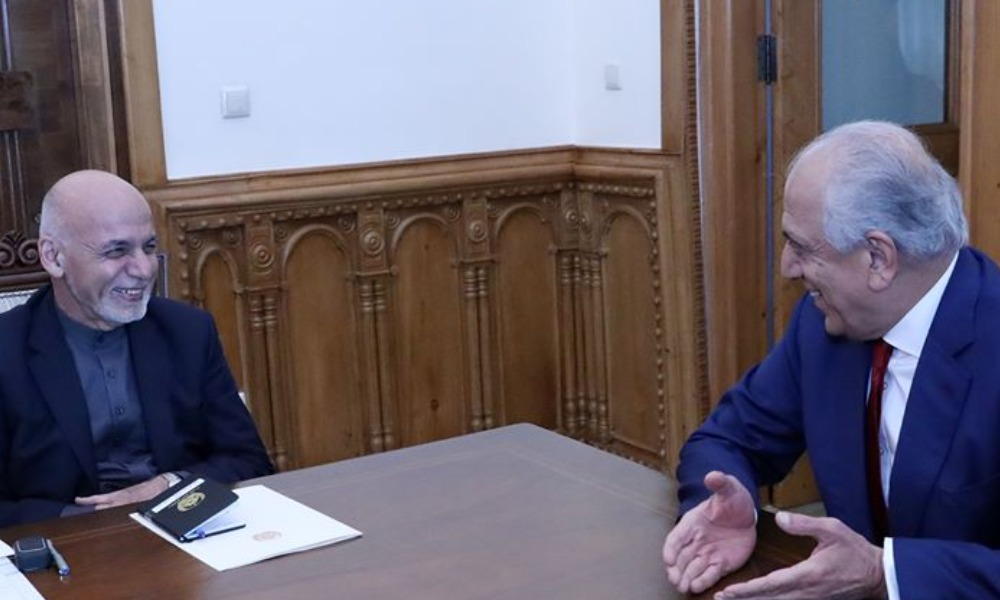 US Special Representative for Afghanistan Reconciliation Zalmay Khalilzad flew out of Kabul on Tuesday night without having met with Afghan President Ashraf Ghani, sources confirmed Wednesday.
Khalilzad, who spent just one day in the Afghan capital did however meet with high profile political figures to reportedly discuss the establishment of an interim government.
However, sources claimed Ghani wanted no part in such discussions with the US envoy.
Khalilzad reportedly met with former president Hamid Karzai, former jihadi leader Abdul Rab Rasul Sayyaf, the chairman of the High Council for National Reconciliation Abdullah Abdullah; the National Security Adviser Hamdullah Mohib and the Foreign Minister Haneef Atmar.
Sahyed Ishaq Gailani, a senior adviser to the High Council for National Reconciliation told Ariana News that Khalilzad's aim was to discuss the establishment of an interim government but he said Ghani was opposed to discussing the issue with the US envoy.
"Mr. Khalilzad arrived in Kabul with a message of interim government which is a good message for the Afghan people, but the President did not give him time," Gailani said.
However, Juma Khan Achakzai, one of Ghani's advisers, said the President's failure to meet with Khalilzad was not because of the issue of an interim government but rather because he had been otherwise engaged.
"The President was busy with some government work, and Khalilzad met with the security council adviser and foreign minister, and they conveyed Khalilzad's message to the President."
Earlier, a member of the government's negotiating team said the focus of the talks going forward would be on the division of power, which may lead to a change in the structure of power in the country.
Peace talks resumed in Doha on Wednesday night between the Afghan negotiating team and the Taliban after a three week break. Khalilzad meanwhile is currently on a tour of the region and will also visit Qatar as he resumes efforts to push for peace in Afghanistan.