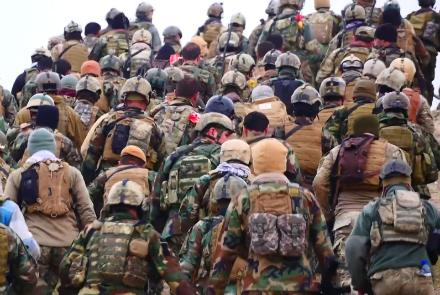 Gen. Haibatullah Alizai was appointed as commander of the Special Operations Corps, replacing Gen. Farid Ahmadi.
The Ministry of Defense (MoD) has appointed new commanders for at least three Army corps as part of the government's reforms agenda in the security sector and preparations for the fight against militants, officials said on Friday.
In a latest development, the Ministry of Defense appointed Gen. Haibatullah Alizai as commander of the Special Operations Corps, replacing Gen. Farid Ahmadi.
Also, Col. Mohammad Ali was appointed as commander of 4th regiment of the Special Operation Corps while Mustafa Wardak was appointed as the commander of 209 Shaheen Army Corps and Gen. Abdul Jabbar as commander of 201 Selab Army Corps.
"Last night, I appointed the new commander of the army corps. His name is Gen. Abdul Jabbar. My direction to him is to ensure security for this district with full force," President Ashraf Ghani said.
Last month, the government announced the appointment of Gen. Sayed Sami Sadat as the new commander of 215 Maiwand Army Corps and Shafiqullah Rasoulzai as the commander of 205 Atal Army Corps.
"The purpose of the reshuffling and these changes is to increase the effectiveness and efficiency of the Afghan defense forces on the battlefield, to reform the Afghan Ministry of Defense and to prepare the security and defense forces to defend the lives and property of the people," said Fawad Aman, a spokesman for the Ministry of Defense.
About 200,000 soldiers serving in the rank of Afghan National Army who are operating within nine army corps: Selab, Shaheen, Pamir, Maiwand, Atal, Zafar, Special Operation Corps and Air Force Corps.
"In addition to reconsidering the appointment of military cadres, they should also reconsider the strategic system of military operations," said Rabbani Rabbani, a member of Kunduz Provincial Council.
"Whenever there is a change in the ranks of the forces, then it should be carried out in accordance with the principle of merit," said MP Karim Atal.