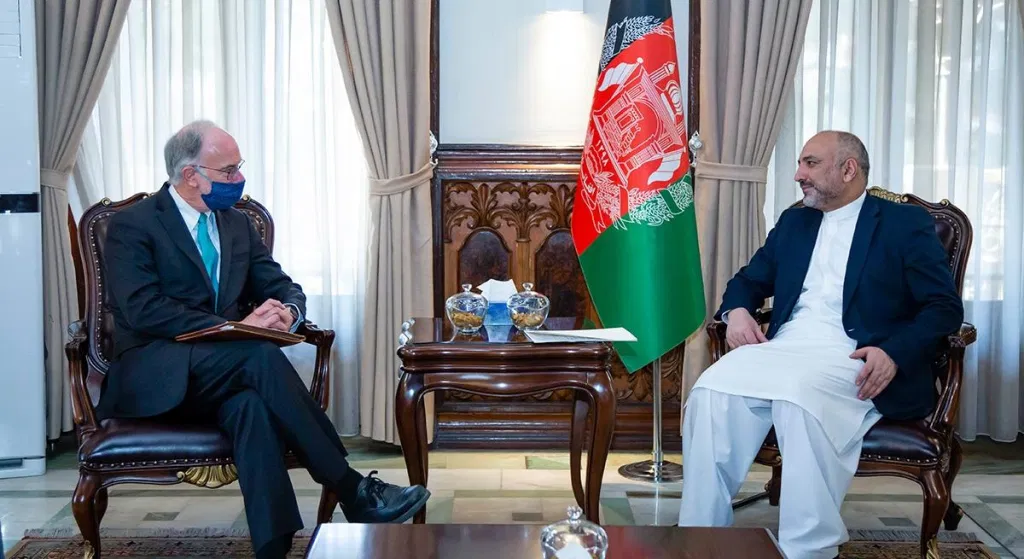 Minister of Foreign Affairs Mohammad Haneef Atmar met with US Embassy's Charge d'affairs in Kabul Ross Wilson to discuss cooperation with the incoming US administration on the Afghan peace, security, stability, and issues of bilateral interests.
Atmar discussed with Wilson the progress in the second round of peace negotiations and termed reduction of violence and a comprehensive ceasefire as key priorities for moving towards a peace deal.
Atmar noted that "a sustainable peace will not be there without an acceptable end-state, defined by the Afghans, and their regional and international partners."
Expressing his appreciation for the US continued support to peace and stability in Afghanistan, Atmar congratulated the US Charge d' Affairs on the confirmation of the US elections results by the American Congress.
The two sides agreed to increase efforts to expand and strengthen regional and international consensus around the ongoing peace talks between the Afghan government delegation and the Taliban in Doha.
Atmar reiterated the importance of the US-Afghanistan Strategic Partnership, stating that Kabul favored a conditional-based approach and a roadmap that could result in a political settlement while preserving and building on democratic gains, including human rights, women's rights, and freedom of speech.
The US envoy assured Atmar of Washington's long-term commitment to helping Afghanistan in different areas, including trade, security, human rights, and combating terrorism and organized crimes.