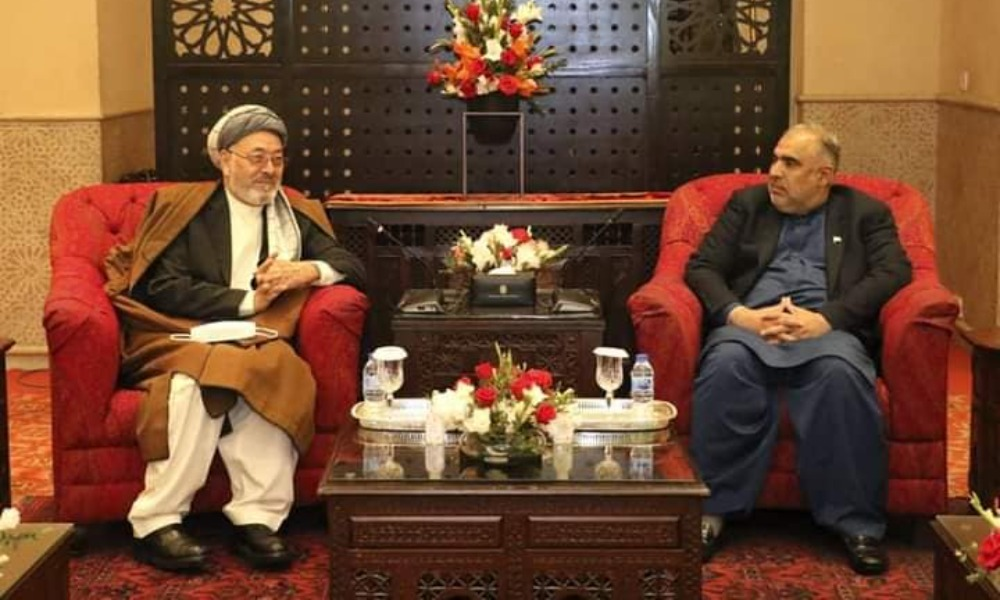 Hizb-e-Wahadat-e-Islami Chairman Muhammad Karim Khalili met with Pakistan National Assembly Speaker, Asad Qaiser in Islamabad on Monday and discussed the Afghan peace process among other issues.
Khalili, who is leading a delegation on a three-day visit to Islamabad, has also already met with Foreign Minister Shah Mahmood Qureshiis and is expected to meet with Pakistan Prime Minister Imran Khan, and other Pakistani officials in the next two days.
Khalili's office said in a statement that in his meeting with Qaiser, the two sides discussed the peace process and expansion of bilateral and trade ties.
Qaiser said that the Afghan peace process would be the start to an era of peace and prosperity in Afghanistan and the region, his office said in a statement.
He also reiterated Pakistan's all-out support to an Afghan-led and Afghan-owned peace process.
"During the meeting, Pak-Afghan relations and the political situation in the region and issues of mutual interest came into discussion. The Speaker said that Pakistan was desirous of seeing a peaceful and prosperous Afghanistan which is in the best interest of not only Pakistan but the entire region," the statement read.
"He (Qaiser) said that peaceful Afghanistan is imperative for the development and prosperity of the region. He said that Pakistani and Afghan people were bound in everlasting ties of religion, brotherhood, history, and culture," the statement noted.
Qaiser also said that Pakistan is steadfast in its support of inclusive, broad-based, and political peace efforts in Afghanistan.
"He said that the parties to the peace process should seize this opportunity and engage constructively for ending the decades-old conflict in Afghanistan," the statement read.
He added that positive progression in the peace negotiations depicts the commitment of the Afghan leadership in the peace process.
Qaiser stated that with the advent of peace, the country would head towards sustainable development.
"The visit of Muhammad Karim Khalili is part of Pakistan's ongoing policy to reach out to political leadership in Afghanistan to forge a common understanding on the Afghan peace process and deepen people-to-people linkages," the statement concluded.