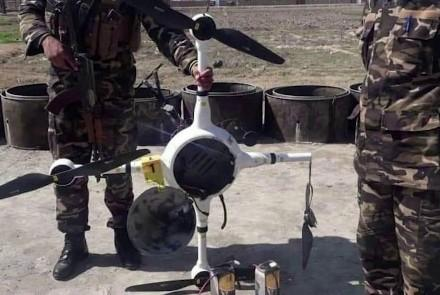 Reports indicate that the Taliban used a drone to attack an army corps in Kunduz last week.
The Afghan government has banned the use of any type of drones to fly over the Presidential Palace in Kabul, apparently following reports on the Taliban's access to the unmanned aircraft.
The Government Media and Information Center (GMIC) in a letter to the media security forces will shoot down drones if they were flown over the Presidential Palace.
In a latest incident, the Taliban used drone to attack the 217 Pamir Army Corps in Kunduz province on Friday, according to sources.
Seven provinces witnessed attacks by militants, including some of them claimed by the Taliban, in less than 12 hours. At least 13 security force members were killed in Taliban attacks in Imam Sahib district on Thursday evening, officials said.
"Imam Sahib has changed into a battlefield," said a resident of the district.
"We saw yesterday that the Taliban's drones flew over the Pamir Corps," said a resident of Kunduz.
"Drones can carry up to 30 kilograms of weight. They are equipped with cameras and warhead," said Khan Agha Rezaee, head of the Afghan parliament's internal security committee.
Last year in November, Afghan officials confirmed that the Taliban has used "weaponized drones" in some attacks on government forces.
The officials said "the Taliban embeds mortar rounds or small bombs with the drones and drop them on military and government installations."
Kunduz, Logar, Balkh, Paktia and Faryab provinces have witnessed Taliban attacks by use of drones in recent weeks, local officials said.
In one of the incidents on Nov. 1, 2020, a group of soldiers were playing volleyball in a sports ground in Kunduz governor's compound at around 5pm local time when they were attacked by a mortar shell. The incident left four dead and six wounded. Local officials said initial reports showed that a drone has been used in the attack.