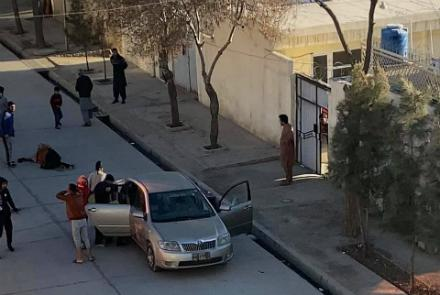 Ghani, addressing the Taliban, said: "Terror, crime and violence are not the solutions to the problem."
Gunmen opened fire on a vehicle in Kabul around 830am on Sunday, Kabul police reported, and two female judges of the Supreme Court were killed and two other people–the driver and another female–were wounded in the attack, according to the Presidential Palace.
The police are investigating the incident, said local officials.
Previously, a security forces source said that preliminary findings indicated that those wounded were a driver and a female employee of the Ministry of Education.
President Ashraf Ghani condemned the attack on the female judges in Kabul, saying that "attacks by the Taliban and other terrorist groups against defenseless people are against Islamic teaching and against the spirit of peace."
President Ghani, addressing the Taliban, in a statement said that "terror and crime and violence are not the solutions to the problem, and the current crisis and the war prolongs the country's issues."
"Two female judges were killed, and two others were wounded in the attack," the statement said. The Taliban "must show their will for peace by accepting a permanent ceasefire," Ghani said.
"Another appalling targeted attack on civilians in Kabul, killing two eminent women judges and injuring others. We condemn this and all attacks on civilians and call for an urgent investigation into those responsible. Deepest condolences and sympathy to all affected," said Alison Blake, British Ambassador in Kabul.
Chargé d'Affaires Ross Wilson said the US condemns today's killing of female supreme court judges, adding: "The Taliban should understand that such actions for which it bears responsibility outrage the world and must cease if peace is to come to Afghanistan."
Also, Qatar's foreign ministry said the nation condemns today's attack and reiterates its "firm position on rejecting violence and terrorism, whatever motives and reasons."
However, no group including the Taliban has claimed responsibility for the attack yet.