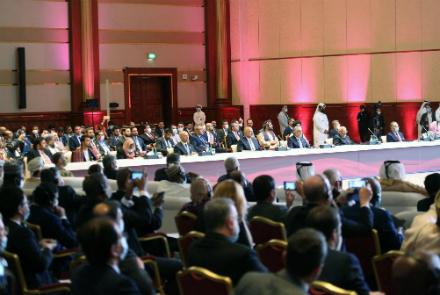 Officials said the negotiators have held internal meetings and are ready to hold more discussions on the agenda of the talks.
No progress has been made in finalizing the agenda for the peace negotiations eleven days after the return of the negotiators of the Islamic Republic of Afghanistan and the Taliban to Doha at a time that violence has taken momentum in the country.
At least seven provinces witnessed attacks by militants in less than 12 hours, leaving over 19 security force members dead, according to officials. The incidents happened in Kabul, Herat, Baghlan, Laghman, Nangarhar, Kandahar and Helmand provinces.
Sources from both parties said that no meeting was held today between the contact groups about agenda of the talks.
"The delegates have held their internal meetings about preparing the subjects for the agenda and their contents and are fully ready to conduct more talks on it," said Najia Anwari, a spokeswoman for the State Ministry for Peace Affairs.
This comes a day after the US Department of Defense in a statement confirmed that the number of US forces in Afghanistan has reached 2,500 as directed by President Donald Trump.
"Today, the United States is closer than ever to ending nearly two decades of war and welcoming in an Afghan-owned, Afghan-led peace process to achieve a political settlement and a permanent and comprehensive ceasefire," the statement said quoting US Acting Defense Secretary Christopher Miller.
A Taliban spokesman Mohammad Naeem welcomed the move as a step forward to resolve the conflict in the country.
"The withdrawal of more US forces from Afghanistan, which was announced by the US yesterday, is a good advancement and practical measure," Naeem said. "Undoubtedly, the practice of the agreement signed between the IEA and the US is in the benefit of both countries."
He said that they remain committed to the agreement and want the same "from the other side."
The US-Taliban deal signed on February 29 raised hopes among Afghans for a reduction in violence but the Taliban in defiance of international calls, continued their attacks against the Afghan government forces.
"In some extent, we have lost the authority, we are doing what the strangers tell us to do. I think if the ongoing scenario continues, this will never take us to peace," said Sayed Ishaq Gailani, head of the National Solidarity Movement of Afghanistan.
Initially, there were some rumors that main talks on the agenda will start on Saturday in the wake of US forces withdrawal.
A potential agreement on the modality of the future political system in Afghanistan and a ceasefire were among the key topics that were debated between the two sides over the past weeks.
"Peace needs a price. We all should be prepared to pay this logical price in the context of our past views and perception," the peaker of Afghan parliament Mir Rahman Rahmani said.