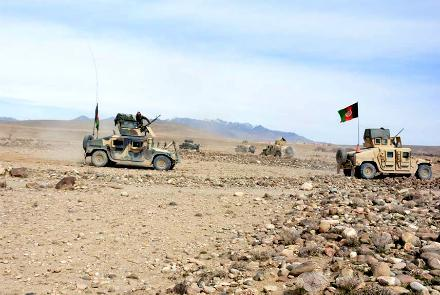 Unidentified gunmen opened fire on an army vehicle, a police official said.
At least three Afghan National Army (ANA) soldiers were killed and two others were wounded in an attack by unidentified gunmen on their vehicle in Herat province on Wednesday morning, local police officials confirmed.
The incident happened in the center of Herat city, said Abdul Ahad Walizada, a spokesman for the provincial police chief.
"The gunmen have escaped from the area," Walizada said, adding that "investigations are ongoing into the incident."
Mohamad Rafiq Sherzai, a spokesman for the local public health department, said that three ANA soldiers were killed and four were wounded in the attack and were transferred to the hospital.
Taliban attacks on security forces
Over 40 Afghan security force members have been killed in fighting with the Taliban over the past 24 hours, with the majority of casualties reported in volatile areas in Kunduz, Baghlan and Nimroz province.
Meanwhile, the Afghan Ministry of Defense (MoD) on Tuesday said that the Afghan security forces have made major advances against the Taliban in Kunduz province and have dealt a major human toll to the group.
Over 40 Taliban have been killed in recent clashes in Kunduz, according to the MoD.
The Dash-e-Arshi and Imam Sahib districts in Kunduz and some areas in the suburbs of Kunduz city have seen fierce fighting in the past two days.
In Baghlan province, the Baghlan-e-Markazi district and suburbs of the provincial capital Pul-e-Khumri have seen a fresh spate of violence between the Afghan security forces and the Taliban.
In the southern province of Kandahar, Panjwai and Arghandab have witnessed recent battles between the Afghan security forces and the Taliban.
Khashrud district in Nimroz province also witnessed deadly fighting.
At least nine provinces in Afghanistan have witnessed targeted attacks, explosions and violent criminal acts in the past 48 hours, according to the statistics received by TOLOnews.